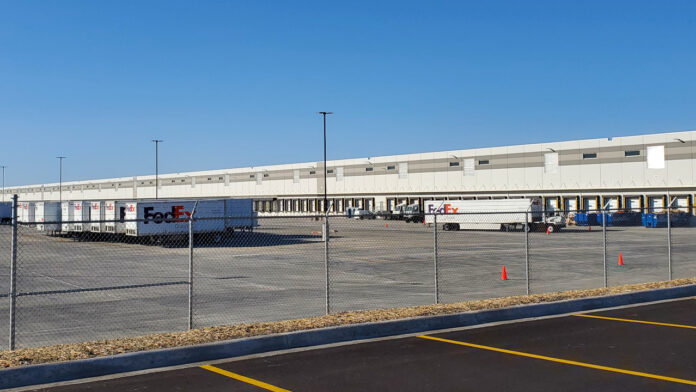 FedEx Ground's new automated package facility in southwest Cedar Rapids is close to beginning operations, and the company is now looking to hire nearly 300 new employees to gear up for the holiday shipping season.
Construction of the 480,000-square-foot, $108.6 million facility, at 1035 Commerce Park Dr. SW, began last summer, after the city approved a term sheet in June 2021 with FedEx Ground and developer Scannell Properties.
The facility is set to open by Oct. 31, spokesperson Dana Hartek said. It is designed to process up to 15,000 packages per hour using automated package sorting systems and other technology to provide reliable, efficient service, FedEx officials said in a news release.
"This strategically-located facility in Cedar Rapids incorporates innovative technology and the latest automation and material handling systems to optimize the capacity, speed, efficiency and safety of our operations," said Darin Schmanke, vice president of regional operations for FedEx Ground. "We are excited that customers throughout the Cedar Rapids area will benefit from this investment, and we look forward to providing opportunities to the local workforce and surrounding community."
The company says it's looking to hire nearly 300 new team members for the holiday season, many of whom will be able to remain with the company beyond the holidays. The positions include a mix of full-time and part-time package handlers and will join 300 existing workers.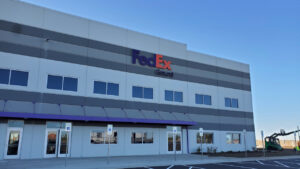 The positions offer a full complement of benefits, including holiday pay; medical, dental and vision coverage; paid parental leave; and tuition reimbursement, including Education for Life, a program under which employees can enroll in debt-free higher education programs at select schools.
Employees must be at least 18 years old, and there are no minimum education requirements, company officials said.
The Cedar Rapids facility is one of more than 160 fully-automated FedEx Ground stations nationwide, through which more than 97% of the company's daily package volume travels.
Through nearly 200,000 employees, 700 sorting and distribution facilities, and 100,000 motorized vehicles operated by 6,100 locally owned service provider businesses, FedEx Ground transports nearly 10 million packages a day.
The city has provided several incentives to FedEx for the project, including a 10-year, 50% reimbursement of the increased tax value of the property as well as off-site improvements to accommodate the heavier traffic the project will generate. That includes traffic signalization at Sixth Street SW and Commerce Park Drive SW and converting Walford Road SW to an urbanized road. The city also assisted FedEx in applying for a Revitalization Iowa's Sound Economy (RISE) grant through the Iowa Department of Transportation, intended to promote economic development in Iowa through the establishment, construction and improvement of roads and streets.
City officials estimate the FedEx project, sited on an 80-acre tract, will generate $16.3 million in taxes over a 10-year period, of which $6.1 million will be rebated to the company.
The existing FedEx distribution facility at 3601 Beech Way SW, near The Eastern Iowa Airport, will continue to operate as normal, Ms. Hartek said.