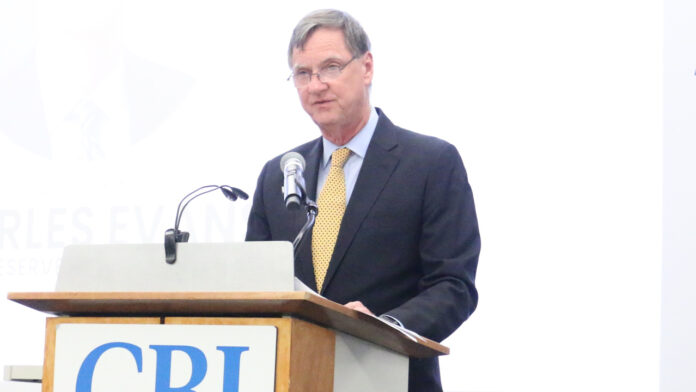 Aggressive action is needed to bring surging inflation under control, and that action will likely include a series of increases in the benchmark federal-funds interest rate, Charles Evans, president of the Federal Reserve Bank of Chicago, told a sold-out crowd Wednesday, June 22 at the Corridor Business Journal's annual Mid-Year Economic Forecast luncheon at The Hotel at Kirkwood Center in Cedar Rapids.
"While the exact path forward will depend on how the economy evolves, I expect it will be necessary to bring rates up a good deal more over the coming months in order to return inflation to our 2% average target," Mr. Evans said.
The Federal Reserve has already increased interest rates by 150 basis points since March to combat the current inflation rate, which hit 8.6% at the end of May, a rate that Mr. Evans admitted is "clearly too high."
The current Fed interest rate is in a range from 1.5% to 1.75%, and Mr. Evans said in its meeting last week, the Federal Open Market Committee (FOMC) indicated that more rate hikes will likely be in order.
"This tightening comes at the same time when we continue to reduce the size of our balance sheet," he said.
The FOMC's most recent quarterly summary of economic projections, released last week, which forecasts to key economic variables over the next three years and also for the long run, projects a median federal funds rate "in the range of 3.25 to 3.5% by the end of this year, and 3.8% by the end of next year," Mr. Evans said.
Factors contributing to the rapid run-up in inflation have included the COVID-19 pandemic, which led many households to shift spending from services, such as travel or dining out, to hard goods, such as household appliances and consumer electronics. Meanwhile, global supply chain issues led to shortages of many goods, forcing prices of those goods to skyrocket, and labor shortages domestically and internationally led to lower productivity.
Now, however, key factors are improving, Mr. Evans said.
"When I look at the GDP data, in conjunction with other indicators of economic activity, notably the very strong labor market and healthy household business balance sheets, I see the foundation for continued growth and economic activity," he said. "Even with how bleak the situation appeared in the spring of 2020, where much of the economy was shut down with the onset of the pandemic, our progress these past couple of years has been truly remarkable."
Assuming pandemic pressures continue to ease, particularly in key Asian and European countries, and demand continues to rise, Mr. Evans said he expects inflation to continue to drop closer to the Fed's benchmark, though he admitted it will take some time, and prices of some goods may not fall, but simply stop rising.
"According to the median summary of economic projections, after increasing to 5.2% this year, total PCE (Personal Consumption Expenditures) inflation is expected to fall to 2.6% in 2023, and 2.2% in 2024, just marginally above our 2% target," he said.
There are still concerns ahead, Mr. Evans said. Supply side repair could continue to move too slowly, as events with the war in Ukraine and further COVID-related shutdowns in China or other countries could put additional pressure on costs. Also, the Fed's monetary policies may not rein inflation in enough, or could weigh too heavily on the economy and unemployment.
"We must be watchful and ready to adjust our policy stance and changes in economic circumstances dictate," he said. "I recognize we have some difficult work ahead of us, but I can assure you that we will always have policies with the goal of progressing toward our dual mandate objectives – maximum inclusive employment and 2% inflation – as expediently as possible."