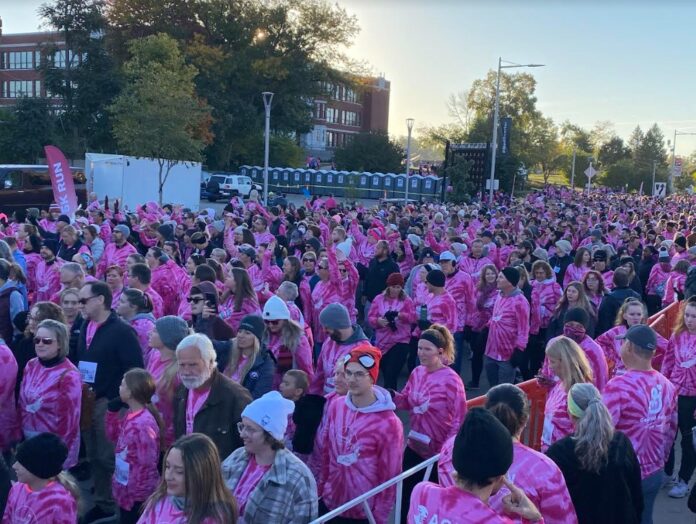 A record-setting 15,800 people registered for the 32nd annual Especially for You Race Against Breast Cancer, which took place Sunday, Oct. 9, at Mercy Medical Center, Cedar Rapids. This previous record was set in 2011 with 15,792 participants. The race began in 1991 with 1,078 participants.
Proceeds from the race registrations benefit the Especially for You fund. This year more than $499,500 in registrations was raised for the fund, which provides financial assistance for breast and gynecological cancer screenings and services. Since its inception, the Especially for You fund has helped more than 12,400 individuals with 31,700 services in Linn County.
General Mills and Mercy Medical Center are co-founders of the race, which includes a 5K run, 5K walk and a one-mile family fun walk. The course route finished at Greene Square Park in downtown Cedar Rapids where participants enjoyed music, kids' activities, food truck offerings and a health fair.
The race and Especially for You fund are dedicated to the memory of Sandy Knight, a Whittier resident and General Mills employee, who died of breast cancer in 1991. It was her wish to establish a fundraiser for breast cancer awareness and education.
This year, 536 teams registered for the race. Of those, these business teams had the most members participate: Mercy Medical Center with 1,205; Fairfax State Savings Bank with  521; and OBGYN Association with 271. The top family teams with the most members were: Team Deb "Live Life Until the End" with 227; BREAST OF FRIENDS – MONTICELLO with 128; and Morg's Mission with 124.
To read more about the race and see the race results, visit especiallyforyourace.org.