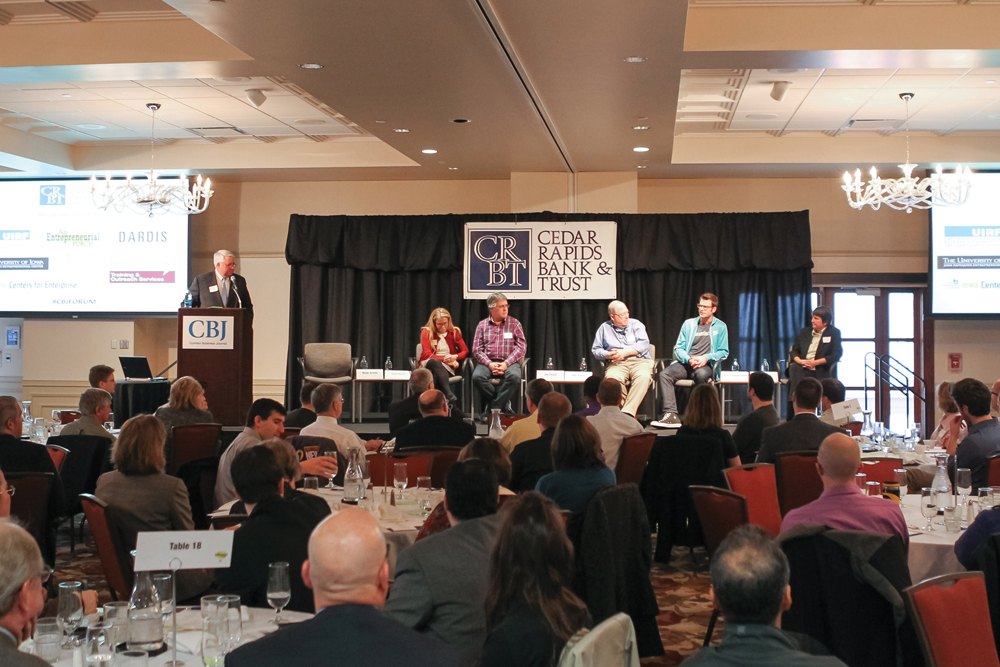 By Pat Shaver
CEDAR RAPIDS — The key to success, a panel of business owners said, is passion.
A group of entrepreneurs from across the Corridor presented their stories about starting a business and the struggles to become successful at the Corridor Business Journal's An Entrepreneurial Forum Dec. 4 at the National Czech & Slovak Museum & Library in Cedar Rapids.
The panel included Jean and Joe Dwyer, owners of Running Wild; Roy Karon, founder of BVS; John Schnipkoweit, with RecBob/NextStep.io and Freda Sojka, inventor of Bug Soother.
Mr. Schnipkoweit started his career in IT jobs at Rockwell Collins and other corporations.
"At large corporations I saw layoffs and it felt like trying to make an impact at a large company was really tough," he said.
He transitioned into a job at a startup company in Kansas City.
"I was able to make an impact there. That led me to the decision to quit a perfectly good-paying job. My parents thought I was crazy," he said.
Mr. Schnipkoweit left a job at Ovation Networks, a wireless Internet company based in Cedar Rapids, to start RecBob. RecBob began as a mobile app for intramural teams and has evolved into a fitness-based app called NextStep.io.
"Everything does take twice as long and cost twice as much. You have to focus in on keeping things as simple as possible because there's always something that's going to come up," he said.
"Your success really comes down to your team and timing. You're not going to do this alone so you need to be able to build a good team and build a culture that supports that team because it is a really rough journey," he said.
Mr. Schnipkoweit has been active in the region's emerging entrepreneurial community and said it has been a benefit to his business.
"It's definitely getting really, really good," he said of the startup community. "But we still have a long way to go."
Running Wild is an athletic shoe and gear company with locations in Coralville, Cedar Rapids, Iowa City and Burlington.
"What sets us apart from shoe and sporting goods stores is good customer service. We take the time to listen to the needs and concerns of each customer that walks through the door," Ms. Dwyer said. "It is a passion for me. I love to talk running. It is a part of my life and it's a part of who I am."
The business has to compete with retailers like Amazon and Zappos.
"Fourteen years ago, I never would have imagined Amazon or Zappos. The Internet is the change that really surprised me," she said, adding that she didn't foresee that when they started with Running Wild 14 years ago.
The business employs two of the three Dwyer children. The third, though, is a consultant for the business, Ms. Dwyer said.
"At one point, I decided to try to separate business and family. Every holiday, we try to limit how much we talk about the stores," she said, adding that practice is easier said than done.
Bug Soother is a Columbus Junction based, family-owned small business that produces an all natural bug repellant that smells appealing but bugs hate. The insect repellent is packaged in a green spray bottle and is made from lemongrass oil, vanilla, castor oil, lemon and other ingredients.
"We try to make a really quality product. We want to give people value for their money. We were pretty surprised by the response this year," Ms. Sojka said. "It's important to us that we're a small family business and we market ourselves that way."
Ms. Sojka started making the repellent in 2005 in her kitchen.
"It's not for the faint of heart. It's a lot more hours than I worked at my other job," she said, noting that she left a job at Monsanto she held for 23 years to start the company.
Her company began as a store where people could create lotions and other products by selecting a scent.
"I opened it up and found out that people did not want to do that in rural Iowa," she said. "But I knew I enjoyed creating products."
BVS offers online services to the financial industry. Mr. Karon said the company initially started offering video production, but he saw a niche in banking.
"Do something you are passionate about, don't do it for the money. If you do it for the money, you'll end up like the tech bubble," Mr. Karon said. "If you do it for passion you will be successful. If you do it only for money, you will be more likely to fail."
The event Dec. 4 also featured a mini pitch contest between three startup companies; CardioStrong, Men's Style Lab and Higher Learning Technologies. After the three companies gave their pitch, the audience of about 200 voted for their favorite pitch. Higher Learning Technologies, a test prep app based in Coralville that has quickly grown in the last year, received the majority of the votes.
"The test prep industry is huge. It's exploding," said Adam Keune, Higher Learning Technology's co-founder and chief marketing officer.