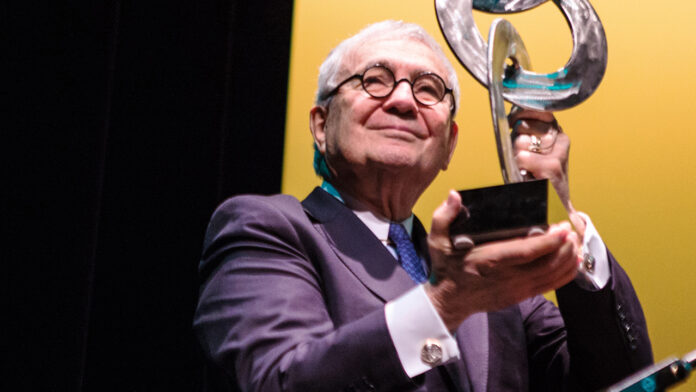 The University of Iowa recently lost another icon. Businessman and philanthropist John Pappajohn died April 22 at age 94. That follows the passing of heavyweight contemporaries Henry B. Tippie Feb. 20, 2022 at age 95 and Willard (Sandy) Boyd, who died Dec. 13, 2022 also at age 95.
Mr. Pappajohn had a storied business career after immigrating to the United States as a child. He was involved in over 100 startups and more than 50 IPOs and had served as a director in over 40 public companies.
Mr. Pappajohn and his wife, Mary, donated more than $100 million to philanthropic causes with particular devotion to higher education and the arts. Most notably, the Pappajohns donated $4 million in 1992 to build the John Pappajohn Business Building for the University of Iowa College of Business.
He donated $1.5 million in 1996 to seed the John Pappajohn Entrepreneurial Center (Iowa JPEC). A gift of $3.25 million created an additional four entrepreneurial centers housed at Iowa State University, the University of Northern Iowa, Drake University, and Northern Iowa Area Community College. 
His goal was to revive the entrepreneurial spirit in Iowa, where the economy had been battered by the farm crisis. "I want to make Iowa the most entrepreneurial state in America," he said at the time. 
"John Pappajohn's unparalleled commitment to entrepreneurship education and support has transformed countless lives and sparked innovation and economic development across Iowa and the world," said David Hensley, executive director of Iowa JPEC.
It should be noted that entrepreneurial education was not a viable educational track when the JPEC was launched in 1996. Faculty, in particular, held a great degree of skepticism or outright disdain about this new area of study. To be successful, the new track needed not only the financial support of Mr. Pappajohn to get things moving, but also his involvement and advocacy.
Mr. Pappajohn and Mr. Hensley were an extremely effective duo in advancing and growing this program at the UI.
It's uncertain if entrepreneurial education at the various institutions of higher education would have happened without his involvement.
According to the University of Iowa, in the ensuing 26 years, Iowa JPEC has been recognized as a leader in supporting student, faculty and community entrepreneurs. Alumni, students and other Iowans have used Iowa JPEC resources to start hundreds of businesses and create thousands of jobs in Iowa and around the country. Iowa JPEC alumni have made breakthroughs in health science, education technology, agricultural technology and green manufacturing, as well as selling clothes, consulting services, coffee and ice cream.
Mr. Pappajohn's goal of elevating and promoting entrepreneurship in Iowa will undoubtedly be his most lasting legacy.