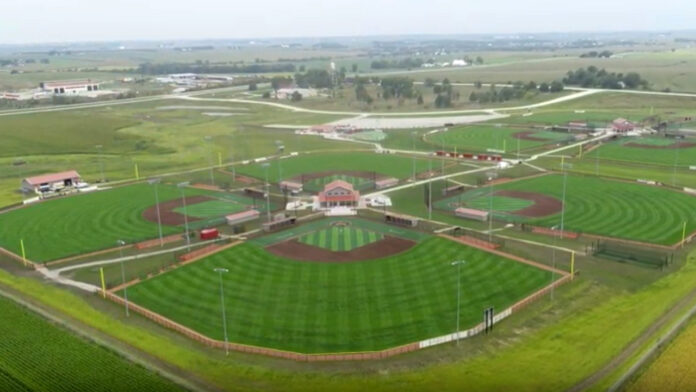 The iconic Field of Dreams in Dyersville might get most of the attention, but a similar if-you-build-it-in-a-cornfield-they-will-come story is happening north of Marion with the Prospect Meadows Sports Complex.
If you aren't interested in youth baseball or softball or aren't in the hospitality industry, then you might have missed the economic impact that Prospect Meadows is having in the region. 
Make no mistake, the economic impact is big.
The eight-field baseball/softball complex off of Highway 13 in rural Linn County is bringing in visitors from across the United States.
Prospect Meadows began operating in 2019 after years of fundraising totaling more than $15 million. The first full season occurred in 2021 due to the COVID-19 pandemic. This muted start prevented the facility from getting the full attention it deserved. Nevertheless, it still brought in approximately 27,000 visitors to Linn County in 2020, resulting in more than 7,000 hotel room nights and $7 million of direct spending, according to officials at the organization. 
An estimated 40,000 visitors came into Linn County in 2021 through this facility, with approximately 10,000 hotel room nights, resulting in $10 million in direct spending.
According to a July midseason report by Prospect Meadows President and CEO Jack Roeder, the complex was expecting nearly 500 teams to play in just June and July. This amounts to roughly 19,000 visitors from 20 different states staying multiple days in our community. "August slows down, but we are expecting another 250 traveling teams during the month of September," Mr. Roeder said. 
Walk around the parking lot on a weekend and you'll see an impressive array of license plates from across the Midwest and beyond. Teams from 24 different states have participated in games since it opened.
A youth baseball team from Hawaii even flew in to participate in a tournament in 2021.
Prospect Meadows came together from an idea hatched by businessman Rick Freese. Mr. Freese discussed the idea with Mr.  Roeder, the former general manager of the Cedar Rapids Kernels, and it began to take shape.
According to its website, a big component of taking this dream to reality was Perfect Game President Jerry Ford's involvement. Perfect Game, the Cedar Rapids-based scouting company, is the anchor tenant at the facility and is also the largest private contributor. Perfect Game has committed to bring 1,000 teams annually to Prospect Meadows for 15 years.
The economic numbers are impressive, but the bigger, intangible economic impact might be the family who visits the region for the first time and falls in love with the community and its residents and decides to make the area their home.