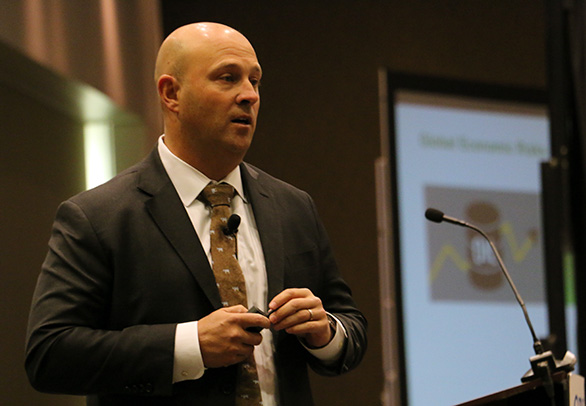 Deere & Co. economist Luke Chandler predicted big growth and big risks at the CBJ's Economic Forecast Luncheon, held Jan. 17 in downtown Cedar Rapids. PHOTO ADAM MOORE
By Dave DeWitte
dave@corridorbusiness.com
Economic signals point to healthy growth in the national and global economies in 2018, Deere & Co. Chief Economist Luke Chandler told attendees at the CBJ's 2018 Economic Forecast Luncheon, although risks to the prolonged economic recovery, including repeal of NAFTA, continue to grow.
After disappointing growth of 1.6 percent in 2016, the U.S. economy is expected to show expansion in the low 2 percent range for 2017, and grow slightly faster for 2018, remaining in the 2 percent range, Mr. Chandler told about 600 attendees at the Jan. 17 event. The International Monetary Fund, which provided the forecasts, is also projecting global economic growth of 3.6 percent for 2018.
"We are in a stronger position than we were this time last year and certainly a lot stronger position than we were at this time in 2016," Mr. Chandler said.
Fueling the U.S. economy are low unemployment, rising home prices, record stock market levels and the highest consumer confidence index in 17 years. The recent tax reform bill should bolster those trends, Mr. Chandler said, yet risks to that rosy outlook are also higher than they have been in recent years.
"There are probably 30 to 50 [risks] I could have put up here, but I only put up a few," he said, referring to his presentation slides.
The risks highlighted by Mr. Chandler included rising oil prices, termination of the North American Free Trade Agreement (NAFTA), China's rising debt, North Korea, fallout from Brexit and President Donald Trump.
"I put President Trump on here not because of Twitter, but because of questions about whether he can get some of the policies through that he wants to get done," Mr. Chandler explained. He mentioned Trump's lack of early success in areas such as health care and immigration reform, followed by his success in tax reform.
"Can he get some of these policies through that are already baked in [to stock prices and forecasts]?" he asked.
Oil prices have climbed into the $65 a barrel range from the $30s a little over a year ago, Mr. Chandler said. Revenues spent on fuel reduce the amount that consumers and businesses can spend on other purchases and cut into business profits.
In contrast with previous economists who have spoken at the luncheon, Mr. Chandler viewed the global economy largely through the lens of agriculture and construction, the primary markets for Deere-manufactured equipment.
Deere is one of the Iowa's largest private employers, counting more than than 6,000 employees in Waterloo alone before a series of layoffs resulting from weak demand.
What agriculture has seen recently is the end of a commodity "supercycle," or long-term period of peaking prices, followed by a strong drop, said Mr. Chandler, a native of Australia who has been in the United States for about two years.
"We've stabilized U.S. farm incomes," he said. "We've been through the boom period. We've been through three years of declining farm incomes, and we've stabilized at these new levels."
For Deere, that has helped fuel a gradual recovery in sales. In fiscal 2017, the company's sales were the fifth-best in its 180-year history and earnings were up more than 41 percent to $2.159 billion, or $6.68 per share.
Although the ag market has stabilized, Mr. Chandler saw "no chance" commodity prices would bounce back above normal long-term levels. He said some commodities have shown good price gains as of late, such as cattle and dairy, but "we haven't seen as much of a recovery in cereals and oats."
The challenge for corn and soybean prices is large global stockpiles – a sizable portion of which are concentrated in China, he said. The Chinese government fueled domestic corn production earlier in the decade, offering farmers three times the world market price to grow corn; the country has since stockpiled so much that it has constrained prices. Mr. Chandler illustrated the point with an aerial photo he took of a small Chinese village in which ground storage of corn was visible everywhere, and said China is considering ethanol production to help consume its non-essential stocks.
Deere is optimistic about the long-term future of its markets because of four "tailwinds," Mr. Chandler said. They are global population growth, changing diets, global economic growth and urbanization.
Population growth will increase food demand, he explained, while diets richer in protein will require more feed grains for livestock.
Responding to audience questions, Mr. Chandler said the impact of eliminating the ethanol-blending mandate on the market for corn-based ethanol would largely depend on the price of gasoline that is displaced by ethanol in fuel blending. Overall, he predicted, it would be negative.
Asked what the decline in small farms means for Deere, Mr. Chandler did not lament the shift. He said it is part of the trend toward global urbanization, with fewer workers available in rural areas to operate ever-larger farms.
"What it means for us is, we need to meet the needs of farmers who have larger and larger operations," Mr. Chandler said.
The event was presented by Bankers Trust, with support from Kirkwood Community College, ITC Midwest, The Eastern Iowa Airport and UFG Insurance.