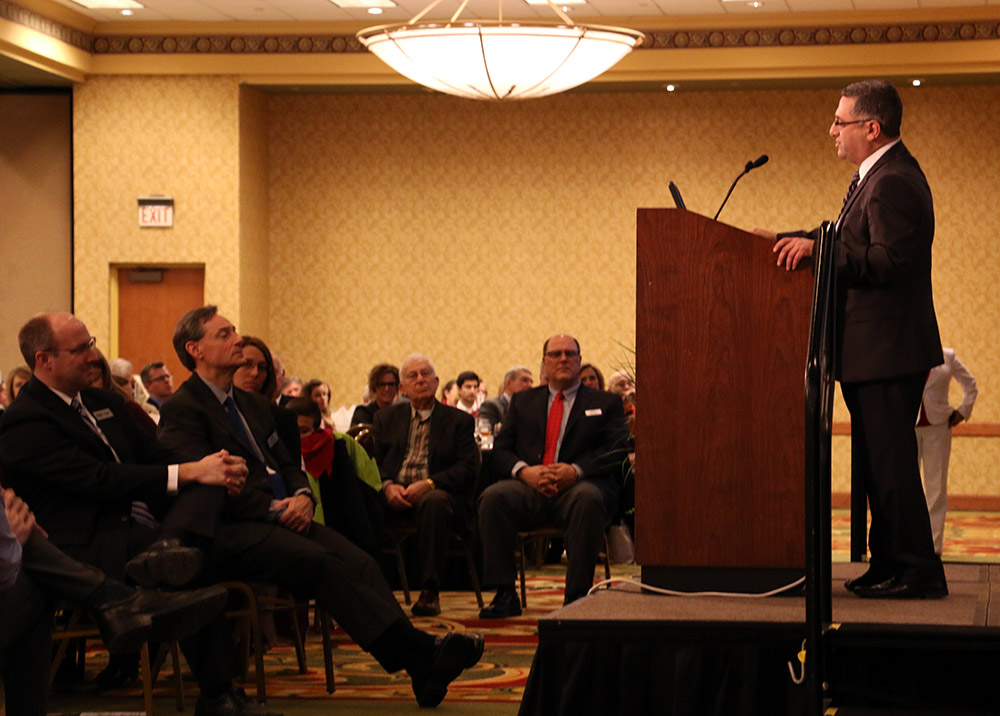 Marion Mayor Nicholas AbouAssaly addresses efforts to expand affordable housing during his State of the City address, given Jan. 25. PHOTO DAVE DEWITTE
By Dave DeWitte
dave@corridorbusiness.com
Marion businesses and residents can look forward to more commercial project announcements and progress in the city's transportation system in 2018, along with the beginning of "transformational" projects such as a new regional YMCA and the Prospect Meadows baseball complex.
"Momentum" was a word used repeatedly to describe the city's change and growth during the 2018 Marion State of the City Address, sponsored by the Linn County League of Women Voters at the Cedar Rapids Marriott. Using his own experiences as a child immigrant from Lebanon to illustrate the point, Mayor Nicholas AbouAssaly urged Marion residents to embrace the opportunities before them.
"Change is not always easy," said Mr. AbouAssaly, who took office in 2016. "But, without change there can be no new opportunities. Change is necessary for growth and improvement. And if we can't adapt to change, if we resist it, then we risk missing the opportunities for moving forward. And the alternative to growth and moving forward is to stagnate and possibly decline."
The city continues to focus on five strategic priorities, the mayor said: Becoming a zero waste, energy-independent community; driving planned growth and development; redeveloping the city's Central Corridor; implementing higher development design standards; and improving the transportation system.
The latter goals are some of the more noticeable in Marion, as work was completed on two roundabouts in 2017 that book-end the Central Corridor project on Seventh Avenue. The city also opened a new section of Tower Terrace Road east of 10th Street in 2017, and an an extension of Armar Drive to Highway 100.
"Work continues on the Central Corridor redevelopment project with the building of Sixth Avenue as a second main road parallel to Seventh Avenue to diffuse the heavy traffic and make our central business district safer, more walkable and attractive for retail, commercial and residential uses," Mr. AbouAssaly said. "Completion of Sixth Avenue will set the stage for the long-anticipated rebuild of Seventh Avenue and the Uptown streetscape."
As Marion residents grow accustomed to roundabouts, Mr. AbouAssaly said another one will be completed this year at Sixth Avenue and 15th Street, along with the next segment of Sixth Avenue from 15th Street to 26th Street.
In the commercial arena, Mr. AbouAssaly said developers continue to recognize Marion as underserved by retail amenities and are generating a "a number of transformational projects." He announced that a new 100-room Country Inn & Suites Hotel will be coming to Squaw Creek Crossing, a 20-acre multi-use development at the northeast corner of Highway 13 and Highway 151. It will join a 88-room TownePlace Suites by Marriott under development by Kinseth Hospitality in GLD Commercial's redevelopment of the former Prince Agri brownfield site.
In the industrial sector, the mayor pointed to Marion Process Solutions' 2017 groundbreaking on a new 9,000-square-foot test facility, Freund-Vector Corp.'s recent announcement that that it is considering new 17,000-square-foot technology center in the Marion Enterprise Center, and Legacy Manufacturing's 2017 launch of a major expansion to its new facility in the same industrial park.
Marion Process Solutions CEO Lee Eilers said the city's strong growth was one of the reasons the company, after 80 years in Marion, decided it was the best place to expand.
"Marion is in an all-out sprint, and who doesn't want to be around that?" Mr. Eilers said, thanking Mr. AbouAssaly for his efforts in building that momentum.
Marion has 20 active commercial sites under construction, Mr. AbouAssaly said, and the Marion Economic Development Corp. has $103 million worth of projects in its pipeline. On the city's north side, groundbreakings are expected this year on a new regional YMCA and the new Prospect Meadows baseball complex that is expected to attract 1,400 teams and 60,000 visitors to the city annually.
The city of 38,400 takes pride in shaping its own future development rather than letting things happen. Among the initiatives outlined by Mr. AbouAssaly that won't be found in most Midwestern communities are development of an Eco Park, where the city will house and fuel a fleet of compressed natural gas vehicles, and host a solar farm and materials recycling facility.
Plans are also in the works for $190 million in capital improvement projects over the next five years, including $10 million in new recreational trails. A 1.3-mile section of the Grant Wood Trail between Highway 13 and 35th Street is slated to open in 2018.
After becoming the 12th Blue Zones-certified community in the nation, Mr. AbouAssaly said the city is transitioning to its own wellness initiative, Be Well Marion, to continue supporting a focus on active living.
Many more initiatives are likely to be on the way, judging from the 3,000-plus ideas submitted in the city's recent ImagiNext community visioning process. The mayor shared a recent survey of residents that found 92 percent would recommend living in Marion to someone who asks, and 91 percent said they plan to stay in Marion for the next five years.
"Keep reaching higher," Mr. AbouAssaly concluded.