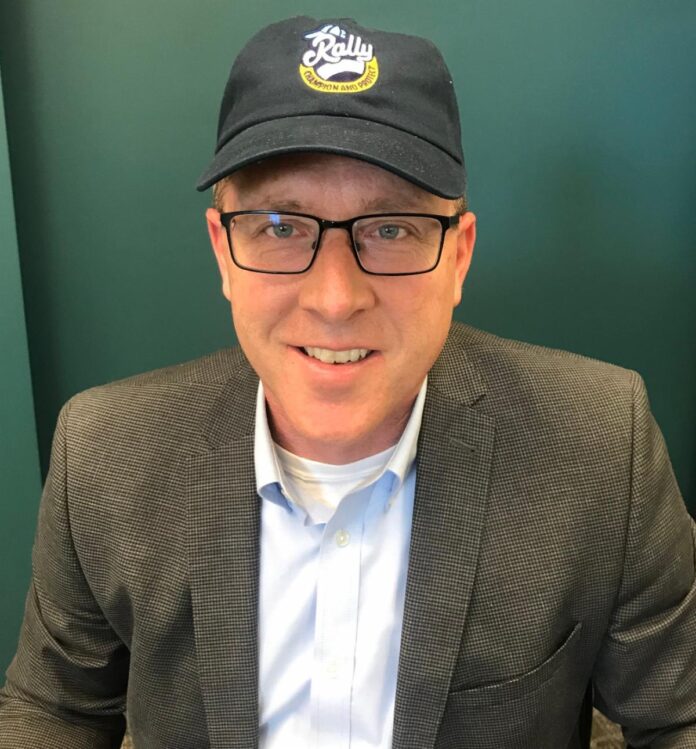 Doug Neumann, executive director of the Economic Alliance, wears a Rally cap.
By CBJ News Staff
news@corridorbusiness.com
The Cedar Rapids Metro Economic Alliance has launched Rally C.A.P. (champion and protect), a new initiative aimed at building a "local-first" mindset and supporting local businesses and arts and cultural amenities impacted by the coronavirus.
Its overarching goal is to help the Cedar Rapids economy make its latest comeback.
"This community has been thrown a curveball or two," said Doug Neumann, executive director of the Economic Alliance, in a release announcing the new program. "After the 2008 flooding, experts predicted mass closures of affected businesses. We beat the odds then and we intend to beat the odds again with pandemic economic recovery."
The consumer-facing portion of the Rally C.A.P. Challenge centers around "rally cards," which are currently being distributed by the more than two dozen businesses currently listed at rallycapchallenge.com. Customers will receive a rally card after making a purchase from a participating establishment. Those with five rally cards can redeem them at designated pick-up points, in exchange for an official Rally baseball cap, which organizers hope will become a common sight in the city in the months ahead.
Residents are also encouraged to post pictures of their local-first purchases on their social media feeds, and encourage their friends and family to join.
(Disclosure: The Corridor Business Journal is one of several media sponsors supporting this new program.)
For companies focused on serving business customers, the Economic Alliance is encouraging them to review their vendor list and work to keep their dollars as local as possible. A list of businesses offering coronavirus-related products and services can now be found at cedarrapids.org/B2BRally.
 Look for more on this new program in Monday's edition of the CBJ. CBJ