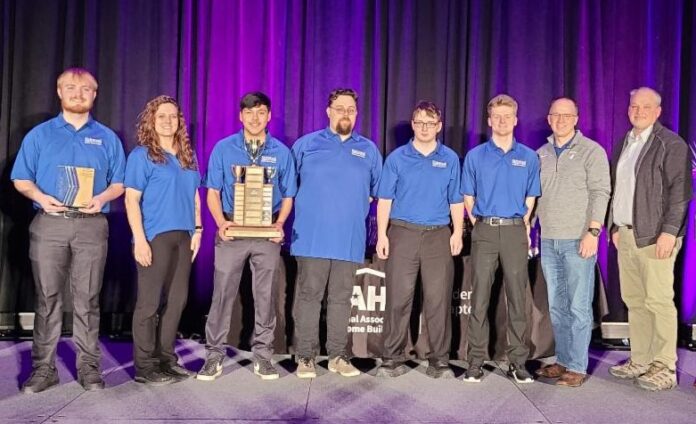 The Greater Iowa City Area Home Builders Association (HBA) and the Kirkwood Community College Student Chapter took home multiple awards at the 2023 National Association of Home Builders (NAHB) International Builders Show (IBS), which was held Jan. 31-Feb.2 in Las Vegas.
The award recipients are:
First place in the Associate Program Student Competition went to Kirkwood Community College. The

 team from the Cedar Rapids-based school applied its classroom skills to a real construction company by completing a management project/proposal. Proposals were submitted to construction company executives who acted as judges. At IBS, the team defended its proposal to the judges in front of an audience. The Greater Iowa City Area and Cedar Rapids Area HBAs are co-sponsors for the Kirkwood Student Chapter.

Outstanding Student Award went to Miranda Bisping, a team member in the student competition, who is studying architectural technologies at Kirkwood.

Outstanding Student Chapter Award was awarded to Durant High School. This award recognizes student chapter schools that go the extra mile to engage with their local HBA, the community and student body of their schools. The Greater IC Area HBA is Durant High School's Student Chapter sponsor.

CREDIT GREATER IOWA CITY AREA HOME BUILDERS ASSOCIATION.

The Greater Iowa City Area HBA won the The Home Builders Institute HBA Ambassador Award. The institute is the nation's leading educational resource for career technical education in the building industry. The Greater IC Area HBA was recognized for its work in providing job skills and helping students develop what they need to succeed on the job and in life. The state and local executive officers also received recognition.

HBA Iowa President Jay Iverson and Greater IC Area HBA Executive Officer Karyl Bohnsack were selected for the NAHB Executive Officers Council as at-large board members. The council promotes the professionalism of executive officers and staff serving the state and local associations affiliated with NAHB.

Ms. Bohnsack also was recognized by the Executive Officers Council for her Commitment to Excellence for completing 250 hours of continuing education. She is also on the Greater Iowa City Area HBA's board of directors. 
"This is an incredible group of dedicated and passionate students who displayed skills and composure that cannot be taught in class. It is a real privilege to witness and celebrate the rewards of their hard work," said Joe Greathouse, Kirkwood Construction Management professor, in a release. 
"Being able to work with this group of students has been an honor," said Dave Becicka, assistant professor in Kirkwood's Construction Management Industrial Technologies program, in a news release. "Seeing them put in the extra time and effort beyond their normal class and workload to accomplish what they did is nothing short of amazing."
The International Builders Show is the largest annual light construction show in the world. It is accompanied by member meetings and awards ceremonies. Iowa City Area HBA members are automatically members of the HBA of Iowa and NAHB.