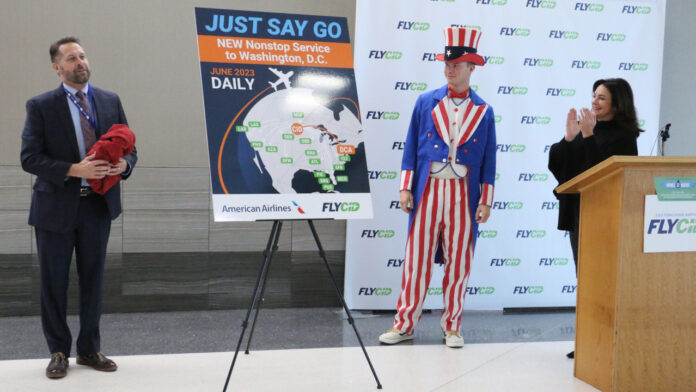 The Eastern Iowa Airport will be offering nonstop daily air service to Reagan National Airport in Washington, D.C. via American Airlines, beginning June 1.
Airport officials and community leaders joined to make the new flight announcement in a news conference Dec. 16 in the airport's main terminal.
Eastern Iowa Airport (CID) director Marty Lenss said the addition of nonstop daily service to Washington, D.C. has been decades in the making, and was largely spurred by the success of other nonstop flights added by American in recent years, particularly those to Phoenix and Charlotte.
In the case of Washington, D.C., Reagan National Airport is a "slot-restricted" facility, with a finite number of slots available for each airline, Mr. Lenss said.
"So the fact that American Airlines is designating one of those exclusive slots to a CID flight is … a tremendous investment and (shows) continued confidence by American in this region, and really, the state of Iowa," Mr. Lenss said. "So I don't think I'm overstating it when I say this is a big damn day for Iowa as well."
The daily flight will depart Cedar Rapids at 10:40 a.m., arriving in Washington, D.C. just before 2 p.m. The return flight will depart from Reagan National at 8:30 a.m. and arrive in Cedar Rapids at 10:05 a.m.
Service will be provided by a CRJ900 jet with 76 seats.
In comments after the news conference, Mr. Lenss stressed that local officials have been persistent in advocating for the new service, particularly in the past five years or so, with American and Reagan National leaders. He also noted that Cedar Rapids gaining a new flight into Washington, D.C. comes at the expense of another airport losing that flight slot.
"It's a competitive game for sure," he said. "To put this in a market that truly is unproven – it's never been a route here – shows that they have the confidence to move the slot. It shows a lot of confidence in our market. It's definitely a game changer."
"American is excited to connect Eastern Iowa Airport with Washington, D.C. next summer," said Philippe Puech, American's director of domestic network planning, in a release. "This new route complements our existing summer service from CID to Charlotte, Chicago, Dallas/Fort Worth and Phoenix. We're eager to offer customers more ways to experience all that Washington, D.C. has to offer and provide local residents with additional access to American's global network."
Mr. Lenss also noted that Reagan National is a regional hub for American, and the new daily flight there will facilitate connections to other destinations in the Northeast, including New York City, Boston, and Charleston. He noted that flight modeling predicts that about half the flights from Cedar Rapids to D.C. will be direct destination flights, while the other half will be connections to other flights in the region.
Depending on ticket sales, Mr. Lenss says there could be an opportunity to add additional daily flights from the Eastern Iowa Airport to D.C.
"If this performs well, the opportunity to add a second trip becomes much more achievable," he said. "It comes back to that community competition within the network."
Cedar Rapids mayor Tiffany O'Donnell, who also attended the news conference, said that such announcements are key to the region's economic development and quality of life. She noted that she and her husband lived in Dallas 20 years ago, where her husband worked at the time, and when she was offered a job and the opportunity to return to Cedar Rapids, "he didn't have to leave his job because American Airlines had three direct flights (from Cedar Rapids to Dallas)."
"So from a workforce standpoint, 20 years ago, it's what allowed my husband and I to come back home," she said. "Imagine the ripple effects of something like this. It's just great for our community and business and people alike. We know that it requires a lot of collaboration and partnership to make these things happen. This new nonstop service is going to allow travelers to easily and quickly reach their destinations without the need to make those ever cumbersome and often delayed connections."
Duane Smith, chair of the Eastern Iowa Airport Commission, and city manager Jeff Pomeranz also commented at the news conference.
Tickets for the new daily flights will go on sale beginning Saturday morning, Dec. 17.
The Eastern Iowa Airport now offers nonstop services to 17 destinations on five airlines: Allegiant (Las Vegas, Nashville, Orlando, Phoenix/Mesa, Punta Gorda/Ft. Meyers, St. Pete/Tampa, Sarasota/Bradenton and seasonal service to Los Angeles), American (Charlotte, Chicago, Dallas/Ft. Worth, Phoenix Sky Harbor International and Reagan National in Washington, D.C.), Delta (Atlanta and Minneapolis), Frontier (Denver) and United (Chicago and Denver).