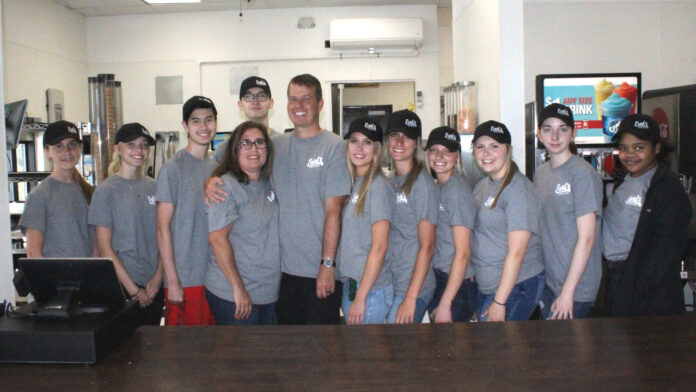 The owners of a new ice cream shop on the north side of Marion say they hope to bring a fresh new take to a venture that's served the neighborhood near Linn-Mar High School since 2013.
Earl's Chill & Grill officially opened Saturday, June 25 at 955 29th St. in Marion, the same building that formerly housed Parlor City Ice Cream before that business closed due to staffing shortages in late August 2021 and never reopened.
Jennifer Sky-Eagle, who co-owns Earl's with her husband, Brain Langfitt, said the two decided to make the leap and open their own restaurant after noticing the former Parlor City location was available for lease.
"He's been in the food industry for over 30 years, and has always wanted to go out on his own," Ms. Sky-Eagle said. "We have kids at Linn-Mar, so it was just a perfect opportunity for us to take over this location."
Ms. Sky-Eagle said she understood that staffing was the primary reason Parlor City closed their operation, but noted she didn't expect a similar issue with Earl's.
"With (Brian's) experience, he's very personable, so I don't think we're going to have a lot of problems staffing," she said. "We already have about 25 to 30 people staffed, so we're pretty set on that. We lined that up before we even thought about opening. We have a lot of kids that are working age, and they have a lot of friends. We also hire 14-year-olds, and not many places do that any more. We decided that we're going to give these kids a great opportunity."
"I'm a resident of Marion, and my kids attended Linn-Mar," Mr. Langfitt said. "We were sad to see Parlor City close, and it's exciting to bring back an ice cream and food shop within walking distance for many families."
Regarding the shop's offerings, Ms. Sky-Eagle said Earl's Chill & Grill will offer many of the same items as Parlor City, with a few changes. Soft-serve ice cream is available in cones, shakes, sundaes and candy-blended mixers, as well as Flavor-Burst options, with flavors blended into the ice cream in streaks. The food menu includes burgers, chicken, tenderloins and fries, as well as appetizers such as mini tacos, mini corn dogs, cheese nuggets and breaded corn nuggets.
Ms. Sky-Eagle said she hopes the store's location, near Linn-Mar schools, will be convenient for students and families in the area. She also noted that there are few other restaurants in the immediate area, other than a neighboring Subway.
The store's existing drive-through will also continue to be available, she said, along with carry-out and dine-in options.
Ms. Sky-Eagle said Earl's will also be open for extended hours to serve attendees at athletic or fine arts activities at Linn-Mar.
Earl's is a personal venture for Mr. Langfitt. The business is named for his late father, Earl.
"He just wanted this to be a tribute to his dad," she said. "Earl raised a good kid."
While Ms. Sky-Eagle will work at Earl's alongside her current job, the restaurant will be a full-time venture for Mr. Langfitt, so the couple is heavily invested in the store's success.
"This is a big undertaking to get everything situated and get all the kids trained," she said. "We hope that the people that come in the first few weeks keep in mind that these kids are learning. For most, it's probably their first job ever. We really just want to provide great customer service."
Earl's Chill & Grill