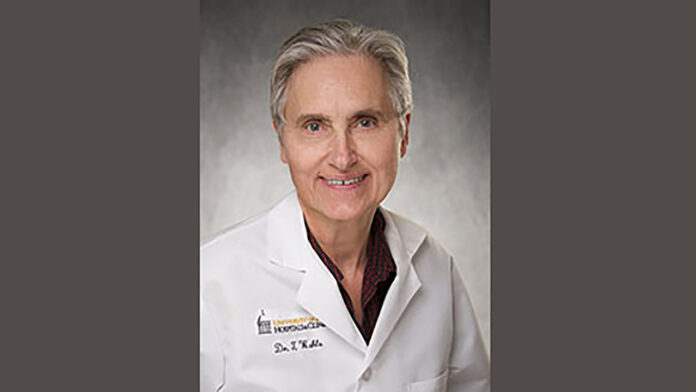 Dr. Terry Wahls, a University of Iowa professor of internal medicine, has been gifted $2.5 million from the Carter Chapman Shreve Family Foundation to be directed to the Wahls Therapeutic Lifestyle Fund in the Wahls Lab. 
The gift will be used to investigate three diets – a modified Paleolithic diet, a ketogenic diet, and the USDA Dietary Guidelines for Americans diet – for their effects on improving quality of life and reducing fatigue, a disabling symptom that can significantly interfere with a person's ability to function at home and work, in persons with relapsing-remitting MS. 
The gift will allow Dr. Wahls and her team to conduct one of the largest dietary intervention studies ever completed in people with MS. The two-year Efficacy of Diet on Quality of Life in Multiple Sclerosis (EDQ-MS) study will also be one of the longest in duration to study the effect of diet on clinical and patient reported outcomes and biomarkers of brain injury.
Dr. Wahls knows firsthand what the right diet can do for a person's health and well-being. Diet and lifestyle changes dramatically reduced the fatigue and physical symptoms of her own multiple sclerosis (MS) nearly 15 years ago. At the time, Dr. Wahls was confined to a wheelchair and her MS was advancing.
"In three months, the fatigue was gone," she said. "In six months, I was walking without a cane, and after nine months, I was biking around the block. A year after I started, I did a 20-mile bike ride."
Investigators will recruit 156 people with relapsing-remitting MS. Participants will have baseline assessments which include several questionnaires, in-person assessments of walking, hand function, cognitive function, vision, and biomarkers. Participants will be randomly assigned to one of the three diets. They will complete brief online questionnaires every other month and visit in person with researchers at three months and at the end of two years.
Dr. Wahls has been studying the effects of diet on MS for more than a decade. She was diagnosed with MS in 2000, and by 2003 the disease had progressed so much that she was confined to a wheelchair and she feared she would become bedridden. In 2004, she returned to her basic science roots and spent the next three years researching origins of food and vitamins and their effects on the body.
In fall 2007, Dr. Wahls put her new diet protocol to use, using herself as the only trial participant. Her protocol is a modified Paleolithic diet that doesn't include grains, eggs, dairy products, legumes, or nightshade vegetables, but places a heavy emphasis on vegetables, fruits, meats, and fish.
Within months, her fatigue was gone and she started walking again. Dr. Wahls worked with other University of Iowa researchers to write up a case study of her own results, which was published in 2009.
Eligible participants aged 18 to 70 years must have relapsing-remitting MS, live within 500 miles of Iowa City, and meet other study eligibility requirements. Individuals interested in being considered for enrollment in this study may complete screening questionnaires at https://redcap.icts.uiowa.edu/redcap/surveys/?s=MLM4JYPM8D. For questions about the study, email MSDietStudy@healthcare.uiowa.edu. Dr. Wahls conducts other MS studies currently recruiting for participants. Information about these can be found at https://wahls.lab.uiowa.edu/join-study.