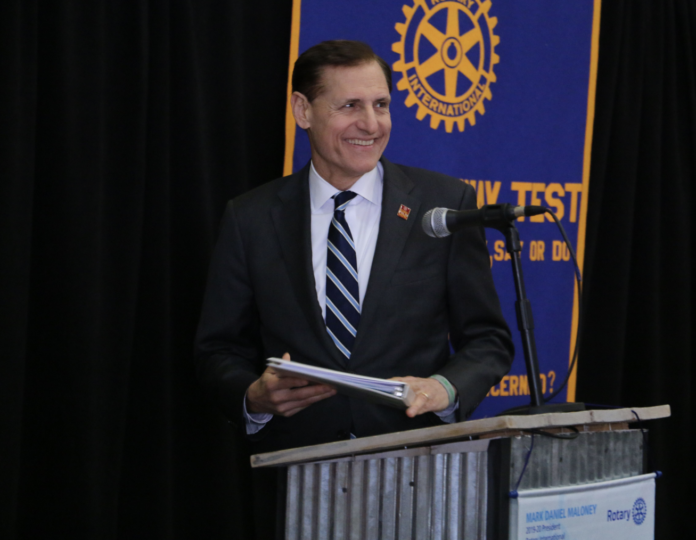 Rotary International General Secretary and CEO John Hewko offered his thoughts on the organization's opportunities and challenges during Downtown Rotary's 5,000th meeting on Jan. 13. He also encouraged more cross-club collaborations, such as the one that helped raise $200,000 for Rotary Hall at NewBo City Market in 2014. CREDIT CALCAM AP 
By Steve Gravelle
news@corridorbusiness.com
Nine years after four Chicago businessmen founded the first Rotary club, Cedar Rapids organizers held their first Rotary meeting on April 6, 1914 at the downtown Montrose Hotel.
The new group's combination of professional networking and community service proved durable, and what's now known as Cedar Rapids' Downtown Rotary club hosted members of all eight metro-area clubs – all spun off from that original group – to celebrate its 5,000th meeting on Jan. 13 at Rotary Hall in the NewBo City Market.
"It made sense," said attorney Bill Courter, Downtown Rotary's 2019-20 president. "It was fitting to hold the celebration of Rotary in Rotary Hall."
The NewBo building's name recognizes the metro Rotary clubs' $200,000 donation toward its development in 2014, Downtown Rotary's centennial year. The facility also represents the last time John Hewko, Rotary International's general secretary and CEO, paid a visit to the Corridor.
"It's great to see that all is well and thriving," said Mr. Hewko, who traveled from Rotary's global headquarters in Evanston, Illinois, to speak as the keynote for Downtown Rotary's milestone meeting.
Mr. Hewko, who has served in the general secretary role for nine years, brought a distinctly global perspective with him to Cedar Rapids. A native of Detroit, he was a charter member of the first Rotary club in Kiev, Ukraine, in the early 1990s, while serving as an international partner with a law firm specializing in emerging markets.
For five years beginning in 2004, Mr. Hewko was president for operations and compact development for the Millennium Challenge Corporation, a U.S. government agency that delivers assistance to the world's poorest nations. As the principal American negotiator, he completed $6.3 billion in assistance agreements with 18 countries.
Today, Mr. Hewko leads a staff of 800, the $400 million Rotary Foundation and some $850 million worth of volunteer efforts worldwide. He said staff at Rotary International's headquarters, in partnership with Johns Hopkins and Harvard universities, has compiled a detailed accounting of the organization's annual economic impact, which exceeds $1.2 billion. He said the exact number would be announced at the organization's international assembly in San Diego, which begins this week.
"We clearly are one of the handful top nonprofits in the world, in terms of our aggregate contributions to our communities, and I think this is something that should make each and every one of us proud," he said.
But even such large, well-established organizations – Rotary has about 1.2 million members in about 35,000 local clubs worldwide – must change to stay relevant to their communities, he conceded, alluding to several pressing challenges that "keep him up at night."
Among the top is Rotary membership, which has been flat the past 20 years. Despite strong growth in emerging markets of Asia and Africa, the organization is facing declining numbers in Europe and North America. Mr. Hewko noted the average Rotarian in the United Kingdom is 75 years old; the average age in Downtown Rotary is 54, with nearly a third of the club's membership under 50.
"We need to grow everywhere," he said. "We're selling a product: the club experience. In some parts of the world, people are buying the experience. In others, they're not."
Strategies to expand membership will be part of a new Rotary action plan that will guide policies and operations worldwide over the next decade or two, Mr. Hewko said. He said he's "particularly excited" about pilot projects in Houston and Chicago designed to re-envision the Rotary experience, and identify the aspects of membership that people find most engaging.
"We're hoping to determine what that value proposition is: what is it that people find interesting and attractive?" Mr. Hewko said. "If it works, we then blow it out over the rest of the Rotary world."
"We need to put everything on the table," he added. "What seems to work is, the clubs that are struggling are willing to adapt."
Local club numbers are healthy, Mr. Courter said. Downtown Rotary added 38 to its 300-strong membership last year, and the metro area Rotary clubs total about 750 members.
"But [recruitment] has been a problem, not just for Rotary but for all service organizations," he added.
Continued relevance may mean finding a new global project to succeed Rotary's most significant global accomplishment, the virtual eradication of polio. Rotary International launched its PolioPlus vaccination program in 1985, at a time when the disease affected 350,000 people annually around the world; there were fewer than 160 cases of polio worldwide last year, centered in Afghanistan and Pakistan.
"You have played a meaningful role in leaving a legacy," Mr. Hewko said to the audience of Rotarians. "We're on the verge of making history eradicating polio."
The polio program's relevance to Rotary members, especially in emerging nations, was key to its success, he added.
"It was something that was meaningful and identifiable to all Rotarians," Mr. Hewko said. "I don't know if we're ever going to have a next global project. I hope we do."
Rotary's local efforts may offer some direction for its future. Before Mr. Hewko spoke, Michelle Bell, governor of Rotary's District 5970, which encompasses the northern half of the state of Iowa, outlined its support for dental, ultrasound, and other medical services at health care centers in Cedar Rapids, Waterloo, Dubuque and Fort Dodge. Project funding includes $194,000 in an unusual "reverse global" grant.
"Typically, Global grants happen in third world nations because of the need," Ms. Bell wrote in an email. "Rotary requires a minimum of 30 percent of the funds to come from outside the host country. In this case, prior relationships I have made with Rotarians in Brazil and India fulfilled this requirement."
"We'll be bringing Rotary dollars back home to help," Mr. Courter said. "That's a huge project."
Mr. Hewko also toured the Ponseti Clubfoot Clinic at the University of Iowa Hospitals & Clinics during his visit to the Corridor. The late Dr. Ignacio Ponseti helped pioneer non-surgical treatment of clubfoot during his time at the University of Iowa, and Rotary clubs in both the Cedar Rapids and Iowa City metros have raised thousands of dollars to support the training of clubfoot treatment practitioners in other countries.
"He said this is exactly the kind of project that Rotary wants to be involved with," Mr. Courter said of the visit. Local members are currently preparing Rotary Foundation grant requests to boost the organization's support for the clinic.
Rotary's foundational values and strong community relationships give it an advantage as it adapts, Mr. Hewko said.
"I'm extraordinarily optimistic about our organization," he said. "We are continuing to make an extraordinary difference in the world."
Disclosure: Both CBJ Publisher John Lohman and Editor Adam Moore are members of Downtown Rotary.