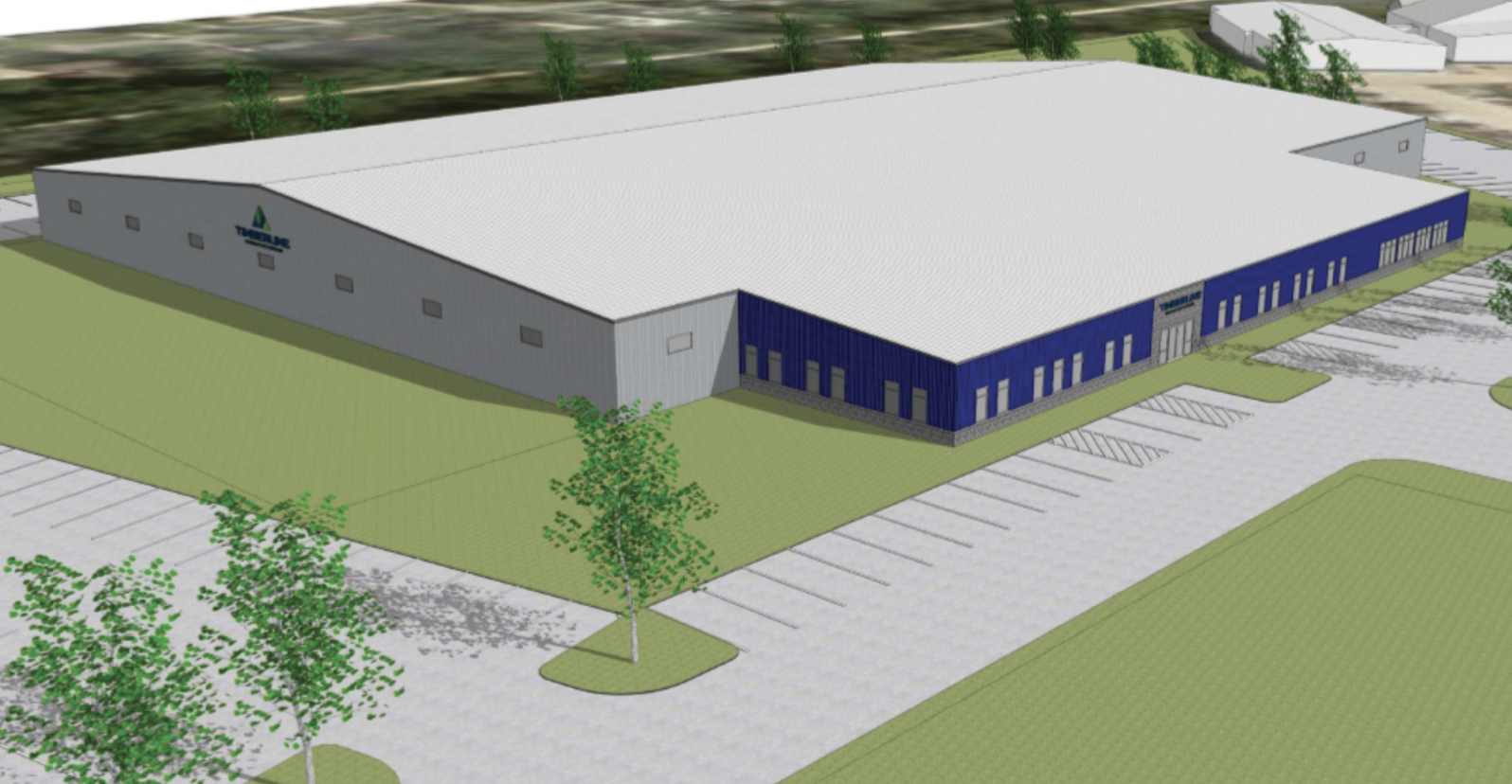 A rendering of the new 80,000-square-foot Timberline Manufacturing facility to be built in Marion over the next year. CREDIT PRIMUS CONSTRUCTION
By Dave DeWitte
dave@corridorbusiness.com
As the employee-owned contract manufacturer Timberline Manufacturing began excavating the site of a new $12 million facility last week in Marion, it was interviewing 19 applicants for production positions.
President Greg Ervin says strong demand is driving the largest expansion in the company's history. While part of it is due to high quality standards and a strong economy, it's also a testament to the company's effective diversification strategy.
Timberline makes not one line of products, but three: control panels, custom electronics and electrical harnesses. Some customers use only one type of product, but others use all three. As manufacturers have consolidated their base of suppliers, it has allowed them to focus on building stronger relationships with suppliers that can meet more of their needs.
Diversification also describes Timberline's markets, which range from defense to solar power, and include such niches as electrical components for rock crushing and road paving equipment.
"What we became is a mutual fund and our customers are individual stocks," Mr. Ervin said. "When one industry is down, we have other industries that are up."
If the customer were using suppliers focused on only one market, such as mining, the return from a down cycle to a growth cycle might make it difficult to find suppliers able to ramp up production swiftly enough to meet their needs – not so with Timberline.
"We're here when they come back," Mr. Ervin said. "It's a big deal to our customers."
Primus Construction will be general contractor for the new 80,000-square-foot facility, which will be located immediately west of the company's location at 1050 Lyons Lane.
The initial plan was to connect a smaller facility to the company's existing campus, already a hodgepodge of additions to a building originally constructed for another purpose. None of the configurations seemed satisfactory, however.
"Finally, we saw we needed a large square area to operate our production flow efficiently," Mr. Ervin said. The decision was made to design the building and site purposefully for better flow, and to put the old facility on the market when the time is right.
Besides a new facility, Timberline has had to concentrate on hiring. Because of demand, the company has added more than 60 employees since last November, bringing its workforce to 235.
Keeping that workforce was one of the main reasons Timberline decided to remain in the same general location when it expanded, Mr. Ervin said, as the vast majority of employees live within a few miles on either side of I-380 in the Cedar Rapids metro. Timberline has a strong local supplier base, and being located in the middle of the United States has enabled it to serve a huge potential market of customers with a one or two-day delivery time.
Unlike highly automated manufacturers, Timberline requires skilled workers with dexterity who like working with their hands for production tasks like weaving together large wiring harnesses for agricultural equipment or assembling huge control panels for rock crushers.
Hand-assembling the items allows the company to do smaller production runs and makes it easier to customize products.
"To automate what we do, our customers would have to have very large volumes," Mr. Ervin said. "If you're selling 100 trenchers a year, you're not going to invest $2 million on an automated production system."
Part of Timberline's value proposition to customers is its dual quality certifications. They include the ISO 9100C certification, a stringent quality certification from the Society of Automotive Engineers for aviation, space and defense organizations, and certification under the Department of State's ITAR (International Traffic in Arms) standards.
While the economy will have its ups and downs, Mr. Ervin said Timberline is in a good market.
As new products are developed, all are "smarter, with more gizmos," Mr. Ervin said. "They all take electricity, and we're electrically centered. It's what we do."