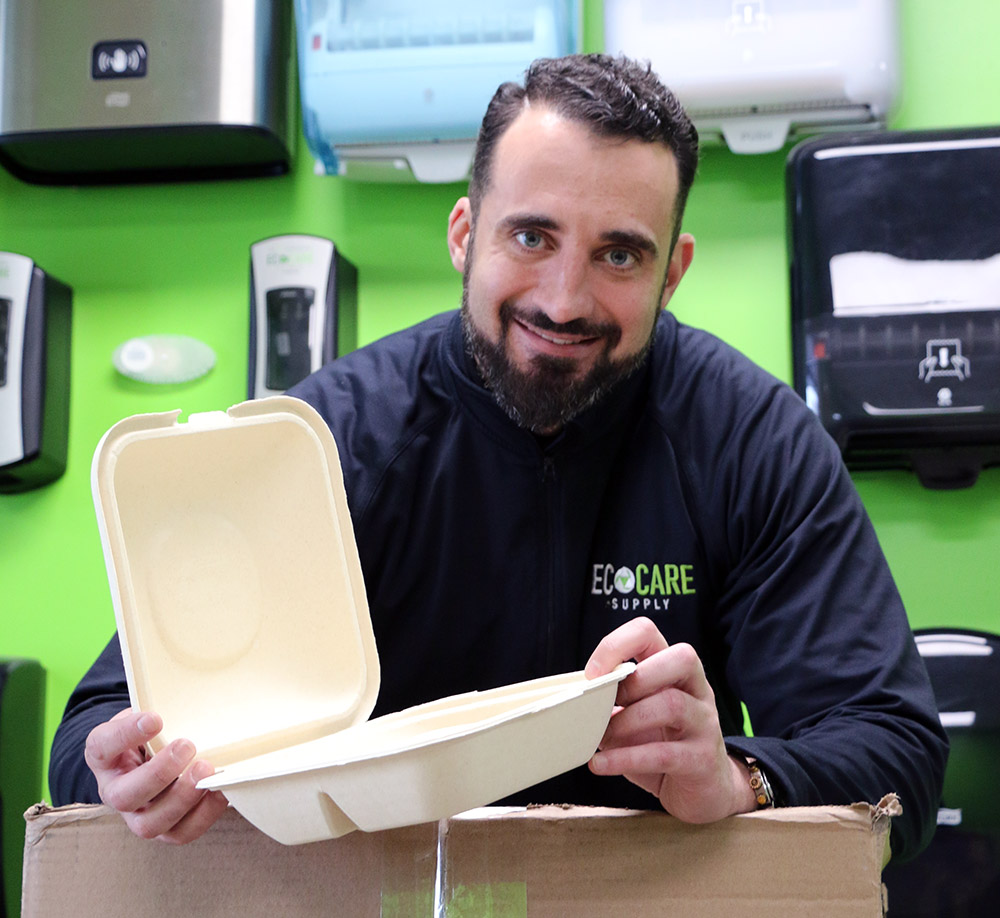 Kaveh Mostafavi, the founder of Coralville-based EcoCare Supply, pivoted (twice) to find success in supplies. PHOTO DAVE DEWITTE
By Dave DeWitte
dave@corridorbusiness.com
CORALVILLE—EcoCare Supply owner and founder Kaveh Mostafavi vividly recalls the shock that sent his career spinning in an entrepreneurial direction nine years ago.
One of two sons of a couple who immigrated to the United States after fleeing the Iranian Revolution, Mr. Mostafavi arrived as a young child in Keota, and later moved to Iowa City. The brothers heeded their father's ceaseless admonitions that they would have to work and study hard to take advantage of the opportunities available in their new home
"We are immigrants," said Mr. Mostafavi, 36. "Nobody's going to hand us anything, nor do we want them to hand us anything."
He graduated from the Drake University School of Law in 2008 and joined his older brother in Arizona, believing he would find more opportunities in a larger setting. After passing the state bar exam, Mr. Mostafavi found work with a bankruptcy law firm, representing the tidal wave of Phoenix homeowners left over their head in debt when the housing bubble collapsed. But the firm's owner struck him as cold and fixated on profits, concerned less about people than "hitting the numbers."
As he headed for the office early one morning, a message appeared on Mr. Mostafavi's phone, warning him to stay away. He drove on past the office, finding it closed and surrounded by police tape. Authorities had arrested the firm's owner for the stabbing death of an Arizona State University student after an altercation. He was later convicted.
It was an abrupt end to his first job in law and a reminder that the owner sets the moral tone for the business.
"After that, I had an entrepreneurial spirit," Mr. Mostafavi recalled. He went on to form his own law firm and joined his brother, Dr. Homan Mostafavi, in opening the first Arizona franchise of Iowa City-based Pancheros Mexican Grill in 2009.
Despite success, Mr. Mostafavi began to feel that the franchised restaurant business was not for him. He wanted to try something else and found inspiration literally in the restaurant's waste can during one of his frequent drop-ins.
"I noticed a customer grab a whole stack of napkins, about four inches high," he recalled. "He used two and threw the rest away, which he was fully within his rights to do."
It led to what Mr. Mostafavi could only describe as an epiphany. There were plenty of restaurant suppliers with good products, but they only seemed to care about how much product they could sell – not the environmental impact or reducing waste. He equipped the Pancheros location with dispensers that released only one paper towel or napkin at a time and the savings – both financial and environmental – soon became apparent.
"I noticed nobody had these products that cut consumption, that led to less impact on the environment," he said.
Returning to Iowa, Mr. Mostafavi incorporated EcoCare Supply in November 2014 and filled the company's first order in January 2015. He believes his supply company, located at 2000 James St. in Coralville, is the only Iowa-based company specializing in green products for the restaurant industry and facility maintenance. The common theme among its thousands of products is sustainability, from probiotic cleaning agents that are safe enough to drink to compostable utensils and trash can liners.
In three years, the company has expanded to 15 full and part-time employees and three locations in Coralville, Cedar Rapids and Des Moines.
Most of Eco Care's 350 accounts are small businesses and offices that place an emphasis on sustainability. They range from governmental units like the city of Iowa City, which awarded its cleaning supply contract for all departments to EcoCare, to independent restaurants like Dumpling Darling, which uses its compostable take-out containers, among other products.
"We believe as a business that this is how we can do our part to help the environment, and a lot of our customers have those same values," said Dumpling Darling co-owner Lesley Triplett.
Ms. Triplett and her husband Brian started Dumpling Darling as a vendor at the NewBo City Market several years ago before expanding to a second location at 213 Iowa Ave. in Iowa City last year. NewBo City Market also uses EcoCare, and has a policy of requiring all disposable food service items to be compostable.
"It's a little more costly, but this organization and this neighborhood were founded on ideas of sustainability and resilience," said Market Director Scott Kruger. The market serves as an incubator for food and retail businesses, he noted, and requiring vendors to use compostable materials helps show them that sustainable business practices are a realistic and achievable goal.
Mr. Mostafavi said EcoCare differentiates itself by taking the time to listen to clients' needs and educating them about their options for achieving sustainable operations without impacting their budget. It offers free delivery, day or night.
Mr. Kruger said he likes that consultative approach.
"He developed a lot of tailor-made solutions," Mr. Kruger said. "He knows that one size does not fit all and in the long-term, that's going to make him more successful."
A decade ago, there probably weren't enough sustainable products for commercial cleaning and restaurant supply to make the business model work, Mr. Mostafavi said. Now there are legions of products marketed as sustainable – but also a significant amount of "greenwashing," in which environmental claims are false or highly exaggerated.
"We continually research what is a more sustainable solution," Mr. Mostafavi said, calling EcoCare "part-distribution firm, part R&D firm."
The company sources its products from as far away as Belgium, but strives to source locally when possible. It sells soaps and sanitizers from B4 Brands in Lisbon and compostable trash can liners from Waverly Plastics in Waverly.
Green visions
"When I first came back [to Iowa], I got a lot of meetings," Mr. Mostafavi said. "People were curious – why did you come back? Why did you quit law to sell toilet paper?"
Toilet paper and lots of other products. EcoCare's sales doubled during the first two years of operations and grew even faster in 2017, topping $1 million for the first time.
Although the company is thriving, Mr. Mostafavi said his goal isn't just to help the environment. He said one of the reasons he came back to Iowa was that he missed the mutual respect and honesty he found in most of his family's dealings here. At one point while in Phoenix, he invested in a janitorial supply company, but concluded that the owner was using the business as a front for investor fraud. He confronted the owner, he said, and was able to get his investment out.
Now that things are on track, Mr. Mostafavi wants to secure enough sales volume to justify manufacturing some of EcoCare's own products. One area he considers promising is converting plant fiber waste from Iowa's agriculture industry into compostable plates and bowls.
Eventually, Mr. Mostafavi would like to make EcoCare a 100 percent employee-owned company, "where everybody is a part owner, and therefore cares more about the business and customer."
"My greatest joy of creating Eco Care is creating jobs and having an impact on reducing consumption and reducing waste," he said.