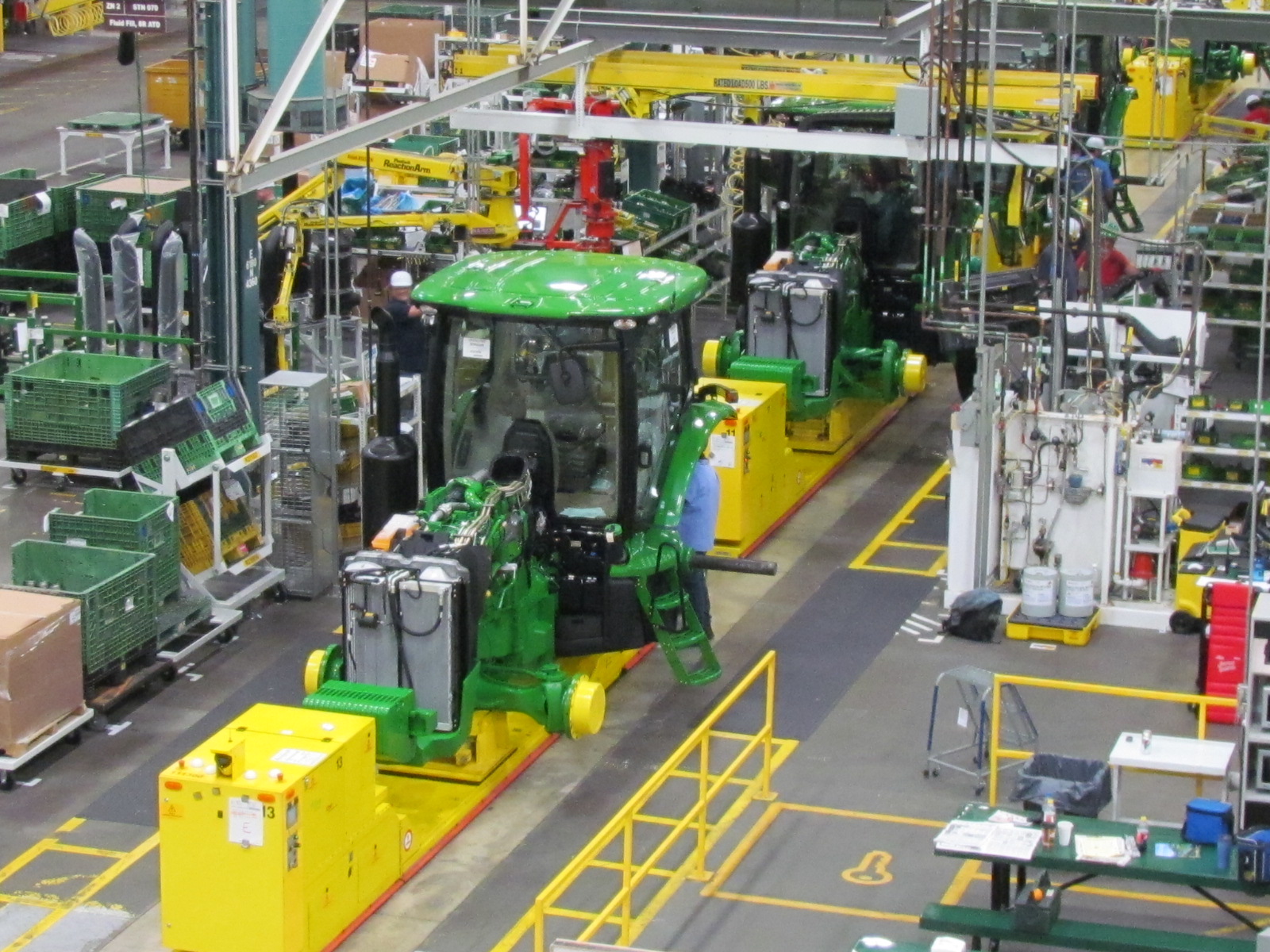 By Dave DeWitte
WATERLOO — With its enormous and growing John Deere manufacturing complex, Waterloo is Tractor Town USA.
Quad Cities-based John Deere, the world's largest producer of tractors, makes more of them in Waterloo than anywhere else, according to Bill Klutho, John Deere manager, strategic communications. Waterloo Works is John Deere's primary North American production center for four series of large tractors: 6R, 7R, 8R and 9R.
Waterloo Works covers 5.9 million square feet of factory space and 2,734 acres of land at six locations in Waterloo, according to Mr. Klutho. It's also the home of a John Deere Product Engineering Center, which turns out the latest tractor design innovations.
John Deere's Waterloo operations also include its engine works and foundry, drivetrain, service parts and tractor cab assembly operations. Twenty-seven agricultural tractors are produced, including a growing number that run on tracks instead of wheels, and more tractors that can almost drive themselves using GPS guidance.
With the agricultural economy remaining strong, Deere has rolled out a series of major investments in recent years to modernize production, improve quality, add products and meet air emissions requirements.
The list of investments includes a $70 million project to expand manufacturing capacity, expected to be complete at the end of this year. That project, announced in March, will increase the number of production lines at Waterloo Works from 17 to 20.
A $100 million project to modernize John Deere's Waterloo foundry is in the initial stages of production ramp up. The foundry's new casting line is expected to be in full production next year.
The company continues to roll out products to meet the EPA's more stringent Tier 4 air emissions requirements. On April 17, John Deere showcased its new PowerTech PWL 4.5-liter engine –produced in Waterloo — at a major European trade show. The new engine reduces costs by eliminating the need for a diesel particulate filter.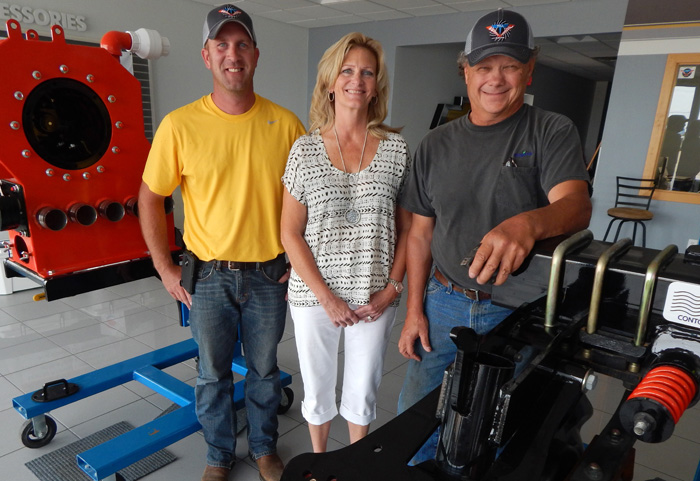 Impact on Waterloo
Waterloo's identity within the world of manufacturing and agriculture is inseparable from John Deere, according to Steve Dust, president of the Cedar Valley Alliance and Chamber.
"People involved in agriculture at any level immediately equate the Cedar Valley with Deere," he said.
The Cedar Valley Alliance and Chamber recently presented John Deere with its top annual award for innovation. Mr. Dust said. It's one of many awards Deere has garnered from the group.
John Deere is a magnet for a growing number of entrepreneurs and suppliers in the Cedar Valley.
"Deere has not only attracted a number of new firms to our region, but has also caused a number of startups to happen, particularly in the industrial services sector," Mr. Dust said.
For example, HyPro Inc. opened shop solely to work on John Deere engine blocks. Same goes for FirstCo, which works on John Deere wheel and tire assemblies. Ryder Integrated Logistics works on John Deere cab assemblies. The list goes on and on, rippling out to companies in Cedar Rapids, Dubuque and the Quad Cities.
Those suppliers employ thousands of workers, in addition to the roughly 6,000 employed by Deere in the Waterloo Works directly or through staffing companies.
Waterloo-made tractors are exported to more than 130 countries, making Deere one of the most global manufacturers in Iowa.
A long time tractor town, tractor production in Waterloo dates back to before Deere's arrival in 1918. The Waterloo Engine Co., had been making the Waterloo Boy Tractor since 1913.
To commemorate the area's tractor history, the new John Deere Tractor and Engine Museum at Cedar Valley TechWorks off Westfield Avenue is slated to open in the spring of 2014. It will feature artifacts and interactive exhibits to demonstrate the history and growth of the tractor business at Deere and will sell licensed John Deere merchandise.
The museum was initially slated to open this year, but after encountering some delays, Deere decided to postpone the opening to better coincide with the opening of other attractions in TechWorks that were to come later.
John Deere has long stimulated travel to Waterloo Works through its Gold Key program, which allows tractor buyers to come to the factory to tour the facilities and see their new tractor roll off the assembly line, Mr. Dust said.
"Travel associated with Deere is huge," Mr. Dust said. In addition to the Gold Key visitors, he said John Deere brings in a significant amount of international travel and attention.
Market share
Farmers who've relied on John Deere tractors rarely trade in their green and yellow for any other colors, according to Don DeHaven, manager of Hub City Implement Co. Inc., a John Deere dealership located about 35 miles from the Waterloo Works in Oelwein. He said John Deere commands 50-60 percent of the tractor market in his sales area.
A typical 8R series tractor, the series most popular at Hub City Implement, can cost
$150,000-$200,000, Mr. DeHaven said. The amount paid or borrowed is usually less than that, Mr. DeHaven said, because most buyers trade in a used model or two.
John Deere tractor models can be ordered with a huge assortment of options. The number of option codes on single models would be counted in hundreds, Mr. DeHaven said. Custom ordering is the norm and it's common for dealers not to have any new tractors in stock for immediate delivery.
During the past three or four years, a feature gaining popularity with John Deere tractors has been the AMS, or Ag Management System. AMS uses GPS to guide the tractors through fields, reducing stress on the operator and cutting down waste of fertilizer, herbicide seed and other inputs, by applying it more precisely.
The trade-in cycle for Deere tractors has typically been about every three to five years, Mr. DeHaven said. Recently, it's not unusual for customers to trade in for a new tractor every two years, or even annually. That's because farm incomes are strong, and farm operators can use the tractor purchase as a deduction to lower their tax bill, Mr. DeHaven said.
Deere & Co. began its current fiscal year by reporting first quarter net sales and revenues of $7.4 billion on Feb. 13. Sales were up 10 percent, compared with $6.767 billion a year earlier. Sales in the agriculture and turf business segment were up 16 percent due mainly to improved volume.
While tractors are its best known products and are part of its agriculture and turf equipment segment, Deere & Co. has two other major business centers. One is the construction and forestry equipment segment. The other is its financial services segment. Worldwide sales of agriculture and turf equipment are forecast to increase by about 6 percent for the full 2013 fiscal year, the company reported.