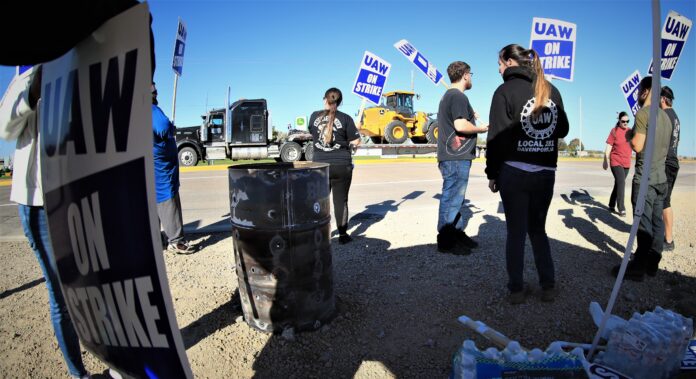 No criminal charges will be filed for an incident surrounding a United Auto Workers union member death that took place Oct. 27 in Milan, Illinois, according to documents from the Rock Island County state attorney.
Richard Rich, a 15-year plant employee, was hit and killed by a car while walking around 6 a.m. that morning across the intersection of Rock Island-Milan Parkway and Deere Drive with a group of other picketers.
The documents say that one witness remembers the group seeing oncoming traffic and making it to the median, only to hear a loud popping noise behind them where Mr. Rich was hit. He died from blunt force trauma, according to an autopsy from Rock Island County Coroner Brian Gustafso.
The investigation found that the driver showed no indication of being under the influence of drugs or alcohol, was driving during a green light and he said he did not see Mr. Rich.
"There was speculation by the driver and one witness that he may have been driving 60 mph in a 55 mph zone, however, this speculation is not sufficient to sustain a conviction for speeding," said the report.
As such, the driver was not charged with traffic or felony charges because there was not evidence he was driving recklessly or attempting harm.
This story of events is supported by surveillance video from Nature's Treatment of Illinois in Milan that captures traffic and other witnesses that day. There is not clear video of the collision.
In the hours after the incident, Deere & Co. released the following statement: "We are saddened by the tragic accident and death of one of our employees who was struck by a vehicle before dawn this morning while crossing the Milan Beltway. All of us at John Deere express our deepest condolences to their family and friends. We have no further details as we await reports from law enforcement."
"On behalf of the UAW and all working families, we mourn the passing of our UAW brother," said UAW president Ray Curry in a statement. "It is a somber time to lose a member who made the ultimate sacrifice in reporting to picket for a better life for his family and coworkers."
The full report from the Rock Island County state's attorney can be found here.
Mr. Rich and the other picketers were striking for higher wages and better working conditions. On Oct. 14, some 10,000 UAW workers at John Deere plants across the Midwest walked off the job after rejecting a proposed new six-year contract.