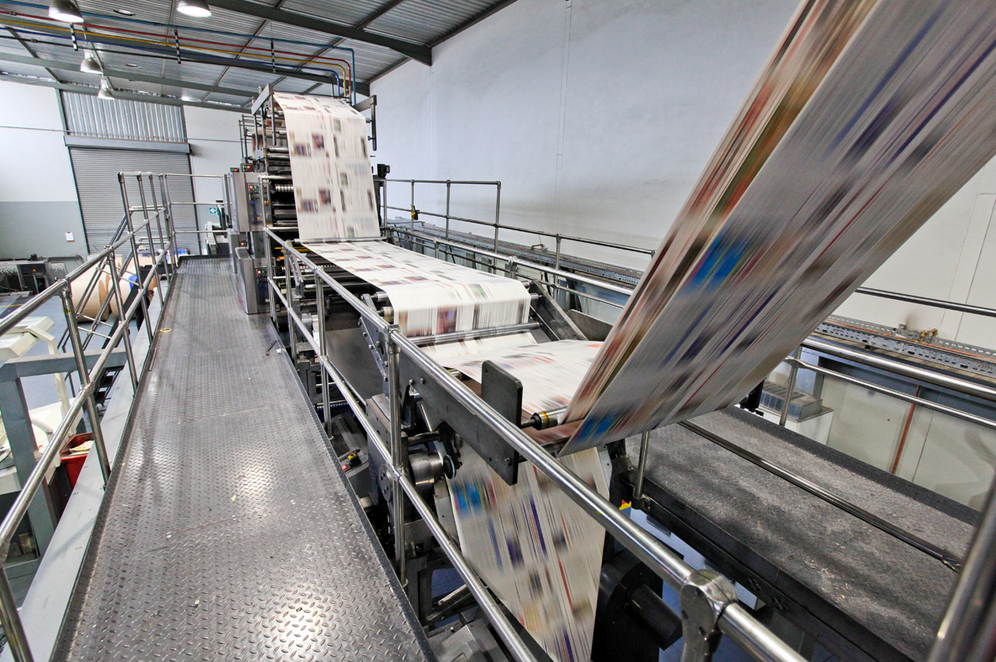 By Dave DeWitte
dave@corridorbusiness.com
An unlikely scenario is playing out in the Corridor: Local newspaper com­panies, which had been all but left for dead, are changing hands fast.
Three major deals in the past year have resulted in the sale of 15 small newspapers with a combined circu­lation of more than 23,000, along with several shoppers circulated even more widely.
It's a shopping spree that runs against the popular belief that news­papers are on the decline – a belief supported by the ongoing cutbacks at many of the country's large and mid-sized dailies. Newspaper revenues and profits have been sinking for close to two decades, with the losses accelerat­ing in recent years despite newspapers' efforts to engage readers through digi­tal channels and live events.
A report from the Pew Research Center shows both digital and print circulation falling 8 percent in 2016, with weekday print circulation falling 10 percent. Total weekday circulation for daily newspapers fell to 35 million, the lowest level since 1945.
The newly acquired Corridor news­papers probably haven't suffered in the same manner, however. They are mainly weekly papers with a tight focus on ev­erything local, from police arrest logs and city council decisions to prep sports. Cir­culation figures among those newspapers have held up better than most.
"If you want to know what's going on in Solon, West Branch or North Liberty, chances are the only place you're going to find out is in the local paper," was how Bob Woodward II, vice president of stra­tegic planning and business development for Woodward Communications, ex­plained the appeal.
The Corridor's three major newspaper deals included:
The sale of West Branch Communi­cations, a group of seven weekly news­papers based in Mount Vernon, by Stu­art Clark and Jake Krob last month to Dubuque-based Woodward Communi­cations, which rolled them into its WCI Community Media Division. The sale in­cluded the Mount Vernon-Lisbon Sun, So­lon Economist, West Liberty Index, West Branch Times, North Liberty Leader, Mar­ion Times and Linn News-Letter, and the shoppers and specialty publications they publish. Circulation totaled more than 14,500.
The sale of the Washington Evening News in Washington, the Fairfield Daily Ledger and the Mount Pleasant News 10 months ago to Cedar Rapids-based hold­ing company Folience, to become part of the company's Gazette Communications business. Referred to the dailies as the "Golden Triangle" group, they had a com­bined circulation of about 5,600.
The sale of the weekly Kalona News, Lone Tree Reporter and Highland Review, owned by Slechta Communications, and the Wellman Advance and Riverside Cur­rent, owned by Three Chicks Communi­cations, to Anamosa Publications, owned by Jim and Bridget Johnson. Those papers had a combined paid circulation of 3,150.
Gregg Knowles, the founder of Knowles Me­dia Brokerage Services, an Iowa-based me­dia broker, has been watching the surge in community newspaper sales for close a year now. He suspects the new force driving sales is a belief by longtime owners that the cur­rent industry climate, which is the best since the 2008 recession, offers a good opportu­nity – possibly their last good one – to cash out of their investments.
"It's caught me by surprise, the way it's ramped up in the last six months or year in terms of the number of transactions tak­ing place," said Mr. Knowles, who started the Marion Times in the 1990s, and has some interesting sales in process. He be­lieves prices overall are lower than many owners would hope for, but that they are motivated by uncertainty about the future.
"They may be making the mistake of believing this is the last sale cycle possible," Mr. Knowles said. He doubts that's the case, believing small newspapers could remain viable long enough to create another window of opportunity in five or 10 years.
Community newspapers are faring much better than metro dailies, Mr. Knowles noted, holding onto more subscribers and advertisers. It's that focused ap­proach on local news that readers can't find anywhere else that has kept most of them profitable.
Mr. Woodward put it more colorfully.
"They're [metro dailies] in deep kimchee in many cases," he said. "We're really not. We're mostly very viable."
Still, Mr. Knowles doubts that local flavor will pro­tect community newspapers forever. That's because the small businesses they rely on for advertising are themselves being threatened by competition from on­line retailers, and small newspapers have not been as successful in attracting digital advertising dollars from those e-tailers to replace them.
"There are going to be a lot of empty storefronts on Main Street, with nobody in them to buy advertising," said Mr. Knowles.
Rick Edmonds has covered newspaper closings and downsizings as the media business analyst at the Poy­nter Institute, a journalism research and education foundation in Florida. He sees one common thread in most of the recent wave of newspaper sales.
"Some people aren't doing so well, and so they're saying, 'I'll sell,'" he explained.
Too often, consolidation hurts the quality of local journalism when large media companies move in and slash newsroom budgets, Mr. Edmonds said, but those larger companies can also keep smaller newspapers viable by sharing technology and other resources and improving profits.
"Is it really going to make a big difference in the sustainability of the industry? That's the harder ques­tion," he said.
Opportunity calls
At least two of the recent Corridor media deals rep­resented opportunistic purchases by companies that weren't necessarily on a hunt for media acquisitions.
Folience has mainly been seeking strong, viable companies in diverse industries to maximize growth and value to its employee shareholders, according to Gazette Communications President Chris Edwards. The opportunity to buy the Golden Triangle newspa­pers was attractive primarily because it expanded the regional presence of Gazette Communications in East­ern Iowa, he said.
Anamosa Publications owners Jim and Bridget Johnson were presented with an opportunity to acquire the Three Chicks publications by a broker. They initially resisted because of direct competi­tion with other papers in Washington County. The broker, aware that the publisher of that paper, Ron Slechta, was ready to retire, suggested including their newspaper group, Slechta Communications, to eliminate the overlap.
Analyzing whether the terms of the recent Corridor media deals reflected a weak newspaper market or a more optimistic outlook by the buyers is impossible, because financial terms of the deals were not disclosed. Two of the acquisitions involved parent companies owned by ESOPs, or employee stock ownership plans: Woodward and Folience.
Representatives for the three buyers were unani­mously upbeat on the future of community newspa­pers, saying they expect to improve profit margins at the properties they acquired through synergies with existing operations while continuing to improve the quality of their papers.
"We're ahead of the plan we had when we purchased them," Mr. Edwards said. "The systems integration is basically done, and now we're looking for opportunities to improve what we can offer both our advertisers and our subscribers."
The printing for all three Golden Triangle newspapers has been taken over by Cedar Rapids-based Color Web Printers, another Folience company. At the same time, Gazette Communications has begun sharing its extensive coverage of University of Iowa sports along with other investigative and in-depth reporting from its namesake paper with its newly acquired properties.
Woodward Communications has shifted printing of the West Branch Communications newspapers to its Woodward Printing Service in Platteville, Wisconsin. Although Jake Krob will continue to lead the newspapers in the Corridor, some of the back-office functions such as human resources, information technology and accounting may be combined with Woodward's existing operations.
"In my mind, synergies sometimes have a bad rep," Mr. Woodward said. "Our approach is, let's start with driving revenues and look at ways we can work better together to provide more benefits to our readers and advertisers. I don't think newspapers can slash their way to success – it's just not very viable."
Mr. Johnson said he sees some nice synergies developing on the news side between Anamosa Publications and the Kalona Times newspapers. A typical example occurred in October, when the Wellman-based Mid-Prairie High School Golden Hawks, a team closely followed by the Kalona newspaper, played a varsity football game on the home turf of the Anamosa Raiders, a team closely followed by the Anamosa Journal-Eureka. The company's Anamosa sports reporter covered and photographed the game, saving a 150-mile round-trip for the Kalona Times reporter.
Mr. Johnson was quick to point out that each newspaper's sports editor will still interview their local coach and write their own story. One difference between the Anamosa Publications acquisitions and the other two deals is that it involved eliminating the identities of several newspapers that once covered communities now included in the coverage of the Kalona Times.
"What we've had to overcome – and we've done it in varying degrees of success in various communities – is that we took away newspaper names: the Wellman Advance, the Riverside Current and the Lone Tree Advance," Mr. Johnson said. "It's been hard to overcome the perception that it's a community loss, but our point of view is that we're giving them more local news."
Woodward Communications is excited to be part of some of the fastest-growing communities in the state through its West Branch Communications acquisition, Mr. Woodward said, noting the impressive growth of markets such as Solon and North Liberty.
Unlike Folience, which wasn't necessarily looking for local media acquisitions, Mr. Woodward said his company is actively shopping for more. It acquired the Manchester Press in 2015 from News Publishing of Black Earth, Wisconsin, adding it to a group of five other weekly newspapers in northeast Iowa, including the Dyersville Commercial and Cascade Pioneer, and a cluster of newspapers in the Madison, Wisconsin area.
Woodward has also been adding advertising agencies and radio stations to its portfolio. The company's Two Rivers Marketing in Des Moines has grown from 65 to 145 employees since it was acquired in 2008, and the company more recently acquired a 25-employee Canadian ad agency, ON Communications, in London, Ontario. Woodward's longstanding relationship with some big advertisers are helpful to the newer community newspapers acquired.
"We're trying to, in general, balance the portfolio of community-based journalism and more business-to-business services," Mr. Woodward said.
Mr. Johnson, a veteran journalist and newspaper executive, has already revived a fading Anamosa Journal-Eureka, and recently took on the circulation obligations of the Midland Times, a small-town newspaper which faced closure because the late owner's illness.
Although he eventually expects community news to abandon print for the web, Mr. Johnson sees many good years ahead for the printed page. He finds inspiration in the comments of readers, and something even more flattering – articles clipped from his newspapers and stuck on refrigerators when he visits their homes.
"I see that all the time and I love it," Mr. Johnson said. "You can't stick a web page on a refrigerator."
CBJ Senior Business Reporter Dave DeWitte was previously employed by Gazette Communications and performed contractual services for Anamosa Publications.