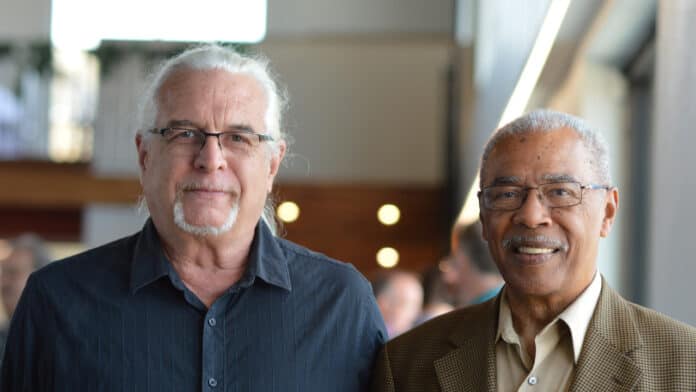 Due to the COVID-19 pandemic, it had been two years since the Main Street District had a chance to gather to celebrate recent successes at its annual State of the District luncheon.
"Last year was a tough year for all of us," Don Barrigar, president of the Czech Village New Bohemia District Board of Directors, said at the luncheon that finally took place June 22.
He added that the time lapse made the accomplishments "all the sweeter."
Among those accomplishments, Mr. Barrigar, owner of Acme Electric Co., cited the district's net gain over the past year of 22 businesses, after eight were lost, but 30 new ones were added.
"We expect four more to be added in the next few months," he said, bringing the total number of district businesses and organizations to more than 200.
Abby Huff, executive director of the Main Street District, noted the significance of holding the luncheon at the Olympic South Side Theater, "a place that once literally was up in flames."
The wedding and event venue at 1202 Third St. SE was damaged in a 2014 fire under a previous owner and was set to reopen under new ownership right as the pandemic hit.
Nearly 150 people gathered for the June 22 luncheon, which also recognized several award recipients.
"Our job as a district is to do everything we can to keep this district unique and vibrant and thriving," Monica Vernon, executive director of strategic development for the district, said, before announcing the winners.
The district's pinnacle honor, the Robert Chadima Visionary Award, went to Tom Moore, founding leader of the African American Museum of Iowa, and posthumously to Ruth Fox, an artist, historic preservation consultant and landscape architect.
"Today's recipients are very good examples of the shared vision, and not only the vision, but also the perseverance and the commitment to make the vision become a reality," said David Chadima, the son of the award's namesake.
Ms. Fox, who died Jan. 21, spent much of her professional life promoting historic preservation, including in Czech Village and New Bohemia, said Chris Wand, project architect at Primus Companies, who nominated her for the award.
"Her technical expertise was invaluable to the many property owners who enlisted her help in documenting their historic properties," Mr. Wand said, adding that her tireless work resulted in several projects being deemed eligible for state and federal historic tax credits.
Mr. Wand worked with Ms. Fox in 2016 on relocating the historic White Elephant building in New Bohemia and used a grainy black and white photo she found – the only historic photo that showed the structure before changes were made in the 20th century – to recreate missing elements of the building, returning it to its former glory.
Robert Fox, the widower of Ms. Fox, accepted the award on her behalf.
Mr. Moore was lauded for his leadership in founding the African American Museum of Iowa as the organization's first board president, and then executive director, as well as developing a neighborhood plan for the Oakhill Jackson Neighborhood.
"Tom's legacy to Cedar Rapids and this community will be his painstaking work to make the African American Museum of Iowa a reality," said Cedar Rapids City Council member Dale Todd, who nominated Mr. Moore for the award. "Today this museum serves as a destination anchor for our community."
Mr. Moore, a U.S. Air Force veteran with a 30-year accounting career at Quaker Oats, started to develop the museum commemorating contributions African Americans have made to Iowa and the nation in 1993 with a small group of friends and members of Mount Zion Missionary Baptist Church.
Since 2003, more than a half-million people have visited the museum, located at 55 12th Ave. SE, Mr. Todd said.
He likened Mr. Moore to the late civil rights activist and Congressman John Lewis, with his soft-spoken demeanor.
"Tom is the quiet, methodical voice of reason," Mr. Todd said. "What that taught me is that the true measure of a man is not by how loud his voice is, but by how many people listen to him when he speaks."
John Schwartzkopf, owner of Schwartzkopf Fine Woodworking, and Dan Baldwin, former president and CEO of the National Czech & Slovak Museum & Library, also were recognized at the event, as last year's Robert Chadima Visionary Award recipients.