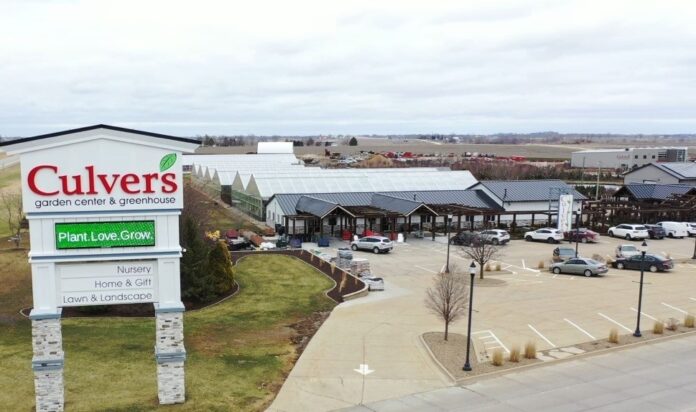 Culver's Garden Center & Greenhouse, 1682 Dubuque Road in Marion, will mark 25 seasons in retail and 40 years in the lawn and landscape industry with a ribbon cutting at 4 p.m. April 21. Marion Chamber Ambassadors will assist with the event.
Four decades ago at age 12, Todd Culver started his entrepreneurial journey by mowing lawns and creating Culver's Lawn Mowing business. Two years later, he met his wife, Tami, in Cedar Rapids. This year, the couple will celebrate 32 years of marriage. Together, they own several entities in the community, and employ more than 200 people annually at Culver's.
The company broke ground at its current location in 1997 following Tami's graduation from Mount Mercy. They opened for retail the following spring. The business continues to evolve, including several major construction projects over the last couple of years.
"After the derecho did considerable damage to the property, we decided to remodel along with the repairs," Tami Culver stated in a release. "This set us up for future growth and success."
The 26-acre campus encompasses 14 greenhouses, a full nursery, landscape design center and maintenance building and a retail gift shop that is open year-round. Over the years, the company has grown from Todd's original Culver's Lawn Mowing business into three industries – production, service and retail. The production team grows more than 100,000 annuals, vegetables, herbs, and perennials each year. The service department includes lawn maintenance, landscape design & installation, and snow & ice removal for both residential and commercial properties.
In addition to the ribbon cutting, Culver's will host its 25th Annual Spring Open House on April 23-24. For more information, visit culverslandscape.com or call (319) 377-4195.