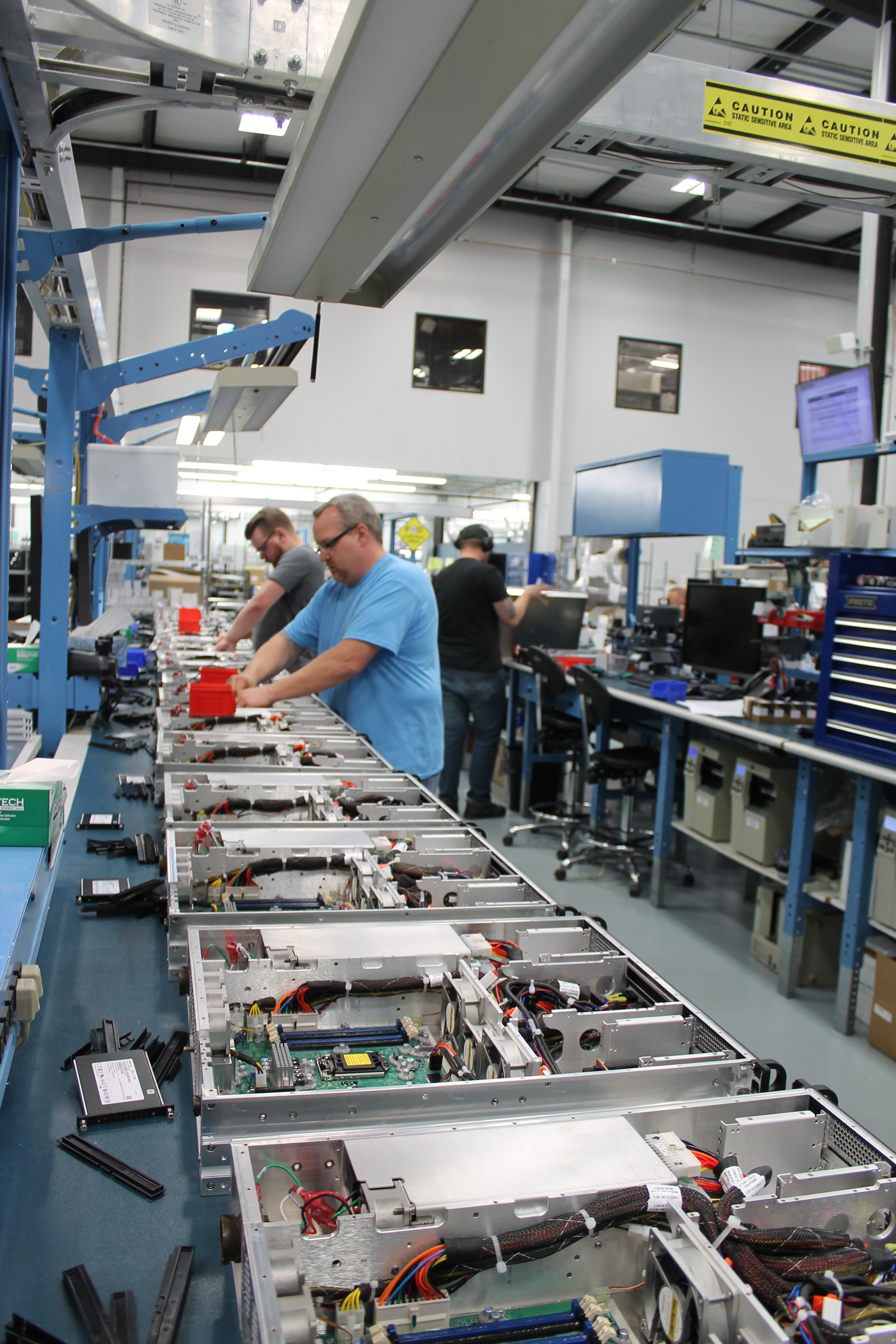 Employee-owners at the Crystal Group configure network servers to customer requirements on the final chassis assembly line at the company's Hiawatha facility on May 1. PHOTO DAVE DEWITTE
By Dave DeWitte
dave@corridorbusiness.com
A $17.5 million facility plan lies at the center of Crystal Group's efforts to become a major supplier of servers to the emerging autonomous vehicle market and expand its positions in the defense market.
The employee-owned company manufactures network servers and switches designed to operate in extreme environments such as military humvees, tanks and submarines. It takes commercial off-the-shelf components and customizes them for performance under intense conditions, testing each unit rigorously before delivery to customers.
Crystal Group will soon break ground on a 111,500-square-foot facility on a 9-acre site at 855 Metzger Road acquired from Armstrong Development, just behind its current headquarters at 850 Kacena Drive, Hiawatha. Primus Construction will design and build the facility, which will provide better product flow and more production capacity to meet growing demand from the defense market.
"We're trying to stay ahead of our demanding customers in the DOD [Department of Defense], offering the facilities and capabilities we think they'll be asking for," said Michael Kruger, vice president of operations and leader of the facility project. "It should give us about a 50 percent increase in production capacity."
Crystal Group has also been contracted by several global automobile manufacturers to supply equipment on autonomous and semi-autonomous vehicle programs, according to Marketing Director Leslie George. The automakers will need a different style of rugged server than most of those Crystal Group currently supplies, which are designed to fit into a standard rack or a rugged transit case. The autonomous vehicle servers will be "much more customized," with a form designed to fit in a non-standard space, Ms. George said.
In the two-year planning process for the facility, Mr. Kruger said Crystal Group began by asking each department what their needs were, and then evaluating and prioritizing those needs based on the company's capital budget.
"The biggest things we need are a new environmental test facility and secure room," he said. "These were the things that could open new doors for us."
The environmental test facility is used to evaluate the performance of Crystal products under extreme conditions. The new facility will add vibration testing, which is currently outsourced, to testing in extreme humidity and temperature conditions.
Two secure rooms will meet the requirements of certain defense agencies for space that can be used to review secret plans and documents.
"We have customers requesting that," Mr. Kruger said. "We'll be able to quote more business when we have it."
The new facility will also house Crystal Group's corporate headquarters. A new part of that component will be a new "proposal room" for marketing and engineering staffs to use in developing proposals. It will incorporate multiple video screens for displaying information from the proposals to facilitate communication among the company's teams, Mr. Kruger said.
Access control and security were also high on the list of needs, along with an uninterruptible power supply for the entire building. That is partly because final assembly and test operations will be moved into the new facility.
A standard test for a Crystal Group server, called the burn-in, requires operating it at maximum capacity for 24 hours straight. If even the slightest power blip interrupts the test, the process begins all over again, Mr. Kruger said.
A building management system was designed into the project to control all of the energy-consuming features of the building, from its lighting and access control system to its high-efficiency heating and air conditioning system.
Building close to home
Early in the planning process, Crystal Group determined the logistics of expanding its nearly 20-year-old current facility wouldn't work, and began looking for a new location.
Building new in Cedar Rapids and other cities outside Hiawatha were considered, but Crystal Group ultimately found the best option to be right in the backyard of its current location, Mr. Kruger said.
The new facility will allow synergies with the other Crystal Group facilities nearby, is only a few minutes from a UPS shipping facility, and will have even better access to Interstate 380 when the new Tower Terrace Road interchange is built.
"Hiawatha is growing," Mr. Kruger said. "When Tower Terrace [the interchange] is open, we'll be in a prime location."
Crystal Group chose Primus Construction in part for its design-build capabilities. Design-build compresses a project's timeframe by allowing design and construction to occur simultaneously. Crystal Group leaders worked with both Primus and lean consultants to maximize the efficiency and workflow of the building design.
The company's current headquarters was designed with windows in executive offices, but Mr. Kruger said the new design "flip-flopped" the lighting scenario to provide maximum daylight to the most employees. Executive offices will be in the interior of the building, and won't have windows.
A total of 45 employees will be added once the new building is complete, including a mixture of sales and engineering staff. Crystal Group plans to keep its existing Kacena Drive facility and a smaller 10,000-square-foot CNC milling plant nearby.
The Hiawatha City Council "did everything they could to keep us in Hiawatha," Mr. Kruger said. He also credited Iowa Economic Authority Director Debi Durham and Jon Dusek of Armstrong Development for working closely with the company to make the project possible.
Even more growth could be on the horizon for Crystal Group if the expansion project opens up new opportunities as is expected. Mr. Kruger said the new building is specifically designed to be extended by another 35,000 square feet when needed.
Although the process has gone well, Mr. Kruger said his advice to other manufacturers planning an expansion is "you can't start too early." He said a project manager has been hired to oversee the new facility's completion, allowing him to stay focused on quality and production issues.