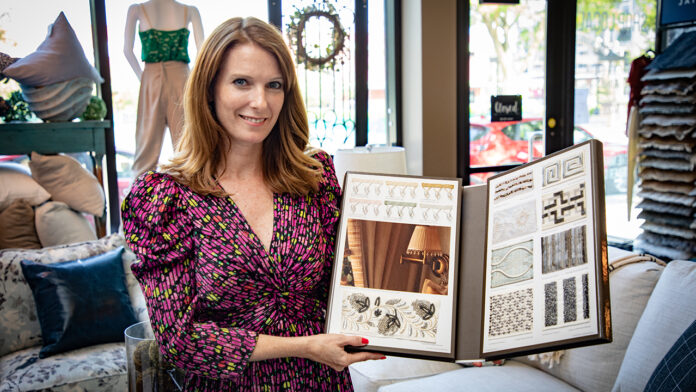 An inscription on a wall in the design studio of NEST Design and Décor reads, "Create, Imagine, Live, Love, Rest, and Be You."
Owner and lead designer Angelia Buhr helps her clients do just that when it comes to reimagining their homes.
"Here in the studio, we can play and create," Buhr said. "I can get a feeling for what homeowners want their space to be like and help them interpret that."
NEST Design and Décor is located in the New Bohemia District in Cedar Rapids. Inside, customers have an opportunity to see and feel the quality of many of the established brands Buhr represents in furniture, custom bedding, area rugs, upholstery, window treatments, lighting, countertops, cabinetry, wall coverings and paint. 
Accent pieces including lamps, mirrors, pillows and vases are also showcased throughout the studio. And, if in need of a home gift, there's a selection of Turkish towels, bath salts and soaps, and candles.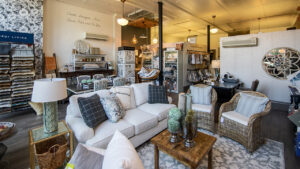 Working alongside Buhr assisting clients are Ali Haefke, design specialist, and Sarah Rievra, window treatment specialist. The trio takes on a wide range of custom projects from new window treatments to whole house remodels. A small fee is charged for in-home consultations.
"When homeowners are ready to upgrade or remodel, the options can be overwhelming," Buhr said. "We work with them to realize their style and narrow down their design choices."  
Space for Women Entrepreneurs
A portion of her storefront location contains several additional women-owned businesses. 
A sister company to NEST Design and Décor is Abigail Company. Named after Buhr's 5-year-old daughter, Abigail Company offers a selection of women's and young girls' fashionable clothing.  
"Abigail is very hands on in selecting the girls' clothing we sell," said Buhr. "I think she's our next generation entrepreneur." 
The other women-operated businesses include Olive's Oil, Farm to Health Organics hemp products, Mode women's clothing, and Baby Oliver baby clothes and toys.
Nursery by NEST is another custom design service offered by Buhr. She works with parents to create their ideal nursery. An online gift registry can be established for contributions to help the couple realize their dream room for their new little one. 
The New Business Grows
Offering reasonably priced, quality goods and services throughout the store has been Buhr's business mission since she opened the doors in 2020. She originally planned to open in March of that year. But that was the month Iowa's governor ordered businesses closed for a number of weeks to try to halt the spread of COVID-19.  
Buhr was able to open NEST Design and Décor on May 15, 2020. Business started out slowly but picked up thanks to word-of-mouth conversations from satisfied clients and promotions by the New Bo District.
Her business did not slow down as a result of the derecho that caused wide-spread property damage in the Cedar Rapids area on Aug. 10, 2020. As homeowners received insurance checks to repair their homes, they often took the opportunity to make improvements. Buhr and her team helped clients imagine and create new living spaces.
She says you can take a lot of nice things and make a pretty room, but that doesn't take into consideration how the homeowner feels. 
"I feel a space more than I see a space. And I can feel what homeowners are feeling, so I can put together a room that reflects them. That's fun for me."   | 
FYI:
What: NEST Design and Décor
Where: 1107 Third St. SE, Cedar Rapids
Web: www.designyournest.com
Phone: (319) 888-3020
Facebook and Instagram: @nest_designanddecor
Hours: Monday-Wednesday, 11 a.m.-5 p.m.; Thursday-Friday, 11 a.m.-7 p.m.; Saturday, 10 a.m.-4 p.m. 
To read more stories from this fall's Lure magazine, visit here.