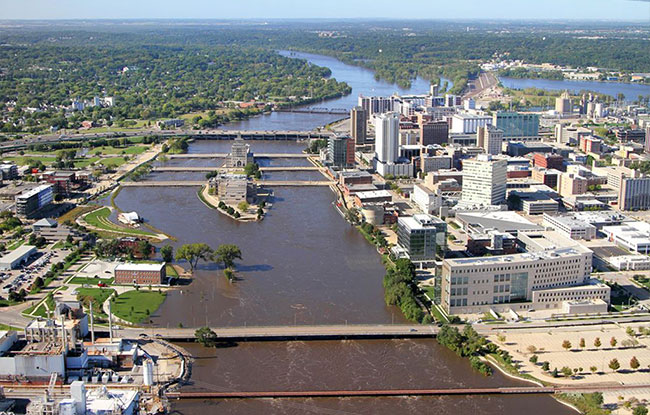 An aerial view of the city of Cedar Rapids. CREDIT EXPEDITED FREIGHT

By Dave DeWitte
dave@corridorbusiness.com

In a reminder of the city's persistently low unemployment rate, the city of Cedar Rapids has approved the addition of a workforce development specialist to the city manager's office.
Cedar Rapids had a November unemployment rate of 2.6%, on par with the statewide average that is tied for fourth-lowest in the nation. It is also the state's largest manufacturing center, with 20,500 employed in factory jobs in the Cedar Rapids Metropolitan Statistical Area (MSA).
The region already has an agency, ICR Iowa, focused on its workforce needs. However, Cedar Rapids, the area's largest employment center, has specific and persistent workforce challenges it wants to address, explained Jasmine Almoayed, the city's economic development manager.
"This person will be very in tune with what the labor needs of CR-based businesses are," Ms. Almoayed said. "We tend to be more heavy in manufacturing and transportation than the rest of the region."
That manufacturing concentration means Cedar Rapids has more middle- and lower-skilled positions to be filled than most other cities, Ms. Almoayed said. Wage rates for those positions may not support recruiting from outside the region like a high-skilled position, but are often high enough to entice workers from low-wage positions to upskill, or to encourage unemployed individuals with barriers to employment to acquire new skills.
"There are a litany of people who are underemployed in the community or traveling to positions outside the region for employment," she noted.
The new staffer will serve as a liaison between employers, educational institutions and nonprofits that serve specific populations, she said. They will help coordinate the creation of new programs such as the Earn and Learn program created by Nordstrom about two years ago to provide language and work-readiness skills to African immigrants while they work.
In addition, the new staffer will take some of the workload off other staffers, including taking over leadership of the Gateways for Growth initiative to attract and welcome immigrants, and assisting with annual documentation required for the city's economic development incentive programs.
Cedar Rapids has joined other growing cities that have moved staff with work roles touching on economic development into their city managers' offices, usually from other departments.
Recently, Economic Development Analyst Caleb Mason was moved into the economic development team in the city manager's office from the Community Development department, joining Ms. Almoayed and David Connolly, an economic development specialist who works with existing industries and surveys businesses about their needs.
The decision to create the new position was so uncontroversial that it was voted on without discussion as part of the city council's consent agenda.
The choice to have economic development directly under City Manager Jeff Pomeranz is a reflection of his passion for economic development, which was a main reason he was recruited to Cedar Rapids under former Mayor Ron Corbett. Ms. Almoayed said it also helps the city's economic development staff interact more directly with the city's mayor and city council, and be more responsive to business needs.
"Right now, workforce is the end-all, be-all conversation for everybody to be having," Ms. Almoayed said. "But if suddenly we lost 10 companies and had 1,000 people sitting around, our focus could shift very quickly to business attraction." CBJ