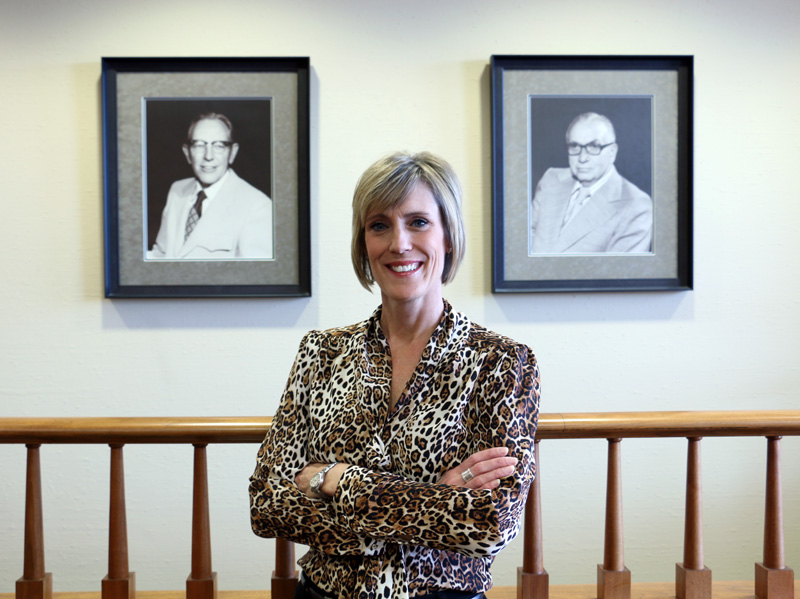 Lynch Dallas President Amy Reasner, flanked by portraits of the firm's founders, Charles J. Lynch Sr. and M. J. Donnelly, at the firm's office on a recent morning.  PHOTO/DAVE DEWITTE
By Dave DeWitte
dave@corridorbusiness.com
CEDAR RAPIDS—The law firm Lynch Dallas P.C. has been serving clients for 90 years, yet after employing dozens of successful attorneys through the decades, the issue of succession has never been more important than it is today.
The 16-attorney firm is on the path to adding a few more partners following the death of two senior partners, Donald Ribble and H. Edward Beatty, within the last two years. However, it isn't just a matter of recruiting bright young law grads or inviting associate attorneys to become full partners in order to fill the legal stable.
"Our business is very relationship-oriented," Lynch Dallas President Amy Reasner said. "It's not just legal skills. Our client has to feel like we're responsive, attentive and we care about their needs."
Lynch Dallas is one of Iowa's oldest law firms, founded in 1926 by Charles J. Lynch Sr. and M. J. Donnelly. A general practice law firm, its specialties include employment law, business law, litigation, family law, and tax and estate matters. Its clients are spread across Iowa, and include insurance companies, cities, counties, school districts and private employers.
The firm stepped up its game in the area of succession planning two years ago, hiring a consultant to work on strategic and succession issues. One outcome of the discussion was a process for identifying future talent gaps, so that the firm can work on hiring and developing strong talent to fill those gaps before they actually open up.
Attorneys at Lynch Dallas were required to disclose how long they plan to remain with the firm, and when they would like to begin winding down their practice. The disclosures enabled the firm to develop a timetable for filling talent gaps, so that clients' needs and expectations would still be met.
Ms. Reasner said the succession planning process is designed so that new attorneys can be recruited well in advance of the retirement of senior attorneys. That enables them to observe the senior attorneys, to be mentored by them, and to gain the trust of their clients.
Advance planning is especially critical in some areas of legal scarcity, Ms. Reasner said.
"Not everybody wants to be a workman's comp defense lawyer, not everybody wants to be a tax lawyer," she said. As a result, Lynch Dallas sometimes recruits younger attorneys who are willing to be mentored and learn a new legal specialty.
The firm recruits both experienced attorneys looking for a new opportunity and law school students close to graduation. Ms. Reasner was hired as a summer law clerk 15 years ago while she was a nontraditional student at the University of Iowa College of law.
Hiring students as law clerks before graduation gives the firm a chance to assess their potential before making a hiring decision, with less career risk to the students. Once they pass the bar exam and become an associate lawyer in the firm, the usual path is to demonstrate their legal competence and client-building skills, so that they will be offered a chance to become a partner in the firm within five to seven years.
Practicing good law is critical, but building a strong bond with clients is almost as important.
"We need to know, are you on a good path with your clients? Are they calling you?" Ms. Reasner said. The comfort level of clients with associate attorneys is important, she noted, because it will help the firm retain clients when there is turnover among its senior attorneys. Ms. Reasner works with her own associate attorney to instill trust in clients, and encourages clients to contact her when she is not personally available.
Lynch Dallas has a policy of allowing partners in good standing to remain with the firm as long as they are practicing law, even if they are only working part-time, or spending winters out of state. Part of the idea is that senior partners have important relationships, advice and insight to lend to the firm, even if they're not bringing in as much revenue as full-time attorneys.
With the opportunity to stay for life as partners, it might seem that Lynch Dallas wouldn't have to recruit very often. That's not always the case, however, as there are many paths to take in law, and some are drawn to other opportunities in their areas of specialty.
Several successful attorneys with the firm have gone on to accept judicial appointments, including Donna Paulsen, the first woman to serve as a judge in Iowa's Fifth Judicial Circuit, and Sean McPartland, a judge in Iowa's Sixth Judicial Circuit. Attorneys have even left to take staff positions with clients, such as Ryan Sawyer, director of employee and labor relations law at MidAmerican Energy.
Lynch Dallas sometimes recruits lawyers already in practice, and has had its best success recruiting candidates from the Midwest and Iowa natives interested in moving back. A key selling point for the firm has been its accommodation of family lifestyles.
"We have a number of young attorneys who have families, and we've really made an effort to accommodate those families and their lifestyle, so that they can have time to spend with their children when they're young," Ms. Reasner said.