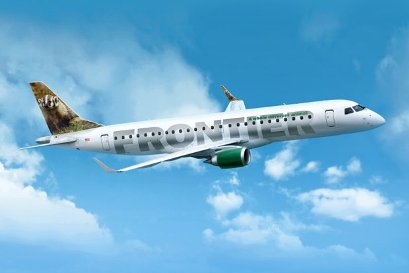 Service starts May 17; Fares start at $60 each way
CEDAR RAPIDS – Frontier Airlines announced today that it is launching new year-round service from its Denver hub to The Eastern Iowa Airport beginning May 17.
Airport Director Tim Bradshaw said the Frontier service to Denver initially will include four weekly flights and could lead to more.
"The new service will be a low-cost alternative for passengers traveling to Denver and western destinations such as Seattle, Los Angeles and San Diego and beyond," he said in a press release.
With the addition of Frontier Airlines' four weekly nonstop flights to Denver, Eastern Iowa Airport passengers will have 27 nonstop flights to Denver weekly.
Frontier flights are scheduled for Tuesday, Thursday, Saturday and Sunday, departingDenverat 3:10 p.m., and arriving inCedar Rapidsat 5:59 p.m.; and departingCedar Rapidsat 6:35 p.m. and arriving inDenverat 7:43 p.m.
Service will be provided on 99-seat Embraer 190 aircraft.
The announcement of the Frontier service brings the total number of airlines serving The Eastern Iowa Airport to six. Frontier joins American Eagle, Allegiant Air, Continental Airlines, Delta Airlines and United Airlines. They provide service to 11 nonstop destinations: Atlanta (ATL); Chicago (ORD); Dallas-Ft. Worth (DFW); Denver (DEN); Detroit (DTW);Houston((IAH); Minneapolis (MSP); Las Vegas (LAS); Orlando-Sanford (SFB)Fla.; Tampa (TPA),Fla.;St. Petersburg-Clearwater (PIE),Fla.; and Phoenix-Mesa (AZA).
Introductory fares begin at $60 each way for the Frontier Denver-Cedar Rapids service. The introductory fares are available at FrontierAirlines.com through Feb. 29, for travel through mid to late June, depending on the market. The new flights are currently available only on the airline's website and through its reservations centers; they will be for sale through other ticketing channels this weekend.