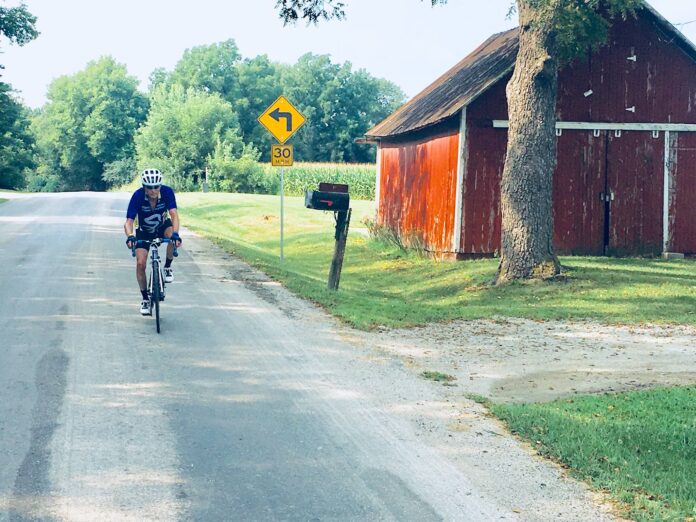 Courage Ride, an annual charity bike ride benefiting the University of Iowa's sarcoma cancer research program, will take place Saturday, August 13, according to a news release.
The ride offers five route options for cyclists, activities, entertainment and a silent auction are also open to non-riders. A virtual ride option is also available.
Riders will leave Big Grove Brewery & Taproom in Iowa City beginning at 7 a.m. Route options include a 19 mile ride, 37 mile ride, 57 mile ride, 86 mile ride and a 100 mile ride, all with rest stops with water, food and live music. Between 600 and 700 cyclists are expected to participate, according to the release.
Courage Ride is in its 18th year, and has raised over $725,000 since it began in 2005. All proceeds from the event go to the Holden Comprehensive Cancer Center Sarcoma Research Program at the University of Iowa Hospitals and Clinics. Courage Ride donations make up 85% of all sarcoma seed grant funding at the university. Over the past 18 years, those dollars have seeded numerous sarcoma research grants and support one of the largest sarcoma tissue banks in the Midwest, according to the release.
Each year, Courage Ride honors an individual who has battled sarcoma cancer. The 2022 Patient Honoree is Laura Liddle from Marion, Iowa. Laura was diagnosed with sarcoma cancer in August 2019, after dealing with pain and discovering a lump in her hamstring. After several months of radiation, she underwent surgery to remove the tumor. Laura recently reached a important milestone: two years cancer free. She credits the team of sarcoma doctors at the University of Iowa with saving her life.
"It's rewarding and a humbling to know that our efforts are helping to change the lives of cancer patients and their families," says Jackie Bailey, co-founder of the Courage Ride, in the release.
She and her husband Tom Bailey, started the event in 2005 to honor the courage of their son, Seth, who passed away at age 25 after battling sarcoma cancer for eight years.
"We're so fortunate to have sarcoma research happening right here in east central Iowa, and to know great progress is being made on this rare form of cancer."