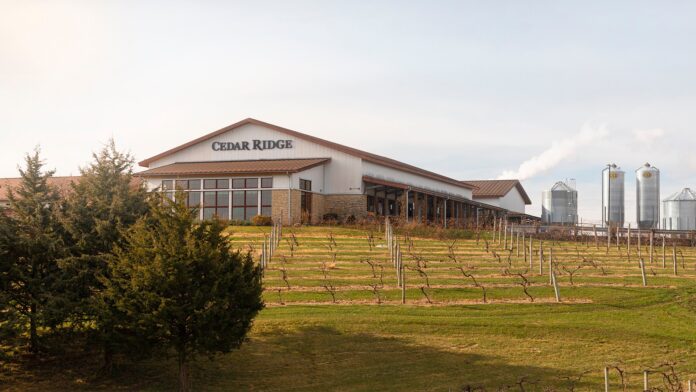 A selection of whiskeys from Cedar Ridge Distillery received top honors as part of the 2022 Ascot Awards, according to a news release.
ASCOT Awards is an international spirits competition created by spirits personality and veteran tasting judge, Fred Minnick.
Each entry was blind-tasted and scored on a 100-point scale for appearance, aroma, taste, and finish. Awards were determined based on points. Entries can receive either a Double Platinum, Platinum, or Gold, according to the release.
Cedar Ridge's Single Barrel Collection (SBC) Barrel 16.430 received a Double Platinum in the Category of Single Barrel up to 10 Years. Bottled at cask strength – 122.2 proof – judges commented that the bourbon was "dangerously smooth at this high ABV, here we have a whiskey with a rich mouthfeel and flavors of peanut butter, roses, and candied licorice." This barrel will now move on to the next round for a chance to win the best of the category.
"This is one of my favorite projects here at the distillery," said Head Distiller and Director of Operations Murphy Quint in the release. "When I find a truly special barrel I set it aside for this program as an opportunity for fans to taste my favorite barrels on the property."
SBC was launched in 2021 is only comprised of barrels hand-selected by Mr. Quint. Each barrel is bottled at cask strength when he deems it ready. Since launching in 2021, Cedar Ridge has released four barrels as part of the collection. During each release, a lottery is offered at the distillery for a chance to purchase one of these highly allocated bottles. Retailers are also offered a small amount for sales in Iowa and the surrounding states.
"For fans who can't get their hands on an SBC bottle, we do single barrel picks with retailers, whiskey groups, and even our own staff, that can offer another chance to try our bourbon at a higher proof," said Mr. Quint, in the release.
According to the release, four other Cedar Ridge whiskeys received awards including the following:
In addition to awards on its branded products, Cedar Ridge received a second Double Platinum for its collaboration with Lost Lantern on a Sherry Cask Finished American Single Malt distilled and aged by Cedar Ridge and bottled by Lost Lantern, according to the release.