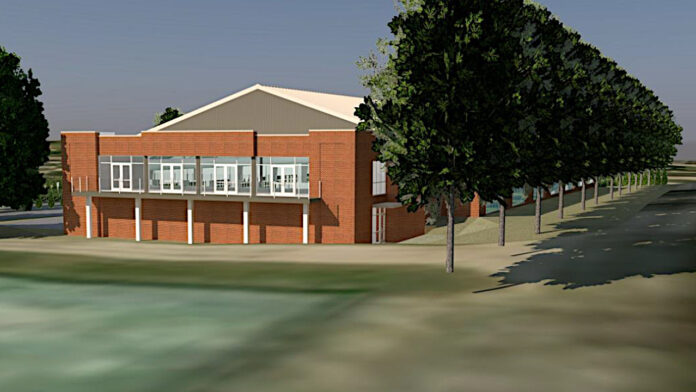 A proposed expansion of the Cedar Rapids Country Club will have to wait – at least for the time being.
The Cedar Rapids City Council on Tuesday tabled a rezoning request to expand the country club onto 185 acres along Fairway Terrace and Country Club Parkway SE, on property already owned by the club, and a separate proposal to vacate a portion of Fairway Terrace, after public hearings that included comments both in favor and against the plan.
The proposal includes construction of an indoor tennis facility and reconfiguration of parking areas and the club's driving range. A portion of Fairway Terrace SE would be vacated to facilitate the plan, and seven homes in the area would either be relocated or demolished to make room for the project.
While the concept has garnered general support, the indoor tennis complex was the focus of many concerns from both council members and neighboring property owners. Issues raised Tuesday include the size and scope of the facility, which would rise an estimated 35 feet above ground level at its highest point, and the conceptual design, which was deemed to be aesthetically inadequate and out of character for the historic Country Club Estates neighborhood.
"I've had a lot of dinners, a lot of meetings at the Cedar Rapids Country Club," council member Patrick Loeffler said. "This in no way fits into that neighborhood whatsoever. (There are) a lot of colonial style houses in that area. I would like to see some better renditions."
Council member Scott Olson, a retired architect, concurred and requested that city officials conduct a design quality review before the project is returned for council consideration. "I feel that this building needs to have the elements of the existing Country Club, and this current design does not," he said. "I've designed some country clubs when I was practicing, and we were able to mimic the existing structure with the additions."
Other major concerns expressed during the meeting included changes in stormwater runoff patterns, vegetative screening and berms for neighboring homeowners, and the potential for more parking issues during special events and other activities at the club.
Speakers during the public hearing offered mixed perspectives. William McFarland of 400 Fairway Terrace, one of two homes that would remain on the street under the country club's proposal, said he's lived in the neighborhood for more than 40 years, said that while he's not a club member, he supports the proposal and feels it would positively impact area property values. "I'm just a very interested party who happens to live right there who wants to stay there until they carry me out," he said. "That's been my wife and I's plan for 40 years. We are very much in support of this. (And) after surviving 40 years in corporate America, there's an old tenet that you're either (pursuing) continued improvement or you're slipping backwards. There's no such thing as standing still."
Another neighborhood resident, TL Thousand, disagreed, asserting the project runs counter to protecting the area's historic character. "I find that the Cedar Rapids Country Club, in all its dealings with its neighbors, there's no public benefit," she said. "This is a private club, and they've acted in bad faith."
After discussion, the council voted 3-2 to table both the rezoning proposal and the plan to vacate a portion of Fairway Terrace SE to accommodate the project. Council members Dale Todd, Ashley Vanourny and Patrick Loeffler voted to table both items, while council members Scott Olson and Scott Overland voted against tabling the proposals.
A total of four council members recused themselves from the issue Tuesday for various reasons, including Mayor Tiffany O'Donnell, whose husband is a club member; Mayor Pro-Tem Ann Poe, who lives in the neighborhood; council member Tyler Olson, who is himself a club member; and council member Marty Hoeger, who said he could benefit financially if the project is advanced.
As a result, Mr. Todd, described during the meeting as the "Mayor Pro-Tem Pro-Tem," led the public hearings.
Seth Gunnerson, a zoning administrator with the city of Cedar Rapids, said the proposal would be returned to developers with details on items of concern, and while not specifying a time frame, he said the project could be returned for council consideration in the near future.