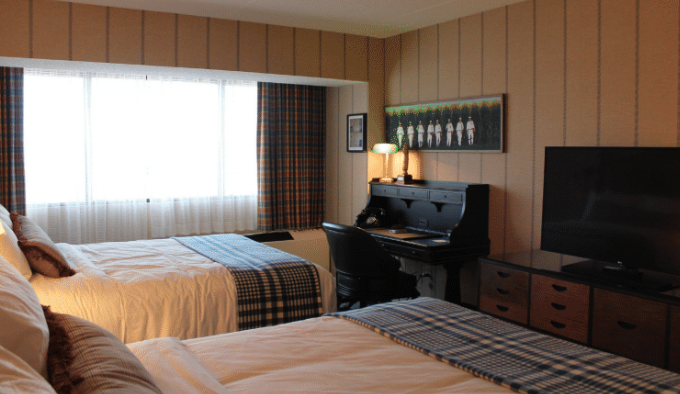 The guestrooms at the Graduate Hotel in Iowa City are meant to "radiate the city's hospitable and eccentric spirit" with plaid drapery and Persian-patterned benches. Local touches include prints from the "Field of Dreams" movie to room keys featuring famous University of Iowa alumni, like the late actor Gene Wilder. PHOTO KATHARINE CARLON
By Katharine Carlon
katharine@corridorbusiness.com
Boutique hotels have been around for decades, offering hip hangouts, unique "experiences" and personalized service in happening cities from London to Hong Kong. Those one-of-a-kind establishments are venturing out, however, and making their way to smaller markets – including here in the Corridor.
Iowa City's Graduate Hotel, which welcomed its first guests last week, is the latest example of the trend toward high-end, hyper-novel lodging making its way to the area.
Tru by Hilton, an 82-room lifestyle hotel with a four-zone lobby divided into "work, play, lounge and eat" sections to get guests mingling, opened in Cedar Rapids' Westdale development in February. The Moen Group plans a boutique hotel as part of its $55 million Chauncey project at Gilbert and College streets in Iowa City, set to open in summer 2019. And the Amana Society announced plans last month to convert the 161-year-old Amana Woolen Mill into a one-of-a-kind 65-room hotel and convention center celebrating its history with a modern flair.
Other potential boutique hotel projects are bubbling to the surface as well, including the possible redevelopment of the Guaranty Bank & Trust building in downtown Cedar Rapids, and a "small high service/boutique hotel" and micro conference center on a University of Iowa-owned parcel of land next to Finkbine Golf Course in Iowa City.
The UI put out a request for qualifications on May 30 calling for "creative, unique development proposals" for the property, including a hotel, that will serve as a "gateway and attraction" to the university and surrounding community.
"It's not necessarily the traveler that's changed as much as the traveling experience," said Jackie Bohr, general manager of the 71-room Hotel at Kirkwood Center, which helped pioneer the boutique concept locally in 2010. "It used to be, 10 years ago, that you went to a Hilton or a Hyatt, you knew what to expect and the focus was on consistency. The traveler these days, whether for business or leisure, is really looking for a full experience as opposed to just a place to sleep."
Where travelers once craved the comfort of familiar surroundings in unfamiliar cities, Ms. Bohr said they are increasingly seeking to engage more with the communities they are visiting, demanding attention to culture, creativity and design – all hallmarks of boutique hotels.
"Typically, these are not monster hotels – they tend to be smaller with some type of individualized link to something cultural in the area," she said, pointing to the Hotel at Kirkwood's unique role as a teaching facility that showcases the best the community college has to offer, from wines made at Kirkwood's vineyard "right up the hill from us" to vegetables grown in the college's aquaponics and hydroponics greenhouses.
"All these random little tidbits come into play in creating a different type of experience," Ms. Bohr said. "Service is also higher than in a typical brand hotel. At boutique hotels, you're treated differently than any other guest."
The numbers show the hotel industry responding to customer demand. A recent report from hospitality consultant Highland Group found the supply of boutique hotels and their close cousins, "lifestyle" and "experiential" hotels, up 7 percent nationwide in 2017, compared to just a 1.8 percent across-the-board increase in all hotel types. Of all the hotel rooms currently under construction, about a quarter are at boutique hotels, according to Tourism Economics, a company that forecasts travel trends.
Inside the Graduate
Graduate Hotels, a boutique chain that targets college towns, is well aware of the trend, which is why it jumped on the former Sheraton Hotel on Iowa City's Pedestrian Mall when it went up for sale last year. Launched in 2014, the chain owned by Chicago-based AJ Capital Partners owns and operates 10 boutique hotels in cities like Ann Arbor, Charlottesville and Tempe, with eight more under development and expected to open by 2020.
"We don't just go to any market that has a large university – we want to go to markets that are really vibrant, that have a lot to offer and some other reason to come to town other than the university," said Graduate Hotels President Tim Franzen, joking that the company would never put a hotel in South Bend, home of Notre Dame, for example, as the university is the town's main draw. "We need communities with a lot of great vibrancy and history and culture, and then what we try to do is reflect that … and as beachfront property in Iowa City goes, this is it."
Each Graduate property tries to be unique, drawing on the culture of the local community. The Graduate Minneapolis, for instance, pays homage to rustic lake houses and native son Prince, while its Athens, Georgia property features bulldog lamps – a nod to the University of Georgia's mascot – and walls decorated with university scientists' formulas for the South's most beloved drink, sweet tea.
"Iowa City being the home and alma mater of so many storytellers inspired us to design Graduate Iowa City as a physical manifestation of literature and the spirit of creative writing," said Andrew Alford, AJ Capital's chief creative officer. "With layers of written text, thoughtful art and playful gestures, the property embodies the history, traditions and eccentricities of the great state of Iowa."
Drawing inspiration from The University of Iowa's world-famous Writers Workshop, guests are literally surrounded by walls of words upon entering the lobby, with original works by local author Tim Taranto adorning the surroundings, and floor-to-ceiling bookcases and reading nooks inviting relaxation and literary chat. Guest rooms capture what hotel officials call the city's "hospitable and eccentric spirit" with plaid drapery, Persian patterned benches and Eskimo Pie nightstands, a nod to the dessert's debut in Onawa, Iowa.
Poindexter Coffee features "author-approved décor," including a wall covered with more than 170,000 No. 2 pencils and Iowa-centric art from RAYGUN, while Gene's – named after UI grad Gene Wilder – offers a '70s-style "throwback experience," mixing comfort food with cocktails and local beers in an indoor-outdoor setting.
"We want to tell the stories of the history, the culture, the people…through our interior design," Mr. Franzen said, adding he hoped the community would make the Graduate "your living room" and "your hometown hotel."
Repurposing the past
While the Graduate and Chauncey projects are about creating something new, other potential boutique projects in the area aim to build on the past.
Although they did not respond to CBJ inquiries before press time, both Steve Emerson of Aspect Architecture and Ravi Patel of Hawkeye Hotels have previously expressed interest in transforming the distinctive 122-year-old Guaranty Bank & Trust building in downtown Cedar Rapids into a boutique-style hotel.
That route is also being taken by the Amana Society, which plans to convert the 161-year-old Amana Woolen Mill complex into the Hotel Millwright, a 65-room hotel with retail space, banquet and conference facilities.
"This is not going to be run like a national chain by cookie-cutter standards," said John Peterson, president and CEO of the Amana Society, of the restoration project that will feature 13 original buildings in a complex that served as a working mill from the 1850s through the mid-1980s. "It's going to be built to fit what we have here – a one-of-a-kind unique hotel to fit the history and feel of the Amanas."
True to the boutique hotel formula, Mr. Peterson said when the Millwright opens in about two years, it will "tell a story" and offer an experience: a step back in time that will educate guests on the historic role of spinning wool and weaving in the Amanas. But the hotel will also offer plenty of modern, upscale touches, from plush amenities to a simple menu, making it "a twist on the usual B&Bs" Amana is known.
"It will be an experience, not just a bed," he said of the project, which is now in the final design phase and could get underway as soon as next month. "It's going to be a cool, interesting place that will help keep the Amana Colonies one of the state's largest tourist destinations well into the future."
Ms. Bohr said from one hotel operator to another, she expected the Millwright to be a big success.
"People want to go and say they've slept in a 160-year-old factory," she said. "It's fun, it's unique and people are looking for something out of the expected, not just a place to sleep."