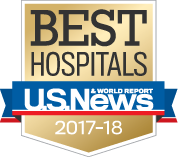 University of Iowa Hospitals and Clinics is again listed as one of America's "Best Hospitals" and the No. 1 regional hospital in Iowa, according to rankings released by U.S. News & World Report.
The Iowa City-based hospital also nationally ranked among the best in five adult care specialties: ear, nose and throat (No. 5), ophthalmology (No. 6), orthopedics (No. 17), urology (No. 31) and cancer (No. 40).
"To be included in the U.S. News rankings is well-deserved recognition, and to be ranked every year is really outstanding," Jean Robillard, MD, UI vice president for medical affairs and dean of the UI Carver College of Medicine, stated in a press release.
U.S. News also cited UIHC as "high-performing" the following adult care specialties: gastroenterology, geriatrics, kidney disorders/nephrology, neurology and neurosurgery, and pulmonology.
UnityPoint Health – St. Luke's Hospital in Cedar Rapids is once again ranked second best hospital in Iowa in the report.
St. Luke's was ranked high performing in the adult specialties of geriatrics and pulmonology.
St. Luke's was rated high performing in aortic valve surgery, heart bypass surgery, heart failure, colon cancer surgery, chronic obstructive pulmonary disease (COPD) and hip and knee in Common Adult Procedure and Condition Ratings.
The rankings have been published at http://health.usnews.com/best-hospitals and will appear in print in the U.S. News Best Hospitals guidebook.