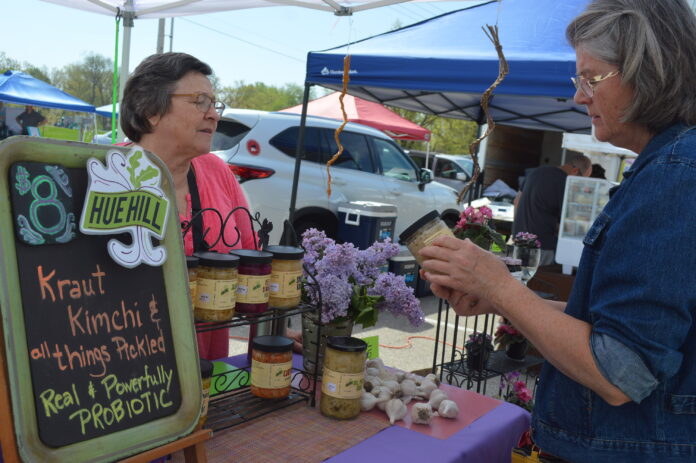 After more than 40 years selling her cinnamon rolls, pies, cookies and other baked goods at area farmers markets, Nancy Weise is serving up something new this year.
Under new state guidelines, Ms. Weise, of Nancy's Baked Goods of Belle Plaine, is adding more labels to her multitude of goodies.                                                         
"It's more time-consuming and more printing, but we've managed," said Ms. Weise, a vendor at markets in Hiawatha, Grinnell and Belle Plaine.                                                  
New rules approved by the Iowa legislature last year are in effect for this year's full outdoor farmers market season, which kicked off earlier this month.
Ms. Weise, for example, had to look up every additive in the cherry filling used in her kolaches – a popular Czech pastry – to add to the usual listed ingredients; and even her pumpkin bread, made with nutmeg, must carry an allergen warning label, due to ingredients in the spice.
While some regulations require more record keeping and labeling, state officials say they actually expect the rules, for cottage foods and Home Food Processing Establishments, to open the door to more Iowans selling at farmers markets.
Stefanie Bond, communications director for the Iowa Department of Inspections and Appeals, noted that House File 2431 created the ability for Iowans to sell most foods prepared in a residential kitchen – that do not need to be kept hot or cold for food safety – directly to consumers without purchasing a license, provided they meet certain labeling requirements.
Before HF2431 was passed, a home bakery license was available for $50, which enabled bakers to prepare refrigerated and unrefrigerated baked goods in residential kitchens to sell directly to consumers or wholesale with maximum annual gross sales of $35,000.
Ms. Bond noted that the home bakery license was replaced with a home food processing establishment license, which also costs $50, but adds the ability for licensees to make, package and process food products, in addition to baked goods. Also, the annual gross sales limit was raised to $50,000.
"More foods can be sold at farmers markets without a license than before the law change, such as packaged frozen meat," she wrote in an email. "There are record requirements for those with a home food processing establishment license, and there are also some requirements for unlicensed cottage food operators to test each batch of acidified food (like pickles). However, vendors selling uncut fruits and vegetables or raw, unprocessed agricultural commodities are not required to be licensed by DIA or keep additional paperwork."
Many vendors, including Jim Grieder of Ely, who operates Homemade by Theresa with his wife, Theresa Grieder, don't expect much to change with their business, which sells baked goods, jams, jellies and fresh produce.
Like Ms. Weise, the two sell their products at the Hiawatha Farmers Market and others, including Solon, which switched its market days to Wednesdays to coincide with live entertainment on those nights, starting in June. 
Others, like Jean Donohue of Hue Hill in Iowa City, already offered extensive package labeling.
Hue Hill's kimchi, beet ginger kraut and other fermented foods are sold at farmers markets in the Corridor and also at New Pioneer Food Co-op, so Ms. Donohue has complied with requirements under her food processing license for the 15 years she has been in business, she said.
Following are farmers markets in Johnson and Linn counties. Find details on more than 50 Eastern Iowa markets on HomegrownIowan.com                                           
Johnson County
Coralville, 4:30-6:30 p.m. Wednesdays, May 24 through Oct. 4, Iowa River Landing, south of 801 E. Second Ave.

Field to Family online market, cart open to Dec. 21, with orders taken 8 a.m. Mondays until noon Tuesdays. Pickup Thursdays at warehouse behind Pepperwood Plaza, 1049 Hwy. 6, Iowa City;  fieldtofamily.org/online-farmers-market

Iowa City, 7:30 a.m. to noon Saturdays, May 6 through Oct. 28, Chauncey Swan parking ramp, 415 E. Washington St.

Shueyville, 4-6 p.m. Fridays, May 5 through October, Secret Cellar, 1205 Curtis Bridge Rd. NE.

Solon, 4-6:30 p.m. Wednesdays, June 7 through Oct. 4, Mushroom Park, Highway 1 and Main Street.                                                       

Swisher, 4:30-6:30 p.m. Thursdays, June 1 through Oct. 12, downtown park next to City Hall

.

                                                                                                                  
Linn County
Cedar Rapids Noelridge Park, 3:30-5:30 p.m. Wednesdays, June 7 through Sept. 27, 4900 Council Street NE.

Cultivate Hope, 4-7 p.m. Thursdays, May 25 through Oct. 5, Matthew 25 Urban Farm, 437 G Ave. NW, Cedar Rapids.

Downtown Cedar Rapids, 7:30 a.m. to noon May 27; June 3 and 17; July 1 and 15; Aug. 5 and 19 and Sept. 16. Market After Dark, 6:30-11 p.m. Aug. 26.

Center Point: 4-6 p.m. Wednesdays, May 31 through Sept. 27, Pizza Place parking lot, 126 Franklin St.

Hiawatha, 10 a.m. to 1 p.m. Sundays, May 7 through Oct. 29, Guthridge Park parking lot, 10th Avenue.

Marion, 8-11 a.m. Saturdays, May 6 through Sept. 30, Taube Park, 2200 31st St.

Uptown Marion, 8 a.m. to noon June 10, July 8, Aug. 12 and Sept. 30, Seventh Avenue.

Morning Glory Farm, 4-6 p.m. Thursdays, May 4 through Oct. 26; 681 Hwy. 1 South, Mount Vernon.                                                                                                   

NewBo City Market, Farmers at the Market, 8 a.m. to noon Saturdays, May 27 through Sept. 30, 1100 Third St. SE, Cedar Rapids.