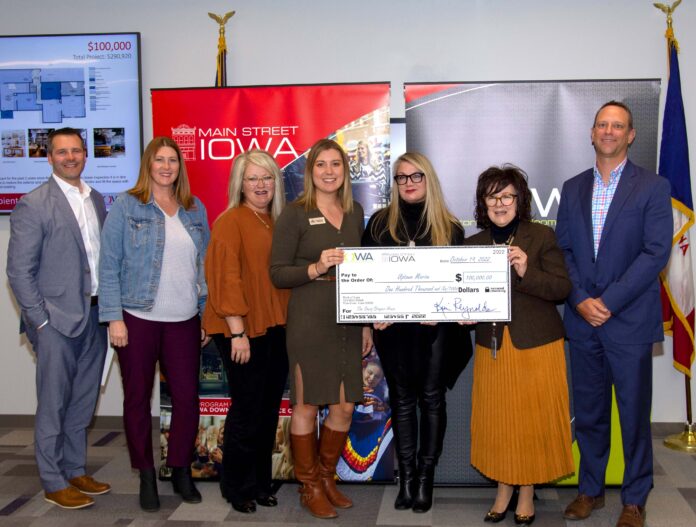 The Iowa Economic Development Authority (IEDA) awarded $934,430 in Main Street Iowa Challenge Grants to 10 communities around the state, including Marion, Washington and West Branch.
The Davis/Draper House project in Marion received a $100,000 grant to help restore its exterior and interior back to its original splendor to fill the space with women entrepreneurs in retail, food and service sectors. Local match is  $190,920 of the $290,000 project. 
The Koller Plus Professional project in Washington received a $100,000 grant for the restoration of the exterior storefront including entrances to the CPA office as well as the second-floor apartment. Local match is $198,645 of the $298,645 project. 
The Serving Cafe expansion project in West Branch received a $100,000 grant for a renovation that repurposes a historic auto shop into a full-service restaurant. It will be home to The Serving Cafe, a local coffee shop and eatery that has quickly outgrown its current location. Local match is $199,625 of the $299,625 project.    
"The Main Street Iowa Challenge grants have been instrumental in revitalizing Iowa's historic main streets," said Debi Durham, executive director of IEDA and the Iowa Finance Authority, stated in a press release. "Reinvesting in our traditional commercial districts is good business. It's good for our economy and good for our state. These projects will bring new businesses and new residents to our downtown districts."
The grants are administered through IEDA's Iowa Downtown Resource Center and Main Street Iowa programs. The funding will be distributed in the form of matching grants to the selected Main Street programs. The estimated total project cost of these 10 projects is over $2.8 million.
"Each project must provide at least a dollar-for-dollar cash-match," said Michael Wagler, state coordinator for the Main Street Iowa program. "In total, these projects will actually leverage significantly more than the state's investment into bricks and mortar rehabilitation. This investment will have a significant economic impact within each district."