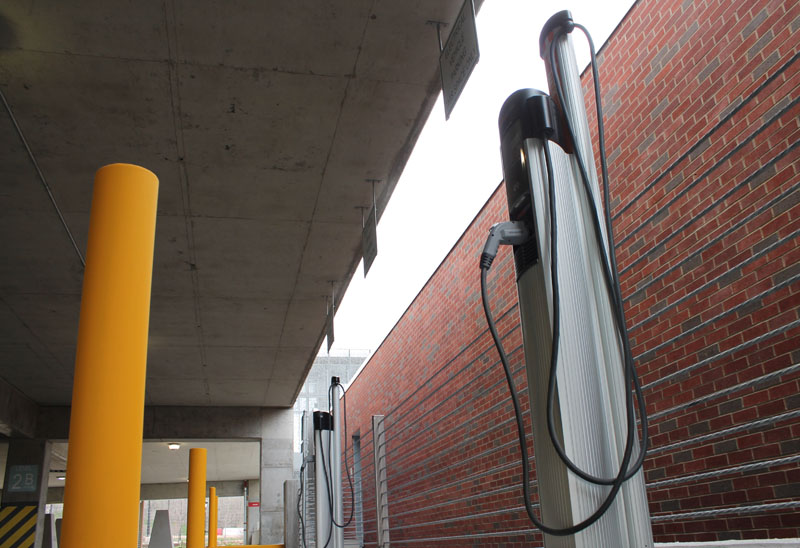 An electric vehicle charger at a parking facility in Coralville. PHOTO EMILY BETTRIDGE
By Dave DeWitte
dave@corridorbusiness.com
The Corridor is slowly gaining ground in electric vehicle charging infrastructure, with more funding on the horizon to help accelerate investment.
The need isn't yet dramatic – Iowa has roughly 1,600 electric vehicles (EVs), about one-third of which rely entirely on electric charging for power. They are a growing technology, however, illustrated by the fact that electric car manufacturer Tesla recent­ly overtook General Motors as the nation's most valuable automaker, with a market capitalization of around $52 billion.
About 30 EV enthusiasts and experts discussed the need at a April 4 forum presented by Alliant Energy, Linn County Public Health, the Iowa Economic Devel­opment Authority (IEDA), the city of Ce­dar Rapids and the Regional Sustainable Business Alliance.
The rationale for installing EV charging stations was most clearly stated by Eric Holthaus, sustainability coordinator for the city of Cedar Rapids.
"We absolutely want to be a leader in this situation as opposed to being the reactor," Mr. Holthaus said. "I think it's an opportunity for us to be appealing to people. I think these things are attractive. I think it's an opportunity to … celebrate as a community and be recognized as a des­tination for EV owners."
Mr. Holthaus said the city has plans to add EVs to its vehicle fleet, but is waiting for the vehicles to be added to a statewide purchasing program in order to get better pricing.
New EV charging stations are coming to the Eastern Iowa Airport in Cedar Rap­ids, which plans to install one dual unit in long-term parking and one dual unit in short-term parking this summer, partly to gauge the amount of demand. Its infra­structure will provide enough capacity to expand up to 12 charging stations.
The city is also looking at other loca­tions, including the public library, for possible charging installations.
The city of Mount Vernon is consider­ing a charging station in its Main Street District, City Council Member Tom Wie­seler said, with merchants supporting the idea to drive business. Coffee shops seem to be among the destinations most sup­portive of having a station.
Stephanie Wiesenbach, coordinator of the Iowa City Clean Cities Program, said Iowa currently has about 100 publicly available charging stations. Linn County and Cedar Rapids have about a dozen at places like the NewBo City Market and the DoubleTree by Hilton hotel. Johnson County has about 77 electric vehicles and 12 charging stations.

Down the road
EV infrastructure is part of Iowa's state­wide energy plan released last fall. Ms. Weisenbach said the state is planning for fast-charging stations in high-traffic Cor­ridors like I-80 that are used by tourists crossing the state, and the IEDA is looking at business models for how to make them sustainable. The state is planning for stations at approximately 50-mile intervals.
Iowa has also been planning for EV charging stations as part of the Federal High­way Administration's Alternative Fuel Cor­ridor designation program. I-80 is part of an alternative fuel corridor proposed from Teaneck, New Jersey, to Council Bluffs. Part of that effort is expected to include signage that will indicate locations for EV charging and multi-fuel options such as propane and compressed natural gas.
A kick-start to that effort could come from a multi-billion dollar settlement from Volkswagen over its use of emissions testing defeat devices on diesel vehicles sold in the United States in recent years. At a national scale, VW will spend $2 bil­lion in zero-emission vehicle investments.
It's unclear which states will see the funds, however.
"We created a proposal to VW," Ms. Weisenbach said. "We're still waiting to hear back from VW to see what they choose to do."
The state has been allocated a $21 mil­lion share of the VW settlement, which could potentially come into play in de­ploying EV charging stations. A maximum of 15 percent of the funding could go to EV charging stations. State officials are cur­rently seeking public input through April 28 on how to use the funds in projects to reduce nitrogen oxide (NOx) emissions.
EV owners at the forum had plenty of insights for the developers of charging station infrastructure – among them, a re­quest to think carefully about the future of driverless cars.
"We aren't going to be very far from the self-docking, driverless [electric] car," said John Zakrasek, of Cedar Rapids. "If I can drop myself off at the door and tell the vehi­cle to go park itself [at a charging station], it changes the way you lay out your building."
Another EV owner suggested compa­nies take the business case for providing free EV charging seriously, noting that he and other EV owners patronize businesses offering the amenity.