Students walking into Cornell College's new Cell Finance Lab might feel a bit like they're walking onto the trading floor of the New York Stock Exchange.
The room is filled with large computer monitors, three big interactive screens, and a stock ticker display that stretches across the ceiling with the most up-to-date, live market information.
The lab was built during the recently finished $3.6 million renovation of McLennan College Hall, and many call it the gem of the building. It's the home of economics and business classes, speakers, workshops, and study groups.
Hands-on learning opportunities in finance
In a news release, Cornell assistant professor of economics and business Elmira Shekari Namin said professors are teaching all of the finance classes and many other economics and business courses for first-year students through seniors in this lab, and the technology will help create exciting hands-on opportunities and new ways to explore data.
"The instructor can use the displayed ticker information to show, for instance, a trend or explain the impact of important current news on asset values," Ms. Namin said. "The ticker display underscores the importance of keeping abreast of market developments, a habit of mind essential in finance careers."
Students also now have access to new real-time online databases, including S&P Capital IQ and Market Intelligence platforms, which provide information on global companies, securities, and markets. These are the same databases used by many financial institutions and professionals.
"Data is the life-blood of financial decision-making," Ms. Namin said. "A data subscription will be a game-changer in Cornell's business curriculum. With access to real-time macroeconomic data, industry-specific data, and company-level data, faculty can build learning modules that connect theory to practice on a daily basis, save our valuable class time to focus on analysis and interpretation rather than data collection, and expand our possibilities for more rigorous class activities and assignments."
Cornell Financial Group
The lab won't just be busy during class hours. The room is filled with financial chatter well into the evening with the student organization known as the Cornell Financial Group.
Junior Joshua Peiffer, a psychology major from St. Paul, Minnesota, is part of the group and says the lab is "amazing. It's invaluable."
The Financial Group, of which Ms. Namin is the faculty advisor, takes on a real-life challenge during their weekly meetings, applying what they're learning in class as they manage a portfolio for the college with the support of a staff member from the Business Services Office. They say their main goal is to learn everything they can about investing.
"When I'm no longer part of this group and move on from this college, I want to be able to utilize the stock market because of the potential for financial stability and being able to provide for a future wife, kids, and myself," Mr. Peiffer said.
During one recent get-together, they met with Dick Chambers '65, who graduated from Cornell with a B.A. in economics and business. For the last 20 years, he has managed bond portfolios for municipal police and fire pension funds in association with an investment advisor.
Chambers '65 finances future Cornellians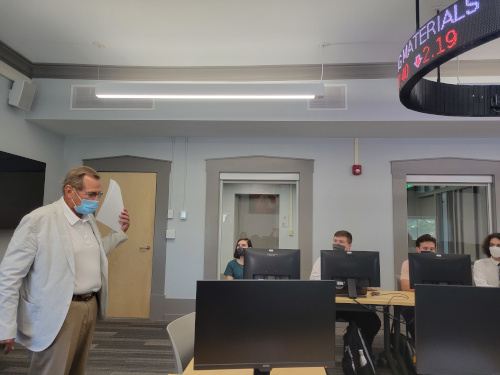 Mr. Chambers generously funded the lab through a $200,000 donation and named it after the late Emeritus Professor of Economics and Business Donald Cell. Funds from the Professor Robert Bunting Experiential Learning Endowment, established by Mr. Chambers, will support the internet-based data subscriptions now used by the students and faculty.
"I want Cornell graduates to have practical knowledge about what systems are in place in the business," Mr. Chambers said. "You can study the theories in books but to actually go and work in the finance part, that's entirely different. This lab gives students the opportunity to experience that. It's hands-on knowledge and the ability to manipulate a huge database that's used in the investment business."
Mr. Chambers says he knew before stepping foot on campus that he wanted to study economics and business, and he says his Cornell education prepared him well. He went right to work on Wall Street after graduation and said, like many Cornell graduates, he knew all he needed to know to find success.
"There are some Cornell students who have gone on to run hedge funds and have become really successful private equity investors," Mr. Chambers said. "What you want to do is, as a student, create the ability to recognize and take advantage of opportunity when it presents itself."
Jenna Straatmann, a double major in finance and international relations from Beaufort, Missouri, has her own future financial dreams. She enjoys exploring all of the new technology and data during the Financial Group meetings. For her, this finance lab is a special place where she'll enjoy her senior year.
Plus, she knows it'll be a great place for future Cornellians who follow in her footsteps.
"I don't think most small schools have something like this," Ms. Straatmann said. "The fact that we have something on campus that sets us apart, I think that will be a big draw in recruiting students for economics and business."