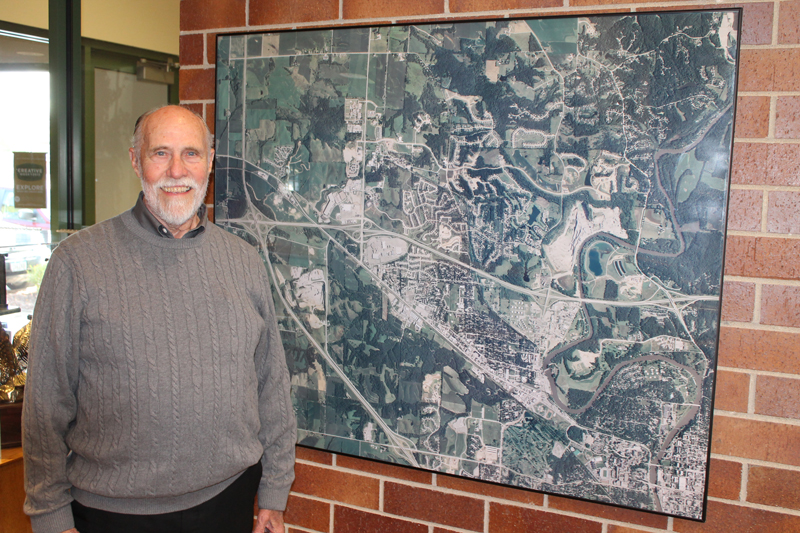 By Pat Shaver
CORALVILLE—When Jim Fausett moved to Coralville in 1959, the population was no more than 5,000 people.
Today, Coralville's population is nearly 20,000. Though he wouldn't take the credit, Mr. Fausett's work in city government has helped lead Coralville's growth and development.
For the past 18 years, Mr. Fausett has been mayor of Coralville. And for the 18 years before that, he was on the city council. And the years before that, he sat on several different city boards and commissions.
Last month, he was inducted into the 2013 Iowa League of Cities Hall of Fame at the association's annual conference in Dubuque. The award recognizes individuals who have "provided extraordinary public service to the league and local government."
Along with his experience as mayor and on the city council, he has also served as president of the Iowa League of Cities and was appointed by Gov. Chet Culver to the Rebuild Iowa Advisory Council following the flooding in 2008.
"One of the main reasons (for not running again) is that I'm 82 years old in November," he said. "A lot of the things I wanted to see happen have happened or are in the process. I know the current council has been very active in working to make sure the community plan is accomplished. I anticipate they will continue to do this."
About five years ago, Mr. Fausett had a heart attack. He hasn't had many health problems since then, he said.
"I thought it's about time to step back and take it a bit easier and give younger people a chance to bring in new ideas," he said. "It was a difficult decision."
He recalls when he moved to town in 1959, the area that now houses Northwest Junior High School was a bean field.
"I think the quality of life in Coralville is good. I haven't seen many towns that have been able to accomplish what we've accomplished in the last 15 years. I've loved being a part of it," he said. "The change is unbelievable. Coralville changed from a strictly bedroom community to what it is today, a very thriving community."
Mr. Fausett retired as the manager of services for the University of Iowa College of Dentistry in 1997. He began working in the university's purchasing department in 1966 and moved to the College of Dentistry in 1973.
After graduating from the University of Missouri with a degree in animal husbandry and economics, he took a job with the Iowa Farm Bureau, where he worked for several years. He then transitioned into the insurance business until starting at the UI.
Initially, Mr. Fausett had plans to go to school for veterinary medicine but that was interrupted when he volunteered for the U.S. Army during the Korean War, serving one year in Korea.
He got his first taste of municipal government in the 1960s, when he was on a board that was instrumental in starting a bus service in Coralville.
"I don't recall a desire to get into politics, that's just sort of how it worked out," he said. "It really was probably from the fact that I got onto the commissions; the Parks and Recreation Commission and was involved with youth projects. After being on the Planning and Zoning Commission I found out I liked being able to have a voice in what was happening," he said. "But I never had a burning desire to get into politics."
Accomplishments
"It has been a long time, but a very fast time. The older you get, the faster it goes until you look back and see what's been accomplished," Mr. Fausett said. "The Iowa River Landing District discussions started 30 years ago; it does not happen immediately."
Though the Iowa River Landing project has been controversial, Mr. Fausett noted it is been one of his biggest accomplishments in office.
"People who don't leave here may have no idea that the area completely outlived its usefulness, there were junk cars, and adult book store. Here it is a gateway to Coralville and the University of Iowa, so getting that cleaned up and developed has been a big accomplishment," he said.
The Iowa River Landing district (IRL) is a 180-acre area being developed at the southeast corner of Interstate 80 and First Avenue, where the Coralville Marriott is located. The $73-million University of Iowa Hospitals and Clinics' new 150,000-square-foot outpatient facility opened in October 2012. Von Maur opened on July 27.
He also noted the city's partnership with the University of Iowa and the UI Research Park. Many companies have been able to grow in that area, he said. Established in 1989, the UI Research Park leases building sites and space to growing technology companies that require sustained research relationships with the UI.
The Coralville Center for Performing Arts opened in 2011, and includes the Jim L. Fausett Theater, a 472-seat auditorium located at the corner of Fifth Street and 12th Avenue.
Advice
For the four mayor candidates and eight city council candidates on the Nov. 5 ballot, Mr. Fausett offered some advice.
"I think it's important the council shows respect to one another. They don't have to agree or like each other, but when it's time to do business, they should respect each other's decision," he said. "You have to understand, it takes the entire council to make the city operate."
It's important to listen to community members and be able to explain why decisions were made, he said, while remembering that you can't make everyone happy.
"One of the hardest things is to not take the critics and criticism personally. You have to have a thick skin and stick to your morals and convictions," he said.
Through his career, Mr. Fausett said he has tried to treat people with respect and been honest.
"When I was very young, my dad said 'a liar is worse than a thief,' you can protect yourself from a thief, with a liar, you have no defense," he said.
Looking ahead
His family includes his wife, Carol, four children and six grandchildren. One daughter teaches middle school in Grinnell; a son lives in Wheaton, Ill., and has three children; another daughter teaches in West Des Moines and has three children. Mr. Fausett's oldest son died in a car accident in 1977.
Mr. Fausett doesn't have any big plans after his last day as mayor, Dec. 31. He will have more time to spend with family, but also hopes to maintain some involvement with the city. If there is a place for him, he would like to stay involved with the Iowa River Landing planning and discussions, he said.
There are several areas that could still be developed within Coralville, he said. For example, land in west Coralville toward Tiffin, past Costco.
"I just love Coralville; we're not planning to leave. I want to see Coralville continue to develop," Mr. Fausett said.
Terms in Office
City Council:
January 1978 – December 1981
January 1982 – December 1985
January 1986 – December 1989
January 1990 – December 1993
January 1994 – December 1995
Mayor:
January 1996 – December 1997
January 1998 – December 1999
January 2000 – December 2001
January 2002 – December 2003
January 2004 – December 2005
January 2006 – December 2007
January 2008 – December 2009
January 2010 – December 2011
January 2012 – December 2013
Coralville candidate form Oct. 23
A city council and mayor candidate forum will be hosted by the AARP of Johnson County at 6:30 p.m. Oct. 23 at the Coralville Public Library, 1401 Fifth Street, to help prepare voters for the Nov. 5 election.
Four candidates are running for mayor: Matt Adam, David Kimm Fesler, John Lundell and Logan Strabala. Eight candidates are seeking the three at-large seats on the council: Tom Gill, Laurie Goodrich, Bill Hoeft, David Petsel, Jean Newlin Schnake, Chris Turner, John Weber and Mark Winkler.
The forum will be broadcast live on CoralVision TV and is also available online at www.coralville.org/coralvisionvideo.