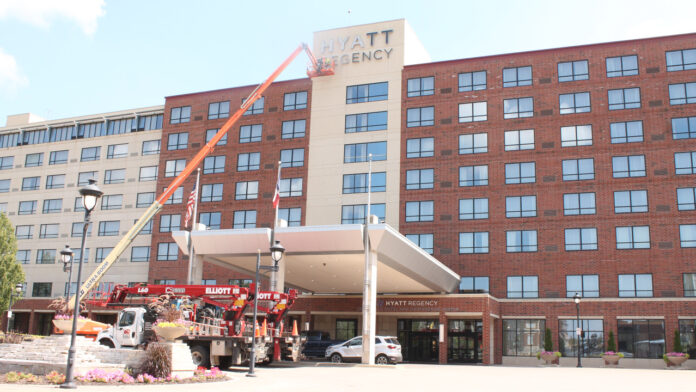 The Coralville Marriott Hotel & Conference Center in the Iowa River Landing development has been reflagged as the Hyatt Regency Hotel & Conference Center.
Marcus Hotels & Resorts, based in Milwaukee, announced the change of affiliation for the hotel and assumed management of the facility, effective Aug. 18. The Coralville site is the first Hyatt Regency in the state of Iowa, Marcus officials said.
The hotel, which is owned by the city of Coralville, will undergo a phased renovation to include refreshed guestrooms and a new restaurant and bar concept to appeal to both travelers and local guests, according to a news release.
The facility includes 286 hotel rooms and suites and 57,588 square feet of meeting and convention space. The Edgewater Grille, a restaurant also housed in the complex, will be replaced with "a new bar and restaurant concept that will offer guests a place to gather and enjoy locally sourced, seasonal menus," according to the release.
"We are excited to introduce the first Hyatt Regency hotel to the great state of Iowa," said Matt Traetow, general manager of the Hyatt Regency Coralville Hotel & Conference Center. "Hyatt Regency hotels are known for their spirited culinary experiences, innovative technology-forward options to connect and collaborate, and inviting spaces to work, engage or relax. Moreover, the city of Coralville has done a tremendous job of creating a vibrant community gateway at the Iowa River Landing for visitors and locals alike. Whether our guests are visiting to cheer on the Hawkeyes, attend a conference, have a night on the town or explore the many gems Eastern Iowa has to offer, our goal is to ensure each and every individual that walks through our doors has a memorable stay."
For more information or to book a reservation at the Hyatt Regency Coralville Hotel & Conference Center, click here.