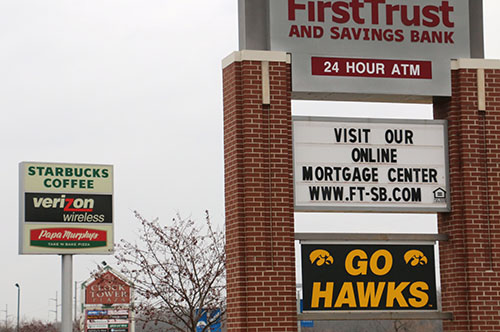 Signs shown along Second Avenue in Coralville on a recent afternoon. An informal proposal by Coralville city staff would affect pole and digital signage in the city.
By Chase Castle
chase@corridorbusiness.com
CORALVILLE—Area business owners last week discussed a nascent proposal by city leaders to spruce up commercial signage and limit the proliferation of pole signs, which populate long stretches of roads like Highway 6.
The informal proposal being reviewed by city staff would eliminate the use of pole signs, which are typically raised one or more stories in the air. In their place would be monument-style ground signs, which proponents such as Chris Shires, a principal with the design and architecture firm Confluence, say present a more attractive alternative.
"Poll signs kind of compete for attention," Mr. Shires told attendees at a Feb. 23 informational meeting at West Bank in Coralville. "They generally have to be a little bigger because they're up in the air, because the intent is that you're looking at them from farther away."
Also phased out under the proposal would be signs painted directly onto a building's surface, and tighter restrictions on panel signs or signs with individual channelized letters.
Other possible changes would prohibit signs that cover the entire the surface of a window and limit the use of directional signs, which are frequently used by businesses like fast food restaurants directing cars to drive-thru windows.
Mr. Shires said the city may consider requiring the use of certain building materials for signs, ideally ones with low-maintenance requirements like brick, plank siding or architectural steel.
"Typically what as cities we do when we're worried about the long-term occurrence of something, we push the exterior materials," he said.
Alex Taylor, co-owner of the specialty dog biscuit bakery, Woofables, expressed mixed feelings about efforts to conform the business community's advertising.
"All the different signs and shapes, it gives us our own unique calling card, if you may," he said. "On the other hand, aesthetically, it kind of looks likes crap sometimes. It just looks so overly commercialized."
Mr. Taylor said one solution could be establishing different code requirements based on location. Larger commercial areas such as the properties surrounding Coral Ridge Mall, for example, could be subject to certain signage limitations, while denser, mixed-use areas such as Old Town along Fifth Street would be subject to different limits.
"It seems to me that if you try to do one [size] fits all … it's going to step on the toes of some of the smaller locations," Mr. Taylor said.
In response, Mr. Shires said the city may use overlay districts and individual planned unit developments, or PUDs, to grant leeway to businesses in select areas.
Rebecca Neades, vice president of public policy with the Iowa City Area Chamber of Commerce, said the city also must consider the space most businesses have on their properties. Small parking lots and narrow right-of-ways aren't conducive to monument signs, she said, and many businesses don't have enough surface space above their doors for visible panel signs.
"I just bring to your attention that even if you put a panel sign up, it's not going to be very visible because of a car parked in front of a one-story building," she said.
Business owners also expressed concerns about restrictions on the use of digital signs, which Mr. Shires said are also difficult to regulate since they can be manipulated remotely.
"You can very quickly change the brightness and very quickly change the message, and have it be a flashing, spinning image that's refreshing at a faster rate," Mr. Shires said. "So they do become an enforcement problem."
Jeff Harding, owner of MediaQuest Signs in Cedar Rapids, said eliminating the use of digital signs entirely would affect businesses that have invested in a tech-savvy image the hardest.
"Can you imagine a computer store going up and having a changeable copy sign?" Mr. Harding said. "Really, what you're saying is, because it's too difficult to enforce and it's going to cost money to enforce, that we should eliminate it. That's what I'm hearing."
"It's really not that difficult to enforce," he continued. "You get three strikes. If you do something wrong on this [third] thing, you're out and taking it down."
In response, Mr. Shires said that any ambiguity over the use of signs frequently results in a civil suit. He also cautioned against the danger in legislating rules on signage specific to their content, which was among the issues debated in a U.S. Supreme Court decision last year, when the justices ruled in the case Reed vs. Town of Gilbert that applying different rules to ideological, political and directional signs is unconstitutional.
Ellen Habel, assistant city administrator for Coralville, said additional difficulty lies in merely reaching a community consensus about a largely subjective topic.
"There's a lot of difference of opinion in what people are looking for in a sign, both as a business and as a community," she said. "It is, to some extent, maybe a little like art, where we don't all like the same thing."
The Iowa City Area Chamber of Commerce is scheduled to host a roundtable meeting about the signage proposal at 12 p.m. on March 21 at Brown Deer Golf Club in Coralville. A finalized signage proposal is expected to go before the council in late spring or early summer.