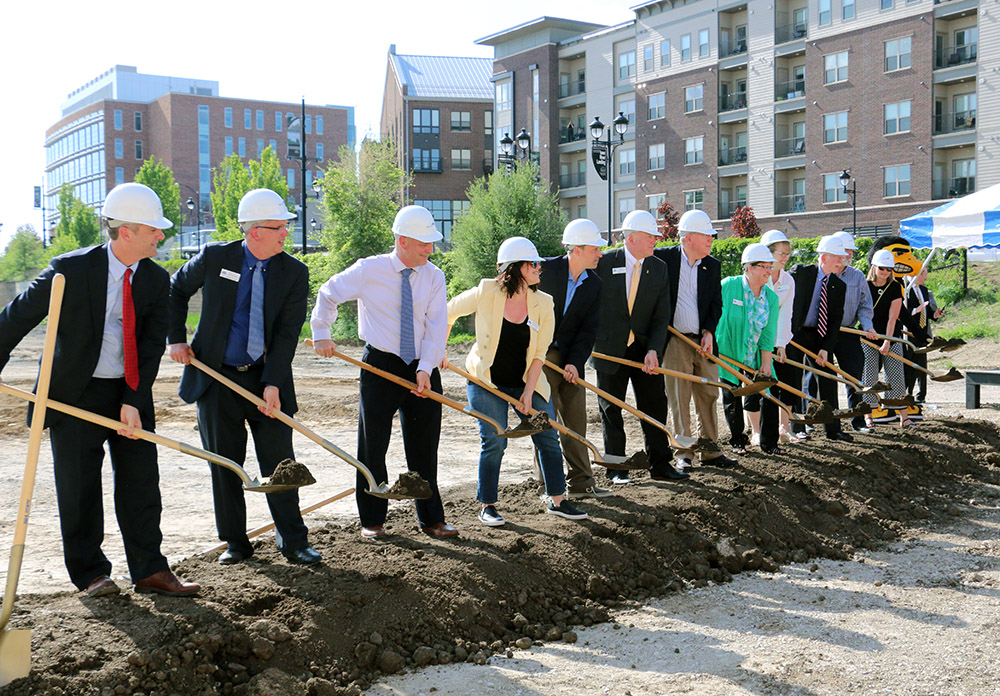 Johnson County and Coralville leaders line up to turn the first shovel full of dirt for the Iowa Arena project during a May 16 groundbreaking. The $190 million project is set for completion in 2020. PHOTO ADAM MOORE
By Katharine Carlon
katharine@corridorbusiness.com
CORALVILLE—It began with a vision and started with a single project: the Coralville Marriott Hotel & Convention Center.
Retail, dining, a University of Iowa Health Care Clinic and an assortment of additional hotels and residential developments soon followed, and on Wednesday, Coralville's Iowa River Landing Reinvestment District celebrated its "final anchor tenant": the $190 million, 5,100-seat Iowa Arena and Fieldhouse, set for completion in 2020.
"If you build it they will come, as the old baseball movie saying goes," said Iowa City/Coralville Area Convention and Visitors Bureau President Josh Schamberger at a festive groundbreaking ceremony on May 16. "And boy, have they come to the benefit of all area businesses."
State and local dignitaries from Coralville Mayor John Lundell and Iowa Economic Development Authority Director Debi Durham to UI Athletics Director Gary Barta and Herky the Hawk joined a crowd of about 100 supporters to launch the arena project, which also includes a 53,000-square-foot fieldhouse, an attached Staybridge Suites hotel, mixed-use office and retail space, and permanent homes for the Johnson County Historical Society Museum, Antique Car Museum of Iowa and Hawkeye Model Railroad Club.
"We have a little slogan here in Coralville: You just can't hide that Coralville pride," said retiring state Sen. Bob Dvorsky. "And today, more than any other time, I think we've got that."
In addition to building local pride, officials expect the project to generate tens of millions in cold, hard cash. In addition to $190 million in new development, Mr. Schamberger said the Iowa Arena could pump an additional $2 billion into the local economy over 20 years – including $8 million for naming rights to the venue over a 20-year span.
"The Iowa Arena won't stay the 'Iowa Arena,'" he said, adding officials are in final negotiations with an Iowa company, that will rebrand the facility, with an announcement expected to come next month.
"We were very close to getting it done today, but [the company] wants its own limelight, which is understandable," Mr. Schamberger told the CBJ after the event.
For comparison's sake, wireless provider U.S. Cellular paid $3.8 million over 10 years for the naming rights for Cedar Rapids' convention center and arena.
Whatever the name of the new arena, Ms. Durham predicted the project would become "the crown jewel" of the Iowa River Landing and a "premiere destination for residents and visitors alike."
"The tourism benefit of a project like this cannot be overestimated," Ms. Durham said, adding that the arena would allow the city to overcome the first barrier to tourism – getting people to stop. "If you can get a visitor to stay for two hours, spending doubles … But when you get visitors to stay overnight, spending quadruples."
"It was a big dream and I'm not going to say I doubted it, but I wondered at what point we would start to realize it," said Mr. Barta, who started his tenure at the UI in 2006 just as arena talk began. "We envisioned someday having schools like Penn State and Nebraska walk in to the University of Iowa's home arena and say, 'Wow, we better watch out. The Hawkeyes are coming.' And that's exactly what this new arena is going to provide for us."
Mr. Barta confirmed UI women's volleyball will play home games at the arena and dangled the possibility that other collegiate athletic events could follow: "Stay tuned," he said.
Brian Hixenbaugh, general manager with venue management company Spectra, which will oversee day-to-day operations, said that in addition to the volleyball team, the arena is finalizing negotiations with a hockey tenant. He expects the arena to also play host to community events, multiple concerts each year, "and we expect to be a major player in amateur sports."
"We want to do our part in making the Iowa River Landing a premiere destination that everybody wants to come to," he said. "We recognize that the arena and the fieldhouse have to be economic drivers, and we're prepared and ready to accept that challenge. We want folks to eat, sleep, play and do everything else here – a onestop shop."
Mr. Hixenbaugh said he expects the arena to provide employment for 15-20 fulltime and more than 200 part-time workers.
Developed in partnership with the state of Iowa and private investors, the Iowa Arena project represents a significant milestone in achieving the city's longtime vision of a riverfront recreation and entertainment district. Mr. Lundell recalled the 1980s, when the Iowa River Landing site was blighted by junkyards, adult shops and environmental hazards.
"It was certainly not what the community wanted your first impression to be of Coralville when you came in off Interstate 80 to visit the hospital or go to the University of Iowa or go shopping in Coralville," he said, while praising a slew of partners — in particular Mr. Schamberger and Coralville City Administrator Kelly Hayworth for their tenacious leadership on the project. "It's an old, wornout theme, but it does take a village to make things happen."
Financing for the arena, fieldhouse, and Iowa Fitness and Sports Performance Institute includes private donations, $14 million in federal New Market Tax Credits and $12 million from the IEDA's Reinvestment District program.
Randy Clarahan, a construction executive with Mortenson Construction, which is managing the project, said the process of demolishing old buildings and cleaning up the former brownfield site had been a complex and lengthy process.
"But we're ready now and we'll be starting in earnest soon," he said adding that workers planned to begin driving steel pilings for the structure's foundation within the next few weeks. "We're ready to move dirt."