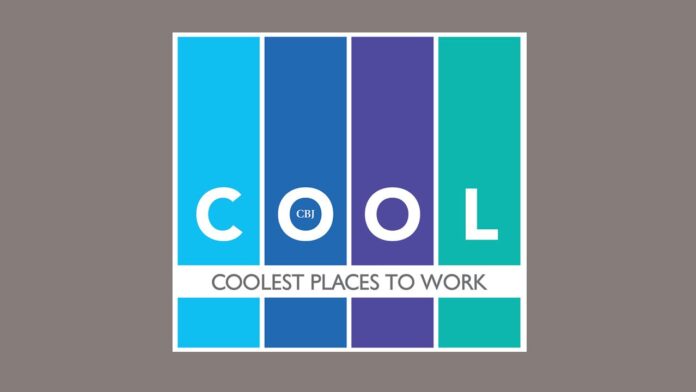 This year's Corridor Business Journal's Coolest Places to Work honorees stand out for many reasons, and perhaps the biggest is they were able to create an engaging and rewarding work environment despite the challenges of operating during a pandemic.
This is the ninth year of the Coolest Places to Work competition, and despite a year marked with disruption, all these companies proved their employees, and their communities, continue to be their No. 1 priority.  "Great people," "Amazing culture," "Flexibility," are all words that kept resonating throughout all the employee surveys for these coolest companies.
There are 11 new companies in the event this year, including Gro HR Consulting, who won in the Small Companies Category with 20 or fewer employees. A Gro HR Consulting employee commented, "It doesn't "feel" like a job – it feels like spending time with friends and making a difference for our clients."
Aerotek has made the list for seven years running and took home the No. 1 spot in the Medium Companies Category for companies with 21-99 employees.  Like many honorees, Aerotek staff is like family. "The culture of our company is something I feel is not comparable," said an Aerotek respondent. The team had the option to work virtually throughout the pandemic, but almost every person was in the office because they genuinely wanted to be around one another.  Lepic-Kroeger Realtors came in second in the medium company category. It's their fifth consecutive year on the list.
For the second year in a row, Skogman Companies won the Large Company category for companies with 100 or more employees.  "Incredible environment, I am inspired to come to work every day," said a Skogman employee.  GEICO came in as runner-up in this category, the first time the company made the list.
The selection process, unchanged from last year, was overseen by Skywalk Group, the women-owned recruiting and human resources consulting service based in Cedar Rapids.  Scores were tabulated based on voluntary and anonymous employee surveys about the company's workplace culture. At least 60% of employees had to participate in the survey for consideration.
More than 290 people attended this year's awards ceremony at the Hyatt Regency Coralville Hotel & Conference Center on Sept. 1.  The event was presented by Skywalk Group.
2021's Coolest Places to Work
(Ranked List)
SMALL COMPANIES
1              Gro HR Consulting
2              Balanced Fitness & Health
3              Team Iowa Physical Therapy
4              Strategic Financial Solutions
5              On With Life Outpatient
Neuro Rehabilitation
6              Hawkins Wealth Management
7              Meld Marketing
8              The Highlander Hotel
Medium COMPANIES
1              Aerotek
2              Lepic Kroeger, Realtors
3              Miron Construction Co., Inc.
4              Urban Acres Real Estate
5              New Bohemian Innovation
Collaborative (NewBoCo)
6              Hands Up Communications
7              Northwestern Mutual
Eastern Iowa
8              High Properties/High Development
Large COMPANIES
1              Skogman Companies*
2              GEICO
3              TrueNorth Companies, L.C.
4              MediRevv
5              CIVCO Medical Solutions
6              CarePro/Rayser Holdings
7              Clickstop
8              Bazooka Farmstar
*Skogman Companies is 2021's Overall Winner