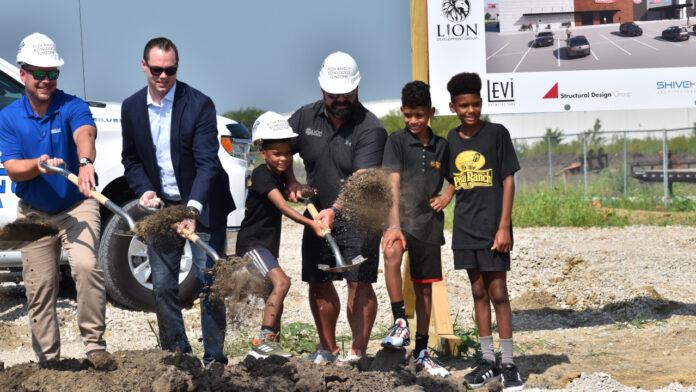 Scorching temperatures couldn't diminish the enthusiasm during the Aug. 22 ground-breaking ceremony for a new North Liberty family entertainment center.
Located at North Jones Boulevard and West Penn Street, the 37,000-square-foot entertainment center will include a Pizza Ranch, bowling alley and arcade. The entertainment center is part of a larger 80-acre development called Solomon's Landing, the brainchild of Brandon Pratt, owner of Lion Development Group.
"I don't do anything small," said Mr. Pratt, during the opening remarks of the ceremony. 
The restaurant will be 7,000-square-feet and will include four large private party rooms. Adjoining it will be FunZone, a 5,600-square-foot arcade with approximately $1 million worth of games, and next to it will be Bowldogs, the 26,000-square-foot bowling alley that will include 16 lanes – two for private parties – a bar and restaurant, darts, pool tables, ax throwing, party rooms and a small kitchen. The arcade will be accessible from Pizza Ranch and the bowling alley.
Max Albrecht, owner of Bowldogs, and Mr. Pratt's FunZone partner, said the idea for the bowling alley began percolating a couple years ago. He wanted something that would attract patrons not only from North Liberty, but the surrounding areas and also within walking distance for the general public. 
Growing the community
"This (bowling alley) was the amenity that our community requested the most," said North Liberty Mayor Chris Hoffman. He called the entertainment center a key ingredient to the economic development within the community. 
Mr. Pratt said the $20 million entertainment center will also play a key role in another Solomon's Landing endeavor – the Palestra Sports Complex, a 36,000-square-foot building that will be open to traveling sports teams and clubs. The Pizza Ranch, arcade and bowling alley will livestream games from the Palestra for the members and families of the traveling teams so they can stay updated on progress.
Mr. Pratt and Mr. Albrecht estimate the entertainment center will attract 5,000-7,000 people per week, spending money that will stay in North Liberty and grow the economy. The Pizza Ranch and arcade are estimated to open in May 2024, and the bowling alley in late 2024.