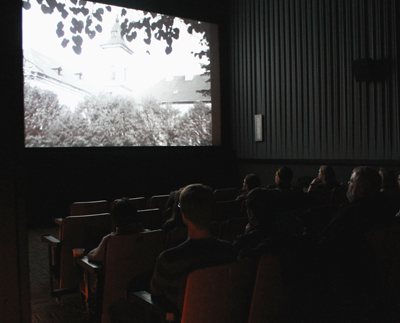 By Pat Shaver
IOWA CITY— It's coming soon to a theater near you.
Movie buffs in Iowa City will have a new entertainment venue to view films in the downtown pedestrian mall this fall.
Work is continuing on FilmScene's Scene 1 theater in the renovated Packing and Provision building operated by Moen Group at 118 E. College St., which for many years operated as Vito's bar. The theater is expected to open in September.
Scene 1 will include an 85-seat theater with full surround sound and high-end digital cinema projection. The venue will be a dedicated year-round cinema showcasing contemporary cinema, including American documentaries and foreign films; first-run movies that are not regularly offered at commercial multiplex theaters.
Filmgoers will be welcomed through a lounge that will offer catered food and desserts, traditional movie fare and wine, beer and coffee. Café seating for about 50 people will offer casual meeting space for discussion before and after the film. The group is in the process of selecting an operator for the café.
The non-profit arts organization was founded by Andy Brodie and Andrew Sherburne in the fall of 2011.
"I don't like every movie I see, but we want people to take chances," Mr. Brodie said. "Films can be a window into the world."
Preliminary renderings of Scene 1 by Neumann Monson Architects show the lounge's 25-foot exposed-beam ceilings and skylight, a ticketing and concession bar, plus adjoining gallery space featuring reclaimed hardwood floors and the building's original tin ceiling.
"It's about creating the experience for going to a film and bringing people together through film," Mr. Sherburne said.
As people walk through the building to the cinema, they will pass two retail stores, one on each side, with glass walls. The Velvet Coat women's clothing store is on the right, and an unoccupied space on the left. The open space may become an art gallery, Mr. Brodie said.
"Before this renovation it had been a bar for decades and the second floor was dusty old storage space," Mr. Brodie said.
Mr. Brodie and Mr. Sherburne had high praises about the support they've received from the developer Marc Moen of the Moen Group, which owns several properties downtown and is planning two separate high rises.
"This is beyond our wildest dreams; without a developer partner this wouldn't go anywhere," Mr. Brodie said.
"He's been committed to doing it right and not cutting corners," Mr. Sherburne added.
Scene 1 marks the return of full-time cinema to downtown, which hasn't had a dedicated movie theater since the sale and closure of the Campus 3 in 2007. In a city-sponsored market survey in 2011, respondents cited "movie theater" as the most-wanted entertainment addition for downtown.
"Eventually we got tired of waiting and decided to do it ourselves," Mr. Sherburne said. "This is not a get-rich-quick scheme for us."
The movie theaters downtown didn't close because there wasn't interest, though, Mr. Brodie said. Several factors led to the closures, including corporate decision-making and building changes.
"This is a great location downtown right in the heart of things. There's lots of activity," Mr. Sherburne said.
The facility will operate with a small staff, but it will still have an economic impact.
"It's these sorts of facilities that attract businesses to locate here," Mr. Brodie said. "The arts have definitely proven to be a driver of economic vibrancy and growth."
For example, The Englert Theatre, located two blocks from the new theater, has a small staff but is often a selling point for recruiting businesses and employees.
"We don't have mountains or beaches, people don't come here for the weather. It's the people, arts and culture. That quality of life is really attractive," Mr. Brodie said.
The Velvet Coat moved into the College Street building and opened about two weeks ago. It had been located at 105 E. College St., directly across the pedestrian mall, next door to Givanni's restaurant.
"This space allows us to have the customers gather and stay," said Connie Parsons, Velvet Coat co-owner, adding foot traffic at the new store has already increased.
The style of the building and storefront are now more in line with Velvet Coat's Des Moines location, 500 E. Locust St., in the East Village, she said.
"The building itself is such a statement and it has been beautifully renovated," said Michelle Galvin, Velvet Coat's co-owner. "Anytime you can have a mix of retail and arts make it a really dynamic space."
The previously unused second floor now houses the Iowa City office of Modus Engineering.
"It's going to be a place that people want to be. We're excited and the community is excited so we're going to celebrate our opening as long as we can," Mr. Sherburne said.
In a few years, FilmScene will open a space at the corner of College and Gilbert streets in downtown Iowa City. The Scene 1 theater would likely continue operating in some capacity, Mr. Brodie said. The group's ultimate vision is to open a two-theater facility.
"We're not referring to this as interim space. Marc (Moen) is committed to keeping this space here long-term," Mr. Brodie said. "But we didn't want to have to wait three years."
After several months of planning and public input, the Iowa City City Council chose the proposed 20-story building, with Moen Group as the developer, during a January meeting, which will feature two movie theaters and two six-lane bowling alleys, as well as a café and housing.
City staff and Moen Group are continuing negotiations for the project.
Initial plans say the 283,322-square-foot building would cost about $53 million. The building will include office space, a 35-unit hotel, along with 12 floors of residential units.
Each of the two theaters will span two stories of the building. Along with film screenings, FilmScene plans to offer programming like filmmaking seminars and other community events. They also plan to partner with the University of Iowa to offer theater space for classes.