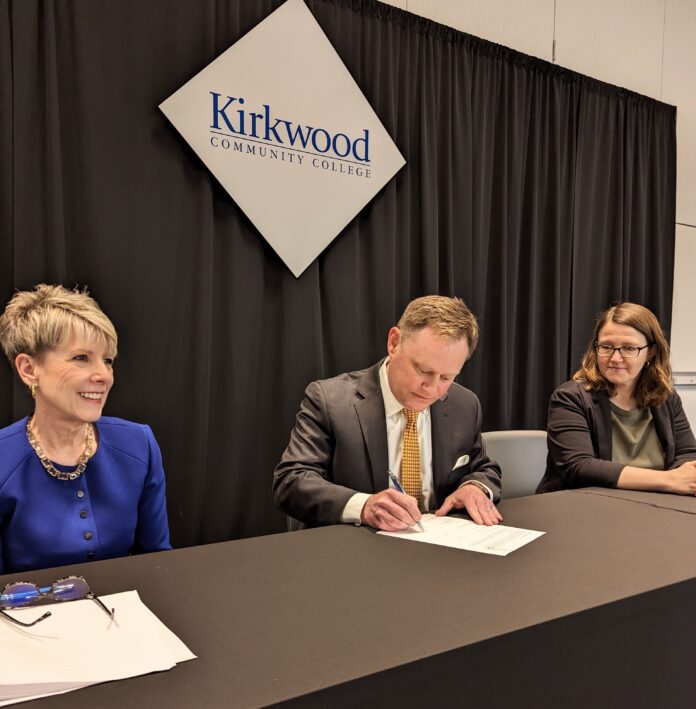 Coe College and Kirkwood Community College finalized a pathway on April 5 for students to earn both an associate's and bachelor's degree in business fields in four years. 
Generous scholarships are available for Kirkwood students who enroll at Coe after completing their associate's degree in business administration with a minimum 3.0 cumulative GPA.
At the time of admission, students will receive a transfer scholarship to Coe ranging from $30,000-$34,000, plus an additional $2,500 per year award specifically for Kirkwood business students pursuing a business degree at Coe.
The agreement is a manifestation of both Coe's and Kirkwood's commitment to student success and transfer opportunities leading to a bachelor's degree. It was first announced March 29.
"This deeper partnership with Kirkwood is significant because of the shared goal to elevate the educational opportunities for our community's students," Coe College President David Hayes said in a news release. "We are appreciative of Kirkwood for helping to make this a possibility."
Via an articulation agreement which clarifies transfer procedures, Kirkwood business graduates will be able to seamlessly transfer into Coe as third-year students. When enrolled at Coe, they will be able to pursue their bachelor's degree in either business administration or accounting within the Stead Department of Business Administration and Economics.
"To be able to provide this enhanced access is an advantage not only for these students, but also our surrounding communities," Mr. Hayes said. "With prolonged exposure to the area and the businesses within, it's more likely these students will stay as part of our communities, which we've seen first-hand through Coe's connections in the Corridor."
Transfer students will be able to gain the added benefits of on-the-job experiences and networking as Kohawks — Coe is ranked 10th for internships and 20th for alumni network nationally among private colleges by The Princeton Review.
Available to assist potential Kirkwood business transfer students is Coe's transfer admission counselor, Britney Noeller, a Kirkwood and Coe business graduate. 
"I know the value of both a Kirkwood and Coe education first-hand," Ms. Noeller said. "And I would be happy to discuss this amazing opportunity with anyone who is interested." 
The articulation agreement is effective immediately and will be valid for three years before it is evaluated for any possible extensions.