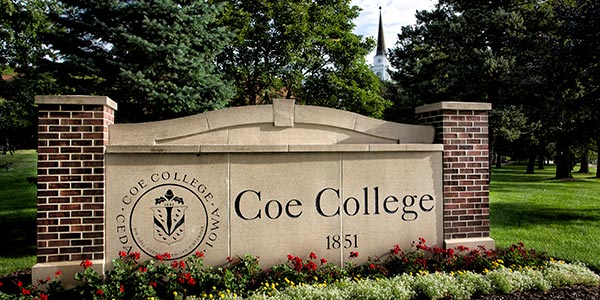 Coe College in Cedar Rapids has received an Associated Colleges of the Midwest grant to support a new Prison Learning Initiative (PLI), according to a news release from the college. 
The $15,350 Institutionalizing Community-Based Pedagogies grant will support the creation of the initiative. The program will provide a range of experiences for students and community members to learn about and become involved with the legal system in Iowa and the Midwest.
The PLI will expand existing campus efforts to engage in community-based research and teaching related to the criminal justice system. Coe faculty and students will support incarcerated people and returning citizens through research projects, service learning and volunteer opportunities. 
The initiative provides the necessary infrastructure at Coe to begin partnering with the Iowa Consortium for Higher Education in Prison. The project is led by Social and Criminal Justice Professor and Program Chair Neal McNabb, Sociology Professor Katie Rodgers and John William King Professor of Literature and Creative Writing Gina Hausknecht.
The Prison Learning Initiative extends the reach of Coe's popular and growing social and criminal justice program. 
It capitalizes on the college's location in Cedar Rapids, which is the administrative home of Iowa's Sixth Judicial District Department of Correctional Services. This location gives students the opportunities to engage with social services, community corrections and the Iowa judicial system. 
To allow Coe students and incarcerated students to learn together, PLI will support letter-writing exchanges through the Florida-based nonprofit Exchange for Change. Students at Coe and in Florida prisons take courses with common reading and exchange letters about the course material. Coe participated in Exchange for Change for the first time in 2022. 
"I thought Exchange for Change was an amazing experience and would definitely recommend it to other Coe students," said Sarah Hyatt, Coe junior, who participated in the initial letter exchange, in a release. "I found it enriching to discuss books with people who had sometimes been through similar experiences or situations… Overall, I thought it was a great opportunity to engage in a project that impacted the community outside of the classroom."
Public events offered by the initiative
The PLI will sponsor several public events over the coming year. Among them is a campus and community book drive for Midwest Books to Prisoners, which sends books to incarcerated readers who have requested specific titles or areas of interest. 
After collecting books on campus and in Cedar Rapids, students will volunteer for a day at a Chicago distribution center. Students will fulfill incarcerated people's book requests while there.
To emphasize hands-on learning, the PLI will host a Reentry Simulation on April 12 from 6-8 p.m. in Eby Fieldhouse at 1220 First Ave. NE. The free simulation allows participants to understand the obstacles incarcerated individuals face when released from jail or prison. 
Other activities include an ArtLinks event, in partnership with the Justice Arts Coalition. During the event, participants view and discuss work by incarcerated artists and write brief notes to the artists. Coe also will host the annual Iowa Human Rights Research Conference in April, providing a venue for college and university students across the state to present their research. 
"This generation gets criticized for being online all the time but our students are out in the community, passionate about how they can contribute. They're volunteering at RISE (Cedar Rapids' reentry organization), interning with the Sixth Judicial District, going on to vibrant careers in law, law enforcement, social services," Ms. Hausknecht said in a release. "It's enormously helpful to have resources and coordination to support their community engagement."
For more information about any of these events or to participate, visit the Prison Learning Initiative website or contact Beth Valenta at bvalenta@coe.edu or (319) 399-8523.