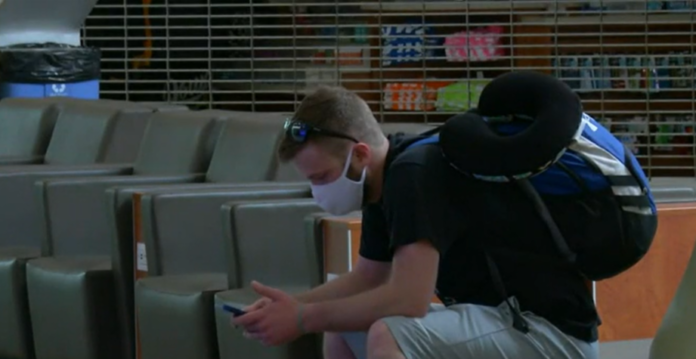 The Cedar Rapids Airport Commission has approved a first-in-the-nation plan to screen passengers for early symptoms of COVID-19 in addition to requiring face masks in the terminal. CREDIT KCRG
By CBJ News Staff
newsroom@corridorbusiness.com
Travel Well, a mandatory passenger health screening program that could become the first of its kind in the nation, could be implemented in early September following approval by the Cedar Rapids Airport Commission today.
Passengers traveling through the Eastern Iowa Airport will be required to pass screening to gain admission to a 'sterile area' where the airport's boarding gates are. Passengers will receive a temperature check and be asked several health screening questions by health technicians. If they have a high temperature, they will be required to go to a private secondary screening area for further questioning by a nurse to determine the reasons for the high temperature. The airline serving the passenger will make the final 'fly-or-no-fly' decision.
The commission also approved a requirement that masks be worn in the terminal effective Tuesday. The requirement exempts passengers up to age two, passengers with certain health conditions and public safety personnel responding to emergencies.
Airport Director Marty Lenss estimated the program with Mercy Medical Center to provide health screening will cost about $600,000 per year based on staffing it about 14 hours per day. The expenditure is still pending final funding approval this week from the Federal Aviation Administration, including which source of funding can be used for the program.
"We don't have a national solution for the national system," Mr. Lenss said. "I think that's needed. There's been a lot of discussion about health care screening. Some are doing voluntary temperature checks. None are making it a requirement."
Commission members unanimously supported the one-year pilot program, but asked if it could be terminated early if medical solutions are found for the COVID-19 pandemic, and whether all airlines supported the program.
Mr. Lenss said early termination is permitted by the contract with Mercy Medical Center, and the program will have the flexibility to change as more is learned about COVID-19. He described the three-month effort to put together the program as a true partnership with five airlines, Mercy Medical and the FAA.
One-time costs for the program include about $49,000 to have Pigott install a temporary enclosure and furnishings for the screening area just before the TSA security screening point, up to $10,000 for information technology requirements and up to $5,000 for office equipment. CBJ