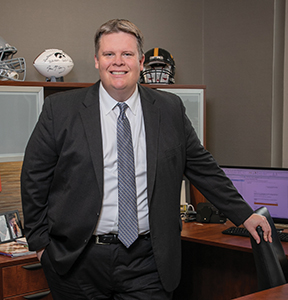 Member  |  Simmons Perrine Moyer Bergman PLC
AGE: 39
What do you consider your biggest break so far?
Being offered my current position with Simmons Perrine. It allowed my wife and I to move our family from Minneapolis to the Corridor, which was closer to family and friends, and allowed us to raise our children in a great community.
What would most people be surprised to learn about you?
I am huge Jimmy Buffett fan. I have been to 18 concerts across the country, and at age 39, I'm probably the youngest Parrothead. I also named my goldendoodle after Jimmy.
What's the biggest issue facing the Corridor, and why?
Much like the rest of Iowa, the retention of the highly trained young people being taught at the various universities, colleges and trade schools across the Corridor.
If you had $1 million to give, what causes would you support?
Big Brothers Big Sisters of East Central Iowa and the Iowa Children's Museum.
What should people know about your generation in the workplace?
Young people are the key to the future. While their views of the workplace and technology may seem out of place or naive, more likely than not, they are evidence of a trend. Employers should take these viewpoints into consideration when planning for the future.
What do you want to accomplish by the time you are 50?
I want to take my family on an African safari. Hopefully that is closer to 40 rather than 50.