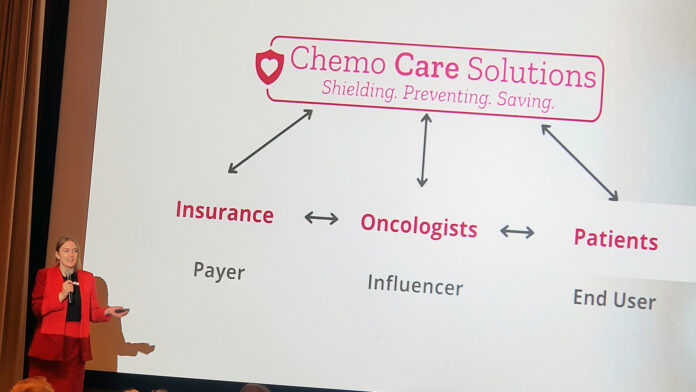 Chemo Care Solutions, a University of Iowa-based small business in the medical device space, won first place and $5,000 at the University Pitch Madness competition July 20 in Chicago.
Through Chemo Care Solutions, the University of Iowa biomedical students are creating a device to prevent chemo-induced peripheral neuropathy. The product is an arm wrap that chemotherapy patients can wear during infusion at the hospital, according to a press release.
It uses a combination of cryo-compression to induce vasoconstriction in the forearms and keeps chemo drugs from pooling in the hands. If working correctly, the product would prevent nerve damage during chemo treatment for breast, GI tract and colorectal cancer.
Next month, Chemo Care will apply for a provisional patent and test its device with ultrasound. The product could come to market by the end of 2028.
University Pitch Madness is a competition between students attending UI, the University of Chicago, DePaul, Illinois, Illinois Institute of Technology, Marquette, Michigan State, Northwestern, Purdue and Washington University in St. Louis. 
ARBLUE, Chordaworms and Urban Wave Embroidery — all three of which are teams from the University of Iowa — received $1,000 runners-up prizes.
Sprayer Mods was named runner-up of the competition last year and in 2019 No Limbits was announced winner of the pitch competition.