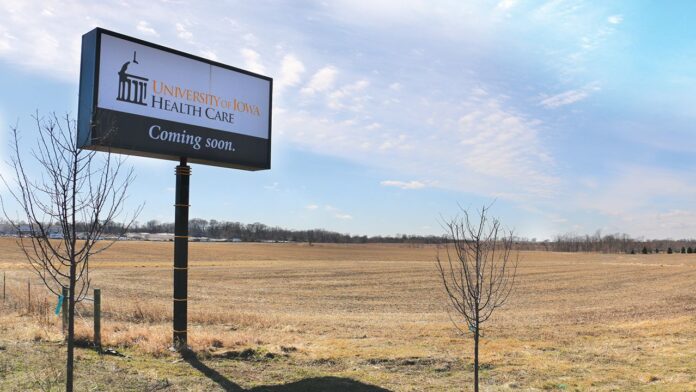 The landscape of the region's ultra-competitive health care industry got a jolt last week when the University of Iowa Hospitals & Clinics' application for a new $230 million, 48-bed hospital facility in North Liberty received approval by the State Health Facilities Council. The application failed the first time amongst angst from other hospital executives.
It's difficult to determine how the new hospital will impact the health care landscape because the perceived impact is vastly different depending on which hospital executive you talk to.
"This new hospital will compete for primary care because that's what they do today in the current hospital," said Eric Briesemeister, CEO of Jones Regional Medical Center. "And that is what they will do tomorrow."
"This particular project would be devastating to Mercy Iowa City," said Sean Williams, CEO of Mercy Iowa City, in a news report.
"Steindler has been very concerned by the prospect of a modern UIHC hospital in North Liberty and the effect on private practice physicians in our community, especially given the uncertainty of Mercy Iowa City's independence and or affiliation," said President and CEO Patrick Magallanes.
Our initial concern echoed many of those comments about public entities such as the UIHC competing with private hospitals. Still, Suresh Gunasekaran, CEO of the University of Iowa Hospitals & Clinics, assured us that wouldn't be the case.
"Mercy Iowa City patients are not going to go to the North Liberty (hospital)," said Mr. Gunasekaran. "They're just not."
With a 2025 completion date, the new hospital's actual impact will be difficult to determine for years to come. Still, the concerns about increased health care costs and the hospital's impact on Mercy Iowa City and private practice physicians remain.
And the health care landscape will likely continue to change with another proposed health care facility in North Liberty.
Steindler Orthopedic Clinic purchased 36 acres in North Liberty and is planning a health care development for a new Steindler Clinic building, an orthopedic Ambulatory Surgery Center, a private physician medical office building, a new hospital, and a hotel, with space for additional health care services.
"While folks were mounting opposition to the UIHC certificate of need (CON) application, we focused on providing a plan for non-UIHC-affiliated providers to remain viable in our community and provide our community an alternative to keep health care costs competitive," said Mr. Magallanes. "We hope that those that supported UIHC's application will support our development plan because choice and competition are needed. And we certainly hope that all that opposed the UIHC CON application will support an alternative new health care campus in North Liberty given the grave situation private practice physicians are now facing,"
Our growing region is in an envious position with such great health care opportunities and the prospect of even more. Competition is healthy in any industry, even health care, until it isn't.