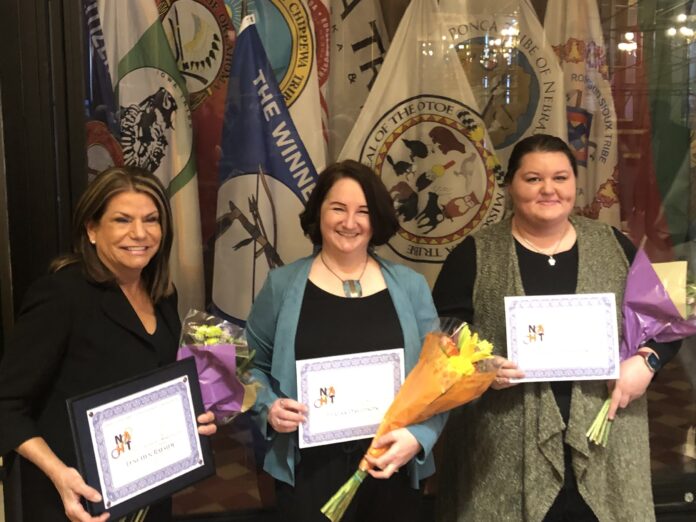 Three members of Chains Interrupted, a local non-profit that fights human trafficking, were honored at the Governor's Proclamation Signing event in January.
Lenchen Raeside, co-founder of Chains Interrupted, received a Governor's Service Award for her leadership and service fighting against human trafficking.
"Lenchen has been fighting human trafficking in Iowa long before many even knew it existed," said fellow co-founder Teresa Davidson in a statement. "On any given day, one can find Lenchen tirelessly working behind the scenes, requesting no compensation or credit. Many people do not realize that Iowa's efforts to stop human trafficking would not be where they are today if it wasn't for Lenchen Raeside. I am grateful for the day God introduced her into my life."
Ms. Davidson also received a Governor's Service Award, along with Heather Brown, a board of directors member, for their work in creating a statewide video to train hotel and motel staff. The two worked together with the Iowa Network Against Human Trafficking (INAHT) and the Department of Public Safety (DPS) in creating the training video which can be viewed on the DPS training website at https://stophtiowa.org.
In January 2022, Iowa code 80.45A went into effect, requiring Iowa lodging providers who host public employees or publicly-funded events and conferences to train their staff on human trafficking.
Secretary of State Paul Pete also announced the Iowa Businesses Against Human Trafficking (IBAT) initiative at the event. The U.S. Department of State estimates that between 14,500 to 17,500 people are trafficked into the United States each year, according to IBAT's website.
January was declared Slavery and Human Trafficking Awareness and Prevention Month in Iowa.
In 2015, the Sisters and Brothers Collaborating Against Human Trafficking merged with Cedar Rapids Gives. By 2016, Cedar Rapids dissolved and Chains Interrupted took its place as a nonprofit in the region.