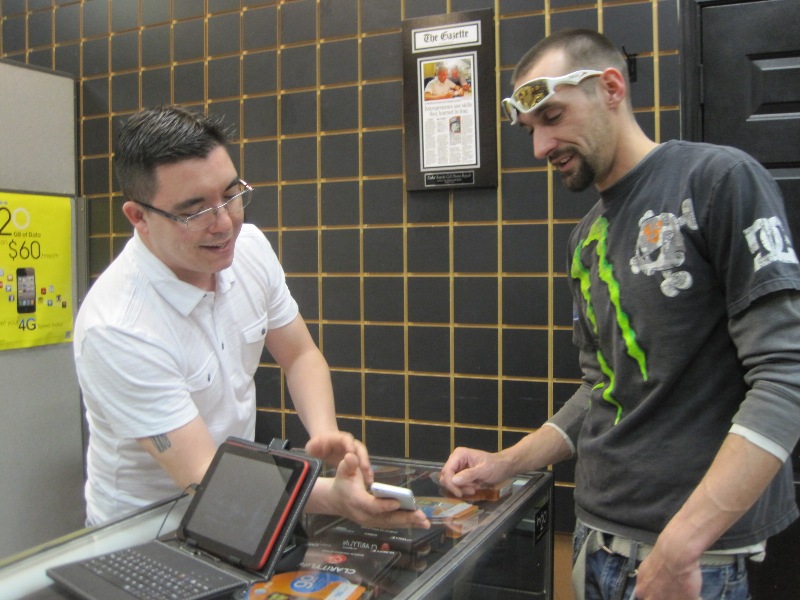 By DaveDeWitte
Cell phone repair shops, a growing business niche in the Corridor, are filling an important role and branching out into other specialties ranging from tablet computer to video game repair.
Shops like Cedar Rapids Cell Phone Repair and Digital Doc in Cedar Rapids and First Class Cell Phone Repair in Cedar Falls are bustling these days.
"It's growing – it's competitive," said Mike Milewski, co-owner of First Class Cell Phone Repair at 2226 College St., Cedar Falls.
When First Class Cell Phone Repair opened about three years ago, "the nearest competitor was 80 miles away," Mr. Milewski said. Now, "we've got cell phone repair shops popping up all over the place."
The demand for locally-based cell phone repair is driven by the increasing cost and functionality of smart phones and the urgency to have them repaired quickly.
Traditionally, cellular customers with high-value cell phones bought insurance plans through their carrier that they could use to get their phones repaired or replaced at the company's discretion. But the plans sometimes required the customer to pay a $100, or even $200, deductible on more costly phones.
Customers could be separated from their phones for days if they had to mail it in, and faced concerns about whether their apps and data would be transferred properly if their phone was replaced.
"I've had businessmen come in with their phones broken and say, 'I have $1 million worth of information in this phone. I need it fixed and I need it fixed soon,'" said Jake Long, who started Cedar Rapids Cell Phone repair in 2010 with a fellow Iraq war veteran, opening a physical location on First Avenue SE and moving last year  to Lindale Mall.
The array of phone issues people bring in to the shops vary, but the common problems tend to be avoidable.
"The biggest issues are broken screens and people not being able to get their phones to charge," said Mr. Long, who has since bought out his partner.
Phones damaged by dunkings in everything from water to vodka are also a common problem, one that isn't covered by some insurance plans. There's even a common-folk wisdom – dry the phone out in a bowl of uncooked rice – but Mr. Long says it's best to bring the phone in for professional help as quickly as possible.
On a recent Saturday at Lindale Mall, Tannor Cook of Atkins presented his somewhat mangled smart phone for CR Cell Phone Repair senior sales representative Anthony Beadle to examine.
"One day I was out on the patio and it fell out of my pocket, and it broke the back and bent the frame," Mr. Cook said.
The phone was so important to Mr. Cook's lifestyle that he nursed it along for months before stopping in to CR Cell Phone Repair get what turned out to be a $20, 10-minute fix.
Mr. Beadle said there's a sense of urgency to most of the repair requests that come through the door, and he tries to have as many repairs as he can handle on the same day.
Costs for repairs tend to vary with the type of phone, according to Scott Pickering, owner of Digital Doc.
A screen repair on an Apple iPhone 4S at Digital Doc runs about $79, for instance, but a full repair of a broken front on a Galaxy Note III, with glass and digitizer, can run $319.
The cost is increasingly easy to justify because of the time savings of not having to port over the phone's data and apps to a new phone, according to Mr. Pickering.
One of the most complex issues cell phone repair shops deal with is requests for "unlocks," essentially liberating the phone from a carrier's network so that they can switch to a different carrier.
CR Cell Phone Repair is willing to unlock phones within regulatory and technical constraints, according to Mr. Long.
"It's a complicated subject," he said, especially with new laws banning unlocks for phones made after Jan. 1, 2013.
Digital Doc and First Class Cell Phone Repair shun unlocks. If the customer obtained the phone under contract with a carrier, Mr. Pickering says, that carrier will usually perform the unlock if requested at the conclusion of the contract.
While more cell phone repair shops are appearing, not everything has been rosy in the field. A business that buys, repairs and resells cellular phones without contracts recently closed its doors in Coralville.
Wireless Exchange left with a message on its phone earlier this year saying that demand at the location didn't warrant keeping the store open, but  that it would continue to operate in Des Moines.
Repairing Apple iPads and other tablet computers has been a growing niche for cell phone repair shops, which often overlap with computer repair shops in both cell phone and computer hardware repairs.
Digital Doc advertises laptop and PC computer hardware repairs, and First Call Cell Phone repair is beginning to repair certain digital televisions in the 32-inch screen size. Cedar Rapids Cell Phone Repair fixes a lot of iPads, Mr. Beadle said.
One thing the new cell phone repair entrepreneurs tend to have in common is independently acquired knowledge and an innate ability to learn technology.
"I've been tinkering with things since I was five years old," said Mr. Milewski, whose mother was sometimes dismayed to see her expensive electronics disassembled on the floor.
Mr. Long used technical experience gained in the Army National Guard to begin repairing cell phones in coffee shops when he returned from service in Iraq. Some of his Guard buddies scoffed at the idea that it would make a profitable business, but as the technology expanded, so did the market.
For Mr. Pickering, "every day's a new challenge. I see a lot of things every day that would amaze people. It's rewarding to me to see a customer come in mad, depressed because they haven't been able to use their phone for a month and basically make their day."